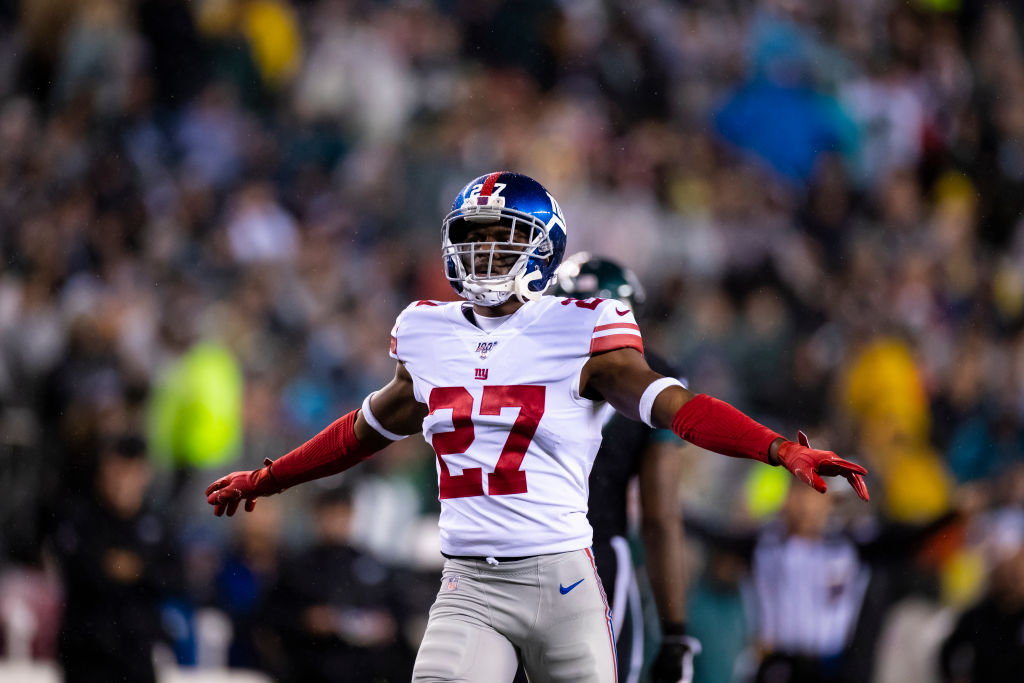 DeAndre Baker Just Put His Giants Career in Serious Jeopardy
DeAndre Baker confirmed the Giants' worst fears by getting into trouble recently with the law after entering the NFL with character concerns.
NFL teams invest a ton of money on first-round picks. Typically, that means they not only value but also trust their top selections to become long-term building blocks. The New York Giants made three first-round selections in 2019. And while Daniel Jones hasn't proven to be a franchise quarterback yet, the Giants certainly seem to be banking on him living up to those expectations. However, fellow 2019 first-round pick DeAndre Baker may not be around to see that happen.
DeAndre Baker was a star at Georgia
Suiting up for the Georgia Bulldogs, DeAndre Baker developed into one of the top cornerbacks in the SEC. The 5-foot-11, 180-pounder played sparingly in his first two years on campus before emerging as a full-time starter. As a junior, Baker totaled 44 tackles, picked off three passes, and swatted away nine others in 15 games. He posted similar numbers in his final year despite playing just 12 games.
Baker's standout senior season earned him first-team All-American honors. The talented cover man also took home the Jim Thorpe Award, which is given out to the best defensive back in the country. A true man-to-man corner with feisty competitiveness, he checked most of the boxes teams look for in a modern-day defensive back.
Giants selected the talented corner despite character concerns
Despite a solid resume, Baker did enter the 2019 NFL draft with some character concerns. Georgia's top defensive player elected to sit out the team's Sugar Bowl game and go home to Miami. Skipping out on the bowl game didn't do anything to help his draft stock, according to Walter Football.
In speaking to team sources, they feel that Baker's tape and talent level should have him going in the No. 10-15 range of the first round, but they believe he will slide some because he has off-the-field issues and has not interviewed well with teams during the leadup to the 2019 NFL Draft.

Even with some doubts about his character, DeAndre Baker became the first cornerback taken. Strangely, he had to wait until the 30th pick to hear his name. However, from a talent perspective, he certainly could have gone much higher. Ultimately, the Giants took a chance on the talented 22-year-old. While he started 15 games as a rookie, he registered zero interceptions and recorded just eight passes defended.
Still, considering his draft pedigree and upside, Baker entered the offseason as the Giants' No. 1 CB. But thanks to some alarming off-the-field decisions, he may be out of a job sooner than later.
Miramar Police Department issued an arrest warrant for Baker
When it comes to the offseason, NFL coaches and executives live by the motto, "No news is good news." Unfortunately for Giants fans, during the 2020 offseason in May. Let's just say it definitely falls in the category of bad press.
The Miramar (Fla.) Police Department issued arrest warrants for both DeAndre Baker and fellow NFL defensive back Quinton Dunbar for their roles in an incident that involved the dangerous combination of guns and money. According to the arrest warrant, Baker faces four counts of armed robbery and four counts of aggravated assault.
According to Miramar PD, Baker and Dunbar were at a party at which point the Giants corner pointed a semi-automatic gun at one of the attendees. He allegedly directed two individuals to take money and valuables from other people at the party. The most alarming part of the report, however, stated that Baker instructed another individual to shoot someone. The arrest warrant also stated that police attempted to contact Baker using Dominick Johnson's phone (another person at the party), but the NFL corner refused to speak and hung up.
While the legal process still has to play out, the nature of the incident should be a major red flag for Baker's future with the Giants. The NFL tends to be a league of second chances. However, for one of the NFL's most historic franchises, these allegations may not be forgivable, especially if they turn out to be true. Talent can only take you so far. DeAndre Baker may learn that reality the hard way. Based on the information at hand, it appears his time with the Giants could be over just as quickly as it began.