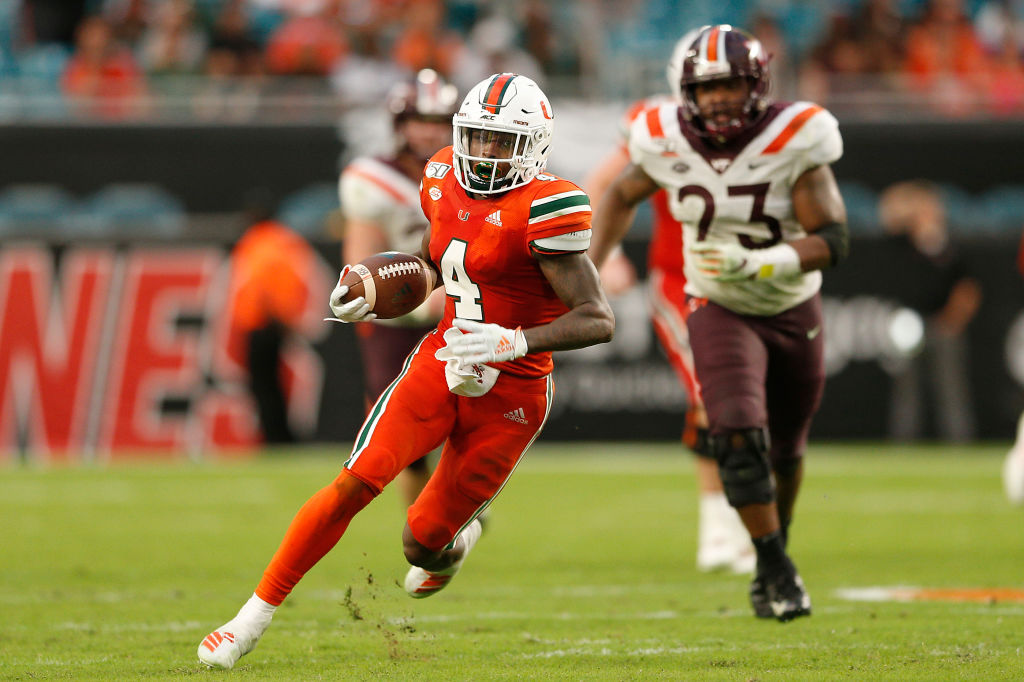 Bill Belichick May Have Stolen the Next Antonio Brown for $2,500
Bill Belichick may have found a hidden gem in Jeff Thomas, who has the skills to become the next Antonio Brown at a fraction of the price.
Bill Belichick didn't spend long with Antonio Brown, but the New England Patriots head coach certainly saw the upside in signing the All-Pro wideout. While Brown didn't work out in New England, the Patriots may just have a younger, cheaper version in the form of Jeff Thomas. And if all goes according to plan, Belichick will have stolen him for chump change.
Antonio Brown went from a late-round pick to an NFL superstar
Like Tom Brady, Antonio Brown entered the NFL as a sixth-round draft pick. Considering he racked up more than 3,000 receiving yards in college, that didn't make a ton of sense. Of course, Brown's character concerns and lackluster 40-yard dash contributed to his draft slide.
Despite his status as a late-round pick, Brown developed into one of the NFL's best wideouts. In nine years with the Pittsburgh Steelers, he transformed from a virtual unknown into one of the league's most recognizable stars.
From 2013-2018, the 5-foot-10, 185-pounder averaged just over 1,500 receiving yards per season. He led the NFL in catches in both 2014 and 2015. Just two years ago, Brown led the league with 15 touchdown catches.
A route-running savant, the four-time All-Pro became one of the best at his position. That came as a surprise to some considering Brown's less-than-ideal frame. But thanks to a legendary work ethic, he more than outplayed his sixth-round pedigree.
Of course, the story of Antonio Brown has taken a sad turn. Displaying questionable decision making and a bad attitude, he shot his way out of multiple franchises. He never ended up playing a game for the Raiders. And he lasted just one game in New England.
Not even Bill Belichick could get Brown to fall in line. But the Patriots may have found the next AB. And like the NFL star, Jeff Thomas also comes with baggage.
Jeff Thomas has incredible upside as an undrafted free agent
University of Miami fans got the entire Jeff Thomas experience. The former MVP of the Under Armour All-America Game signed with the Hurricanes as one of the top recruits in the country. Yet, he never lived up to the hype. And like Antonio Brown, Thomas got in his own way.
As a freshman, he showed tremendous big-play ability by averaging 22 yards per catch. Thomas followed up with 35 catches for 563 yards and a trio of touchdowns. It looked like the Hurricanes had found another future NFL star. But according to Jeff Howe of The Athletic, Thomas wore out his welcome.
For two years, according to a source, the coaching staff had to constantly ride Thomas to work hard, screaming at him on what seemed like a daily basis. He relied completely on his natural ability, infrequently completed his assignments in the weight room and was unreliable with team responsibilities.
A new coaching staff granted Thomas an opportunity to turn his college career around. However, his senior season included a two-game suspension and lackluster production. Then, he ran a 4.45 40-yard dash, which led to questions about his combine preparation.
After going undrafted, Thomas received just $2,500 guaranteed from the Patriots. But by getting a chance to learn from Bill Belichick, he has an opportunity of a lifetime.
Can Bill Belichick turn another undervalued player into a Patriots star?
Jeff Thomas may be new to the NFL, but Bill Belichick has plenty of experience turning undervalued players into valuable assets. Julian Edelman played quarterback in college before turning into one of the NFL's best slot receivers. Rob Ninkovich went from a journeyman into one of the team's most important defenders. Kyle Van Noy overcame a slow start in Detroit to become one of New England's top stars.
Looking ahead, Thomas has the perfect opportunity to re-write his narrative. New England has a shaky wide receiver depth chart beyond the aging Edelman. Mohamed Sanu and N'Keal Harry should play plenty of snaps, but both disappointed in 2019.
Belichick's no-nonsense management style wore thin on Tom Brady. However, it could be an ideal way to maximize Jeff Thomas' prolific talent. And based on his college position coach's comments, Patriots fans should be thrilled at Thomas' upside.
"If he had the work ethic, like Antonio (Brown)," [Ron] Dugans said. "You rarely have guys that run that fast, have the type of hands that he has, really good ball skills. He can be a smart player. I think (the Patriots) got a steal because he is dynamic, not only as a receiver but as a returner."

For all we know, Thomas may fail to show up once the pads come on. At the same time, he has several high-profile people in his corner who laud his natural ability. If he's able to take Antonio Brown's work ethic and leave behind the baggage, the Patriots may just have a future star in Jeff Thomas.