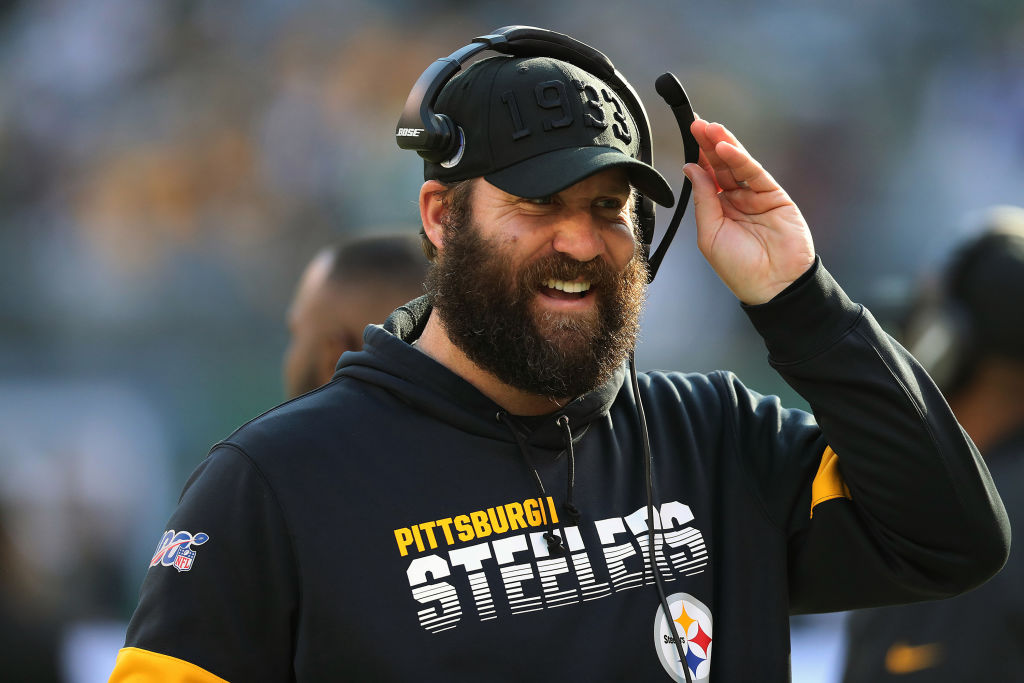 Ben Roethlisberger Shaved His Beard to Send an Important Message
Ben Roethlisberger recently shaved his beard and began throwing to Steelers teammates, which should put the rest of the NFL on alert.
Ben Roethlisberger played just two games before an elbow injury ended his 2019 season. Without their franchise quarterback or former star wideout Antonio Brown, the Pittsburgh Steelers went 8-8 and missed the playoffs for the second straight season. While Baker Mayfield gets to work with $100 million in upgrades and Joe Burrow attempts to snap the Bengals' playoff woes, the Steelers won't go away quietly. And by shaving his beard, Ben Roethlisberger just put the rest of the NFL on alert.
Ben Roethlisberger's injury-shortened 2019 season
Since the Steelers selected him 11th overall in the 2004 NFL draft, Ben Roethlisberger has been the face of the franchise. Though he certainly doesn't subscribe to the Tom Brady fitness regiment, the 6-foot-5, 240-pounder has carved out a Hall of Fame resume thanks to his toughness and big-play ability. However, after throwing for a career-high 5,129 yards in 2018, Big Ben barely made a blip on the NFL radar last season.
Roethlisberger lasted just two games before a serious elbow injury landed him on injured reserve. The six-time Pro Bowler underwent surgery on his throwing elbow in September and spent the rest of the season as an unofficial coach. Before his season ended, however, Roethlisberger hadn't exactly impressed. The Steelers got off to an 0-2 start with Big Ben behind center. He completed just 56.5 percent of his passes, which would have easily been the worst mark of his storied career. He also failed to throw a single touchdown.
Surprisingly, Mike Tomlin managed to go 8-6 with Mason Rudolph and Duck Hodges as his starting quarterbacks. Roethlisberger proved to be a useful sounding board for the team's two young signal-callers. Yet, the Steelers settled for a second-place finish after Lamar Jackson's Baltimore Ravens convincingly won the AFC North.
Steelers QB showed off his fresh face and healthy elbow on social media
Throughout his career, Big Ben has often sported a big beard. His trademark facial hair became a hot topic when he promised that he wouldn't shave or cut his hair until he could throw a football again. And less than a month after the 2020 NFL draft, he made good on that proclamation.
In a 38-second video posted by the Steelers on Twitter, you can see Roethlisberger not only tossing passes to some of his teammates but you can also witness him shaving his caveman-like beard. Pittsburgh's top wideout, JuJu Smith-Schuster declared, "He's back" at the end of the video.
A new haircut and fresh face may steal the spotlight, but the more important takeaway is that Ben Roethlisberger's elbow appears to be fully healed. Granted, making a few throws for a social media post doesn't prove he's ready for prime time. But considering we haven't seen him throw a football in months, it's a promising sign for Pittsburgh fans and a scary sight for the rest of the NFL.
Can Roethlisberger lead the Steelers to their first Super Bowl berth in a decade?
There's no doubt that Ben Roethlisberger will end up in Canton one day. After all, he captured two Super Bowl titles in his first five seasons. Yet, after hoisting the Lombardi Trophy more than a decade ago, Pittsburgh has routinely come up short in the playoffs. Since losing Super Bowl XLV to the Green Bay Packers in 2010, the Steelers have made five playoff berths. Only once did they advance to the AFC Championship.
At 38 years old, Roethlisberger doesn't have time on his side. And let's not pretend like he's the fittest quarterback around. He does benefit from a strong supporting cast that includes a stacked receiver group consisting of Smith-Schuster, James Washington, Diontae Johnson and second-round pick Chase Claypool. Running back James Conner also needs to prove he can stay healthy to recapture his 2018 form. Pittsburgh also boasts a talented tight end tandem in Vance McDonald and Eric Ebron.
At the end of the day, though, the Steelers' Super Bowl hopes rest on Big Ben's right arm. If he's truly at 100 percent, he's more than capable of bringing Pittsburgh back to the postseason. And with Brady out of the AFC, perhaps that gives the Steelers the opening they need to make their first Super Bowl appearance in 10 years. It may seem simple, but by shaving his beard, Ben Roethlisberger delivered a message to the rest of the league: He's back.