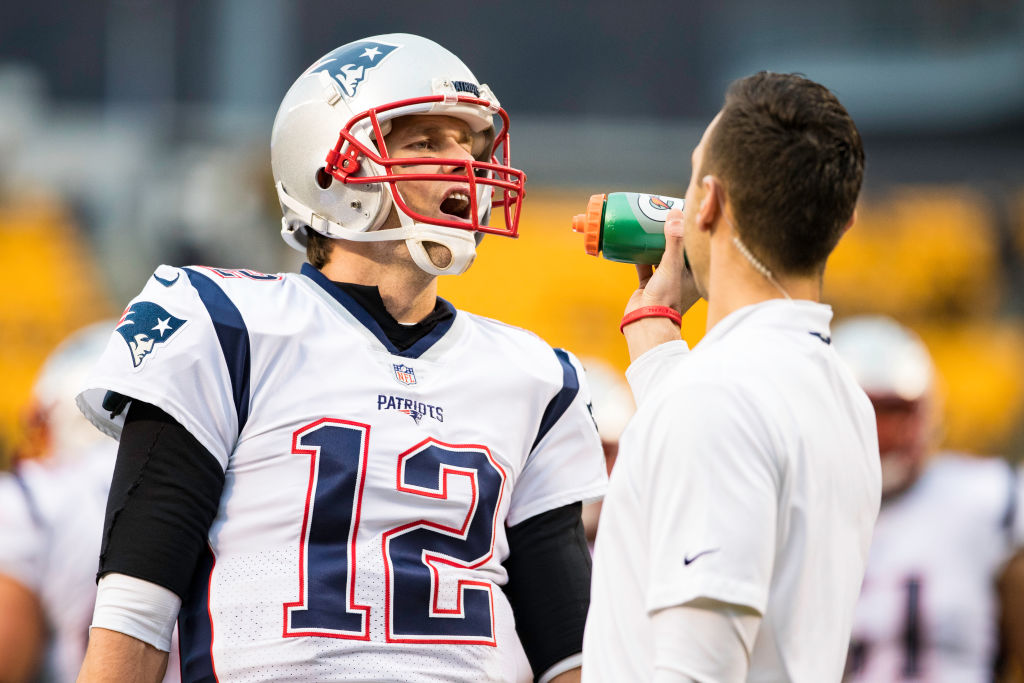 Tom Brady's Secret Skill Surprisingly Involves Beer
Before Tom Brady became obsessed with health and fitness, he impressed Patriots teammates with his elite beer chugging skills.
Tom Brady may not be the most gifted athlete in the NFL, but he certainly made the most of his skillset in 20 years as the quarterback of the New England Patriots. Renowned for his ability to diagnose defenses before the snap, he utilized his intelligence and competitiveness to win six Super Bowl titles with Bill Belichick. But the health fanatic whose diet doesn't exactly sound too appetizing has a secret skill that involves a TB12 no-no: beer.
Tom Brady's Patriots career
After an infamously bad NFL combine showing, Tom Brady slipped to the sixth round of the 2000 NFL draft. It turns out that running a slow 40-yard dash and posting horrific agility times didn't matter. Bill Belichick's leap of faith turned out to be the greatest personnel move of his career. Once Brady took over starting duties from Drew Bledsoe, the Patriots transformed into the most dominant dynasty in NFL history.
Interestingly, Brady never stood out for his physical skills. He never wowed anyone with his deep ball. And he certainly didn't win six Super Bowl titles because of his legs. Yet, his combination of moxie, leadership and toughness allowed him to become the greatest quarterback of all time.
In two decades with the Patriots, he won three NFL MVP awards and made winning the AFC East a yearly formality. Brady may not have been an elite athlete, but he made magic when paired with transcendent talents like Randy Moss and Rob Gronkowski. Despite taking his talents to Tampa this offseason, there's no doubt that Brady maximized his abilities and obliterated expectations in New England.
California kid is a championship-caliber chugger
For all of his on-field accomplishments, it's Tom Brady's unique off-field skill that's most surprising. After all, the 42-year-old has built a booming business based on health and fitness. However, let's not forget that Brady played his college ball at Michigan and has been to his fair share of parties, which comes with the territory of being a football star.
So what's Brady's hidden talent? Well, thanks to Mike Reiss of ESPN and his talk with longtime backup Brian Hoyer, Patriot Nation learned that Tom Brady is an elite beer chugger.
But this was impromptu at Dinosaur Bar-B-Que in Rochester. The whole team is there. And it turns into a beer-chugging contest. You have linemen, Julian Edelman, they all think they are going to win. Then someone says, 'I heard Tom is really great at chugging a beer.' We don't usually get to experience him like this, but we finally coax him into doing it. He does it, and let me tell you, you couldn't have poured out the beer faster into a glass. It was unbelievable. And he slams the mug on the table and puts both fists in the air. He walks away with a look on his face that said, 'You really thought you were going to beat me on this?' The place went nuts."
As his NFL opponents learned, never doubt the GOAT.
Brady has to prove his football skills haven't diminished
Tom Brady's beer-chugging skills may be elite, but he has to prove his football skills haven't eroded as he suits up for the Tampa Bay Buccaneers this fall. Considering his age, he faces a tough task in defeating Father Time. While some of the blame falls on Bill Belichick's shoulders, Brady simply didn't produce at an elite level in 2019.
With a below-average set of weapons, the 14-time Pro Bowler completed just 60.8 percent of his passes. That represented his lowest mark since 2013. Brady also threw just 24 touchdowns. The last time he threw that few came back in 2006. To top it off, he averaged just 6.6 yards per attempt—the second-worst average of his illustrious career.
Ultimately, Tom Brady has made it a habit of proving everyone wrong. He does have a fantastic supporting cast in Tampa. He even coaxed Gronk out of retirement. But if he intends on chugging a celebratory beer and hoisting the Lombardi Trophy again, he'll have to show his skills as a signal-caller haven't disappeared yet.