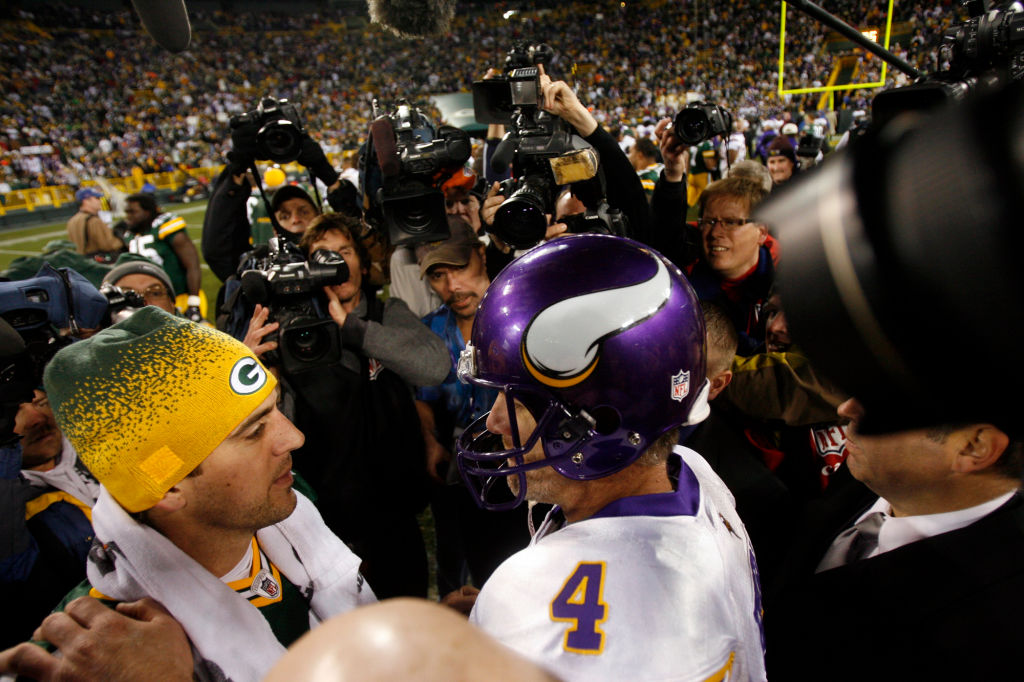 Aaron Rodgers Won't Fight Brett Favre's Fate
Aaron Rodgers once replaced Brett Favre as the face of the Packers. He won't fight Favre's fate when Green Bay moves on someday.
Aaron Rodgers replaced Brett Favre as the face of the Green Bay Packers more than a decade ago. And once Roger Goodell announced Jordan Love as the 26th overall pick of the 2020 NFL draft, he essentially sealed Rodgers' mortality. While his contract precludes the Packers from a swift transition, Rodgers has already accepted his destiny to follow in Favre's footsteps.
Aaron Rodgers replaced Brett Favre in Green Bay
After watching Alex Smith surprisingly go No. 1 overall, Aaron Rodgers had to wait until the 24th pick to hear his name called. The former University of California star waited even longer to see the field. He spent three years backing up Brett Favre—an unenviable task considering Favre's untouchable status in Green Bay. Yet, when the Packers finally decided to thrust their 2005 first-rounder into the starting job, Rodgers quickly showed why the team made the right call.
By booting Favre out the door in favor of the younger, cheaper option, the Packers didn't win over their fans. Instead, Rodgers took care of that. Though he went 6-10 in his first year, he quickly ascended to elite status. In 2010, he led Green Bay to its first Super Bowl title since Favre accomplished the feat in 1996.
From there, Rodgers dominated the last decade. Routinely compared to Tom Brady and Drew Brees, he put together some unbelievable campaigns. Green Bay's star quarterback captured two NFL MVP awards and made the Pro Bowl almost every season. However, Rodgers' individual brilliance couldn't put the Packers over the edge in the playoffs. Green Bay has never made it back to the Super Bowl since hoisting the Lombardi Trophy in Rodgers' third season as a starter.
Packers surprisingly drafted Jordan Love
With a 36-year-old quarterback whose numbers have declined in recent years, the Packers pulled the most shocking move of the 2020 NFL draft. Despite an obvious need to upgrade Rodgers' supporting cast, Green Bay opted to draft his likely successor. Not only did the Packers draft Jordan Love in the first round but they also traded up to do so.
Shocking doesn't even begin to describe the pick. On one hand, planning for the future makes total sense. However, considering their financial commitment to Rodgers, Love will likely spend at least two years on the bench. Beyond that, Green Bay eschewed the opportunity to provide Rodgers with a premium weapon. Apparently Packers GM Brian Gutekunst must subscribe to the Bill Belichick philosophy when it comes to drafting receivers early.
Rodgers is almost guaranteed to follow in Favre's footsteps
Considering his own path to a starting job included toppling Brett Favre from his Packers throne, Aaron Rodgers definitely brings a unique perspective on the Love selection. Immediately after the draft, questions arose about his desire to remain in Green Bay and whether he'll serve as a mentor to the young QB prospect. ESPN highlighted Rodgers' interesting conference call comments about his NFL future.
"What I can control is how I play and making that decision at some point a very hard one. You know, if I were to retire in the organization's timetable, then it's an easy decision. But if there comes a time where I feel like I can still play at a high level and my body feels great, you know, then there's other guys that have gone on and played elsewhere."
The last part of that quote certainly seems like a reference to Favre. After 16 years in Green Bay, he spent one year with the New York Jets before playing at an MVP level in his first year with the Minnesota Vikings. Favre eventually retired after his age-41 season once his body broke down.
Rodgers could also have been referring to Brady, who spent 20 years in New England before taking his talents to Tampa this offseason. Both legendary quarterbacks serve as prime examples that even franchise icons rarely start and finish their careers with one organization. Based on his comments, Aaron Rodgers won't fight against that same fate. Ironically, he'll likely follow Brett Favre's path out of Green Bay and finish his career somewhere else.