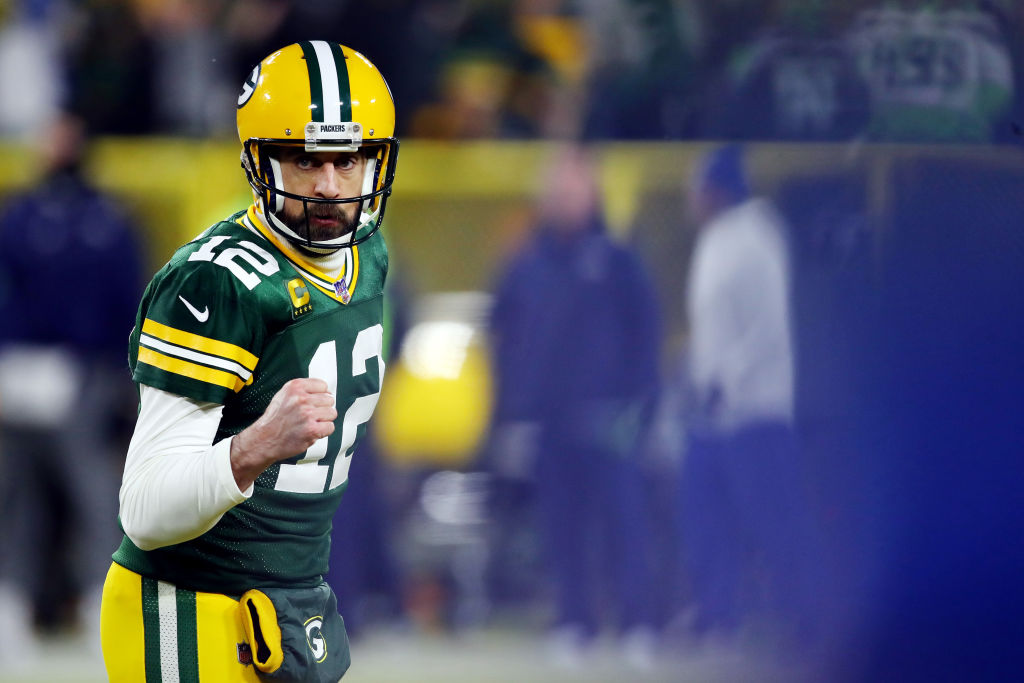 Of Aaron Rodgers' 364 Career TD Passes, Just One Has Been Caught by a First-Round Draft Pick
Of Green Bay Packer quaterback Aaron Rodgers' 364 career touchdown passes, only one has been caught by a first-round draft pick.
Are the Green Bay Packers so good at finding wide receivers later in the draft that they feel they can neglect taking one in the first round? It's possible, but that reasoning can also be twisted into the question: Just how much better would Aaron Rodgers be if the Packers went out of their way to find their quarterback some first-round talent? The 2020 NFL draft came and went and, not only did the Packers not take a wide receiver in the first round, the WR-depleted Pack didn't take one at all.
A slap in the face to Aaron Rodgers
Not only did the Green Bay Packers fail to select a wide receiver in the first round of the NFL draft last weekend, they took quarterback Aaron Rodgers' apparent replacement. The Pack selected Utah State quarterback Jordan Love – and traded up to do so.
Yes, Rodgers is 36 years old, but he's still a top-five quarterback in the league and is playing at a high level. Last season, Rodgers threw for 4,002 yards and 26 touchdowns. He also showed he can still take care of the ball by throwing just four interceptions. Rodgers is a two-time MVP, a Super Bowl champ, and an eight-time Pro Bowler who is still playing at a high level. For the record, Love threw more interceptions returned for touchdowns last season (3) than Rodgers has in his entire career.
A year ago, Green Bay won the NFC North and secured the No. 2 seed, drawing a first-round bye. After defeating the Seattle Seahawks in the divisional round, the Packers came within a win of going to the Super Bowl when they were soundly defeated by the San Francisco 49ers. Instead of plugging holes that might help Green Bay vault into the Super Bowl next year, the Packers opted to play for the future, selecting Love.
Rodgers has never been given any first-round help
When the Green Bay Packers selected Jordan Love with their first-round pick last Thursday, it became the first skill player Green Bay has taken in the first round since… Aaron Rodgers back in 2005. Clearly, finding Rodgers some significant weapons hasn't been a priority in Green Bay.
Sure, the Packers have found some very successful wide receivers who weren't selected in the first round. Jordy Nelson was taken in the second round back in 2008, Davante Adams was chosen second in 2014, and James Jones was picked third in 2007. Those players went on to have very successful careers in Green Bay.
The Packers have always been good enough to pick very low in the first round. They didn't have a shot at a Julio Jones or an AJ Green in 2011, but in 2013, they selected defensive end Datone Jones at No. 26 and one pick later DeAndre Hopkins was taken. The draft is a crapshoot and nobody knows how the prospects will pan out. The issue with the Packers is they don't even try. The legitimately passed up on helping themselves (at any position) next year by taking Love, who likely won't seven see the field for a few more seasons.
The stat that defines Rodgers' lack of weapons
Aaron Rodgers has thrown for 46,946 yards in his career. The future Hall-of-Fame quarterback has also tossed 364 touchdown passes in his 15 years with the team. He is one of the most athletic quarterbacks on the field and still remains at the top of his game.
Of his 364 touchdown passes, only one of them was caught by a player taken in the first round. That came during the 2019 season. The player who caught the ball, tight end Marcedes Lewis, wasn't even drafted by the Packers. Since the 2006 draft, the Packers rank 29th in total draft capital spent on non-QB skill-position players (i.e., wide receivers, running backs, and tight ends).
The window for Rodgers is closing in Green Bay. He's got a few more seasons to go, but he can't do it himself. If the Packers could pair another quality wide receiver with Davante Adams and give Rodgers another legitimate weapon, the Packers could make some noise this season. Instead, Packers fans are left waiting to see how good Jordan Love will turn out to be.