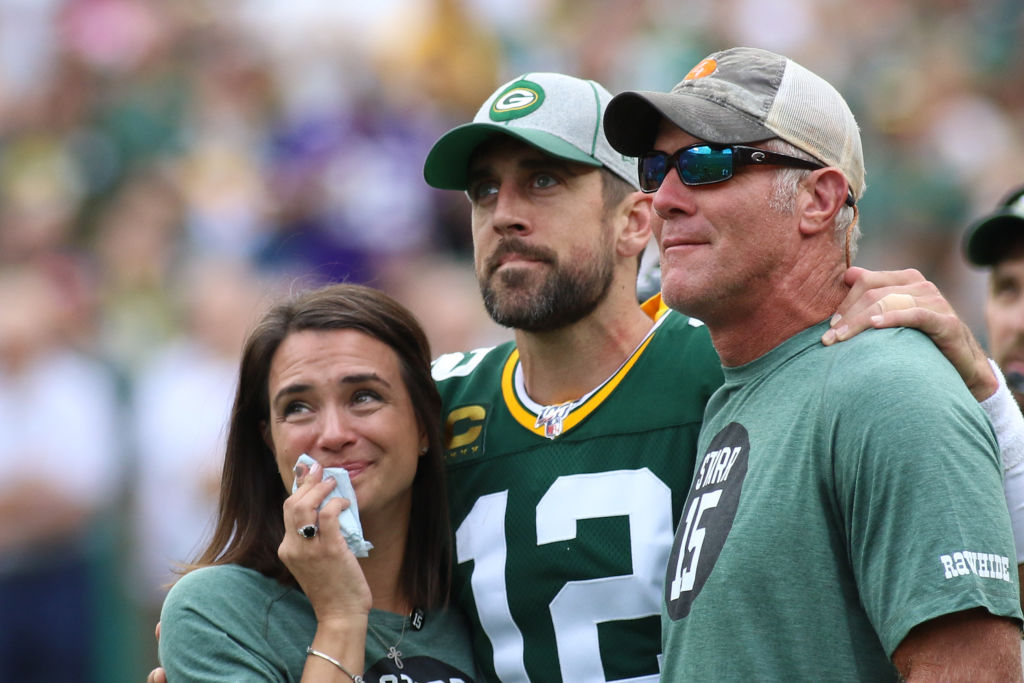 Aaron Rodgers Says Brett Favre Was His Favorite Player Once Steve Young Retired
Despite a rocky start to their professional relationship, Aaron Rodgers has always been a fan of Brett Favre. Today, the pair are good friends who talk on a regular basis.
When Aaron Rodgers arrived in Green Bay in 2005, his relationship with Brett Favre didn't get off to a great start when the veteran quarterback told multiple media outlets it wasn't his job to mentor the rookie quarterback. The media pounced, and the story circulated for months. In a recent interview, Rodgers detailed those early days and how their relationship has developed over time, including where it is today.
Aaron Rodgers falls in 2005 NFL draft to Packers
Heading into the 2005 NFL draft, the Green Bay Packers weren't looking at drafting a quarterback. Coming off a 10-6 season and a loss in the Wild Card round, the Packers had other specific areas in need of improvement.
Aaron Rodgers, who many thought was the top-rated quarterback and potential first overall pick, never imagined he'd get drafted by the Packers. And why should he? The Packers had three-time MVP and Super Bowl Champion quarterback Brett Favre firmly entrenched as the starter heading into his 15th season. 
When the Packers 24th slot came up, Rodgers, surprisingly, was still available. The front office, which had Rodgers rated high on its draft board, decided to select the California quarterback. It would be a great opportunity for Rodgers to learn from one of the greatest of all time and groom him for life after Favre. 
Favre voices his displeasure with Rodgers selection
Soon after the draft, when media asked Favre what he thought about the team selecting Aaron Rodgers, the future Hall of Fame quarterback didn't hold back.
"My contract doesn't say I have to get Aaron Rodgers ready to play. Now hopefully he watches me and gets something from that," Favre told the Milwaukee Journal-Sentinel.
The press pounced on the quote and asked the same question a hundred different ways. Each time Favre willingly offered up a similar response essentially saying it wasn't his job to train the new guy in town.
Those type of comments weren't helpful for the rookie Rodgers, but he understood his job wasn't to be best friends with anyone on the team, but to come in and learn the system and develop as a quarterback, whether Favre was willing to teach him or not.
Aaron Rodgers details those early days and current relationship
In a recent interview on "The Hawkcast" podcast hosted by former Green Bay Packers linebacker A.J. Hawk, Aaron Rodgers said those early days in Green Bay weren't as bad as the media portrayed and he just tried to learn as much from Favre as he could.
"When Steve Young retired, Favre was my favorite player. I had been a fan of his for a long time. There was some excitement there knowing I was going to be teammates with him. But he was coming off a good year in '04. They had made the playoffs. He's not going anywhere any time soon. I knew it was going to be a waiting game and there was no better player to learn from than Favre."
Rodgers said he was nervous the first time he met Favre, but once they started having regular meetings, Favre would joke around with him and everyone else.
"He'd sit back in his big recliner chair in the back of the room. I always sat in the second row. He'd sit in the back and make some funny remarks or throw something at the back of my head. Tease the quarterbacks coach in QB meetings. Tell a hunting story or tell a joke. He was fun to be around."

Aaron Rodgers
Over time their working relationship improved, and Favre willingly helped his eventual replacement. Today, the two are good friends and regularly talk at least once every couple of weeks, if not more often. Rodgers recalled in their most recent conversation, the pair joked about Favre's youngest son coloring his hair orange.
After last week's NFL draft with the Packers selecting quarterback Jordan Love, a future replacement for Rodgers, the two have another interesting topic for their next conversation. In Favre's humorous style, you can be sure he'll offer Rodgers advice on how to treat the new quarterback once he gets in town.