How Brett Favre Escaped Death in a Car Accident 30 Years Ago
Brett Favre is a Hall of Fame quarterback who holds numerous NFL passing records. Favre's most impressive record, and one that most likely will never be surpassed, is his consecutive games played streak. From 1992 to 2010, Favre played in 297 straight games and never missed a single start.
Favre's endurance on the football field is legendary. What most people don't realize is the gunslinger from Mississippi proved his durability 30 years ago when he led Southern Mississippi in 1990, his senior season, a couple of months after almost dying in a terrible car accident.
Brett Favre hanging with buddies
Heading into his senior season in college, Favre did what many 22-year-old college males do in the middle of the summer, hang out with friends and drink. On one mid-July afternoon in 1990, Favre, his older brother Scott and two Golden Eagle teammates, Toby Watts and Keith Loescher, met up for a day of fishing on the Gulf of Mexico at Dauphin Island, Alabama.
After several hours of fishing, eating, and drinking, the group broke up just after 6 p.m. Watts returned to his nearby hotel room. The three others made the 95-mile trek back to Kiln for dinner with the Favre parents, Bonita and Irv. Keith and Scott rode in one car. Brett drove his car.
Almost an hour and a half later, the two vehicles were within a few minutes of home. What happened next is unclear. Through the years, Favre's recollections of the events have changed. The only thing known with absolute certainty is Favre was about to experience the most terrifying moment of his life.
Brett Favre's car accident that nearly killed him
Loescher, driving directly behind Favre, had a much-too-close view of the entire accident.

"Brett was probably going 60, and he just kind of went off the edge of the road. He overcorrected, and his car just shot across the road and started flipping sideways, and it rolled up to a stop at a telephone pole. There was a point when it was flipping, where if we hadn't hit the brakes, we could have driven right underneath his car."

Brett Favre's teammate, Keith Loescher
Stunned by what he had just witnessed, Loescher slammed on the brakes, and threw the car in reverse. Seconds later, he arrived at the vehicle, and looked inside. There were no signs of his teammate. 
Favre was unconscious crumpled up behind the backseat. Shards of splintered glass everywhere. After Loescher unsuccessfully tried to punch out the window, Scott climbed in the vehicle, grabbed his brother, and along with Loescher, hurriedly carried him away from the car up to the side of the road. With all the jostling, Favre started to wake up and mumbled inaudibly.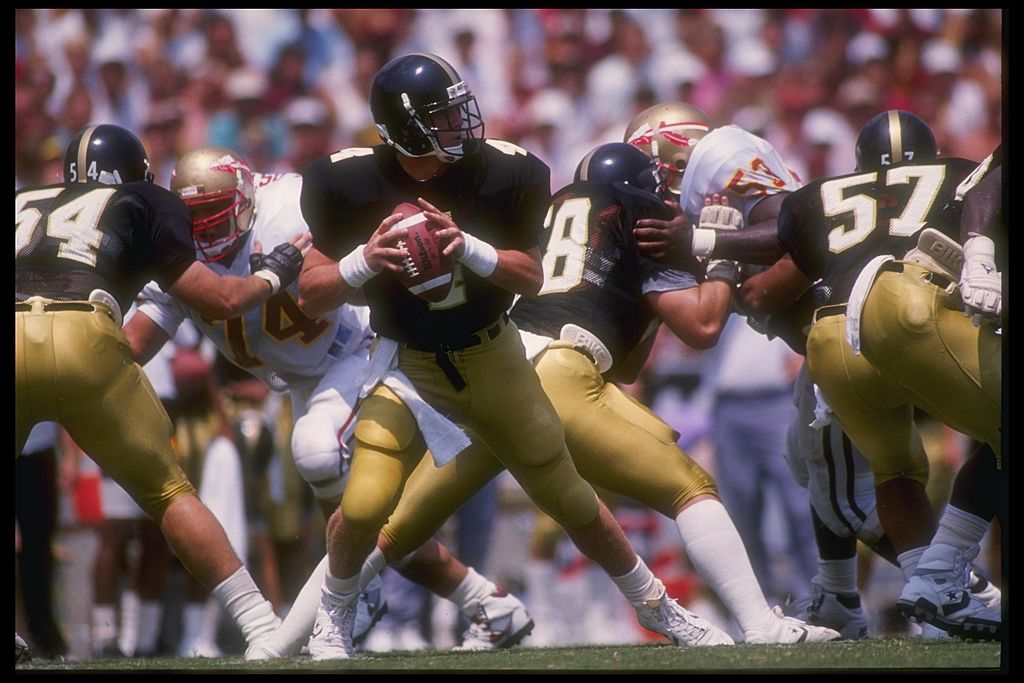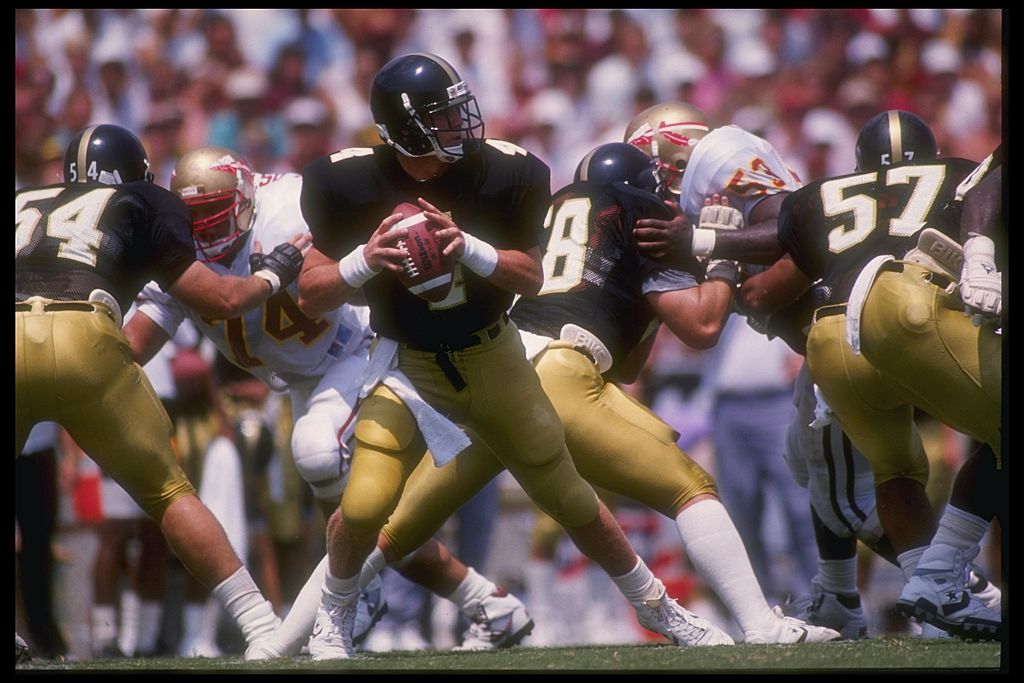 Within minutes emergency personnel arrived, loaded a now groggy Favre into the ambulance, and took him to the hospital. Intense pain jolted his body every tiny bump they drove over.
When they arrived at the hospital, doctors started working on Favre. He sustained multiple injuries, including a hematoma to his liver, a deep cut on his left knee, a severely bruised left arm, a bruised vertebra, and one giant bruise covering the right side of his body. The attending physician in the emergency room told Favre, with all his injuries, football was out of the question for the upcoming season.
"Just watch me," Favre told him.
Favre's miraculous return to football
On September 8, less than two months after the accident, Favre took the field in the second game of the season on the road against a No. 17th-ranked Alabama squad led by first-year head coach Gene Stallings. Favre was less than 100 percent still feeling the effects of the accident, including medical complications that resulted in doctors removing 30 inches of his intestine.
The experts never gave Southern Miss a chance to beat Alabama even with a healthy senior quarterback. At halftime, the experts appeared to be correct as Alabama had outgained Southern Miss with 241 yards to 36 yards. Surprisingly, Alabama held a slim 17-10 advantage.
In the second half, Southern Miss kept pace with the bigger and faster Crimson Tide players. With just over seven minutes remaining and the scored tied at 24, the Golden Eagles took over at their own 20.
Southern Miss drove down the field, the critical play coming when Favre side-stepped the rush of multiple Alabama defenders and fired a rocket 34 yards down the field to his halfback Eddie Ray Jackson. A couple plays later, the Golden Eagles kicked a 52-yard field goal and escaped Birmingham with a 27–24 victory.
Favre leading his team to a comeback victory over the Crimson Tide was a special moment. A moment two months earlier no one thought possible.
At that time, no one was worried about football. Except one person. And he went out and defied all expectations, including a certain emergency room doctor.