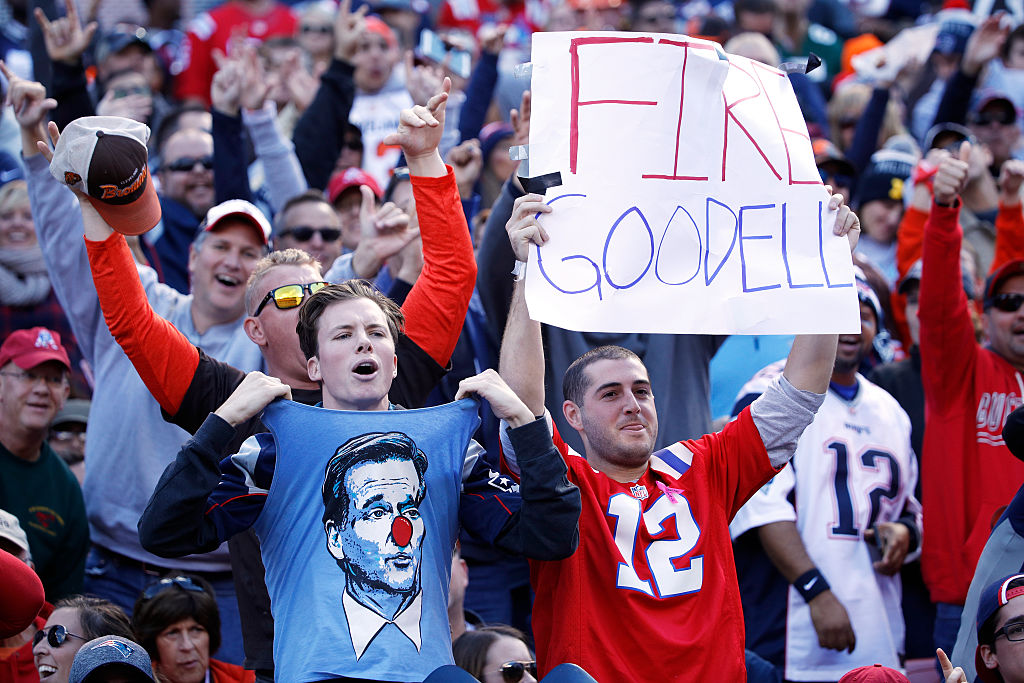 Roger Goodell Built a $150 Million Empire as the NFL's Biggest Villian
Roger Goodell has built a staggering $150 million net worth despite being widely viewed as the NFL's biggest villian by fans.
If Roger Goodell's salary correlated with his approval ratings, let's just say he'd be working for free. Unfortunately, the handsomely paid NFL commissioner doesn't seem to care whether he's well-liked. During his tenure, the league has certainly profited tremendously. However, the face of the NFL has also earned plenty of criticism for his handling of the Ray Rice fiasco, Deflategate and many other controversies.
Even the greatest quarterback in NFL history has squared off against Goodell in court. And let's not forget about the annual NFL draft ritual of fans mercilessly booing the face of the league as he walks to the podium. Still, that hasn't stopped the NFL commissioner from becoming one of the wealthiest and most powerful figures in professional sports. By embracing his role as the NFL's biggest villain, Roger Goodell has amassed an insane net worth.
Roger Goodell's controversial tenure as NFL commissioner
The NFL's commissioner began his career much like most Americans as a lowly intern. After working his way up the corporate ladder, Roger Goodell officially succeeded Paul Tagliabue as NFL commissioner in 2006. While the league has seen tremendous financial growth under his watch, Goodell's decade-plus tenure has included a number of controversies.
Perhaps the most notorious one involved Ray Rice. The former Baltimore Ravens running back infamously struck his then-fiancee and the incident was captured on video. Shockingly, Goodell initially handed Rice just a two-game suspension. However, facing widespread backlash from fans and the media, Goodell amended the term to an indefinite suspension. That represented yet another controversial punishment from the league's biggest villain. Prior to the Rice incident, Goodell had also handed down lengthy suspensions to Ben Roethlisberger, Adam "Pacman" Jones, Tank Johnson and Donte Stallworth.
And in what can only be summed up as a witch-hunt, Goodell went after his antithesis in Tom Brady during the Deflategate debacle. Whether the Patriots legend intentionally deflated footballs or not, Goodell's handling of the entire situation only strengthened his reputation as the most vilified commissioner in pro sports. The NFL went so hard after its shining star that Brady eventually had to serve a four-game suspension to start the 2016 season. Fittingly, a motivated Brady led the Patriots to their fifth Super Bowl title, which made for quite an awkward Lombardi Trophy presentation.
The NFL's biggest villain signed a massive contract in 2017
Scores of fans despise Roger Goodell. And based on his controversial track record, they're right to feel that way. But despite his status as the NFL's biggest villain, the league's most important stakeholders—the owners—ultimately ensured Goodell would continue to serve in his role for at least five more years. In 2017, ESPN reported that the commissioner signed a five-year contract extension that would run through the 2023 season. As if that wasn't bad enough, the money involved sent NFL fans into a tizzy. Goodell's five-year pact carried a maximum value of $200 million.
That's not to say the deal came together easily. In fact, Jerry Jones coordinated an effort to hold up the extension. While the outspoken Dallas Cowboys owner fought hard, ultimately Goodell still got the massive extension. Fellow owner Arthur Blank of the Atlanta Falcons relayed his thoughts to The MMQB after Goodell signed his deal.
"I'm happy that it's over. I was just telling Roger that, in the history of the NFL, I'm not sure a big decision has been so transparent as this one," Blank told The MMQB. "We got a lot of input from a lot of owners, a lot of guidance from them, and we feel very good about what developed out of that."

And so, Roger Goodell officially became the NFL's highest-paid employee. Ponder that for a moment.
What is Roger Goodell's net worth?
No matter how much he's hated, Roger Goodell can sleep soundly knowing he makes more money than the highest-paid player in the NFL. Even though he doesn't have to put his body on the line, the commissioner tops Russell Wilson's league-leading $35 million average annual salary. According to Celebrity Net Worth, Goodell made $328.7 million from 2007-2018. The 61-year-old currently has an estimated net worth of $150 million, which puts him $30 million ahead of Aaron Rodgers.
Incredibly, in addition to his $50 million salary demand, the NFL's biggest villain even asked for lifetime use of the NFL's private jet during his 2017 contract negotiation. Maybe he just wanted to secure a way to escape from fans who would be glad to see him get toppled off his throne. But with his massive net worth, Roger Goodell can more than afford to purchase his own plane.