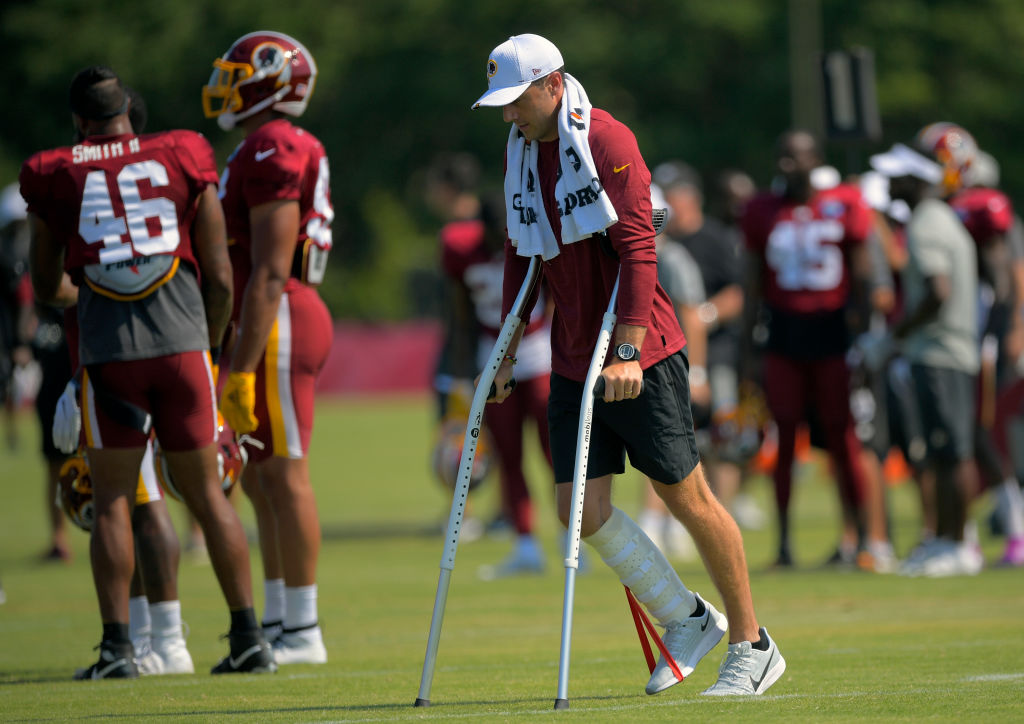 Alex Smith Defeated Death While Recovering From 17 Surgeries
Alex Smith went from Redskins starting quarterback to nearly dying from a flesh-eating bacteria as a result of a horrific leg injury.
Life can change in a split second. At least, that's the lesson Alex Smith learned on November 8, 2018. Sandwiched between J.J. Watt and Kareem Jackson, the Washington Redskins quarterback's leg snapped in an eerily similar fashion to franchise legend Joe Theismann. The gruesome injury obviously ended Smith's season, but the damage went far beyond that. Not only did the former No. 1 pick by the San Francisco 49ers nearly lose his leg but he almost lost his life. From undergoing 17 surgeries to battling a flesh-eating bacteria, Alex Smith's Project 11 documentary gives viewers an in-depth look at his inspirational recovery that included coming face to face with death.
Alex Smith's journey from No. 1 pick to Redskins starter
It's incredible to think that Alex Smith's NFL journey began 15 years ago. A star in Urban Meyer's spread system at Utah, he parlayed a fantastic junior season into the No. 1 selection in the 2005 NFL draft. Of course, the 49ers infamously made Smith the top pick over Aaron Rodgers, who starred at the nearby University of California. That draft-day decision altered the fate of two storied franchises. While Rodgers eventually unseated Brett Favre as the king of Green Bay, Smith didn't become a decent starter until his fifth NFL season. In fact, he looked like a flat-out bust early on his career.
After missing the entire 2008 season with a shoulder injury, the former No. 1 pick put together three decent seasons with the 49ers. But with Colin Kaepernick emerging as a star, San Francisco shipped Smith to the Kansas City Chiefs for a pair of second-round picks. The move paid off for both Smith and the Chiefs, as he developed into an above-average starter. Notoriously conservative, Smith started 76 games for the Chiefs and threw 102 touchdowns and just 33 interceptions. Most impressively, after going just 38-36-1 with the 49ers, Smith posted a 50-26 record in five years with the Chiefs. He also earned three Pro Bowl selections while leading the team to four postseason berths.
However, once Kansas City drafted Patrick Mahomes, Smith's days as the starting quarterback began to tick down. And with the young gunslinger ready to take over, the former top draft pick once again found himself on the trade block. In March 2018, the Redskins acquired their new starting quarterback for defensive back Kendall Fuller and a third-round draft pick.
Veteran QB suffered a gruesome leg injury in 2018
Washington immediately inked Alex Smith to a stunning four-year, $94 million deal. It certainly seemed like a bold (and questionable) move by Dan Snyder and the front office. Then again, the Redskins had just spent years quibbling with Kirk Cousins and needed a fresh face behind center. Unfortunately for Washington's newly-minted starting quarterback, his Redskins career ended almost as quickly as it began.
Through nine games, Smith actually had the Redskins poised to make their first playoff appearance since 2015. Heading into a Week 10 matchup with the Houston Texans, the Redskins stood strong with a 6-3 record thanks to their highly-effective game manager. Then everything changed.
Facing a loaded Texans defense led by Watt and Jadeveon Clowney, the Redskins' offense had a day to forget. But for Smith, that fateful November 18th game will forever be etched in his memory. Down by 10 in the middle of the third quarter, Smith dropped back and got driven into the turf by Watt and Jackson. Almost immediately, everyone could see that Smith had suffered a serious injury. Only no one could have predicted that the third-quarter sack would nearly cost Alex Smith his life.
Smith's Project 11 documentary reveals his battle for survival
The respected veteran quarterback suffered a horrific leg injury that resulted in one of the most incredible recoveries a professional athlete has ever endured. ESPN covered Smith's inspirational journey in a documentary called Project 11. The E:60 episode takes viewers into the deeply emotional, and sometimes frightening, experience that Smith and his family went through on his road to recovery. Let's just say it's not a recommended watch for those with squeamish stomachs.
Project 11 revealed some astonishing aspects of Smith's fight for survival. As detailed on the Redskins' website, his recovery included 17 surgeries and a bloody battle with a flesh-eating bacteria that threatened not just not his leg but his mortality. Surgeons told his mother, Pam, some haunting words.
"We're in life-saving mode now and leg-saving mode, but it's in that order."
Doctors had to remove dead skin and muscle tissue in order to control the rapidly spreading infection. That left Smith with a decision that most of us wouldn't dream of facing: amputation or trying to save his leg.
"I didn't want to have to be choosing between these two things," Smith said. "But I decided to do the limb salvage, to try to save it."
Incredibly, Alex Smith escaped with his leg, but more importantly, his life. While his NFL future remains uncertain, the Redskins quarterback beat his most formidable opponent, and it wasn't one wearing a helmet and shoulder pads. Thanks to his faith and unwavering perseverance, Alex Smith defeated death.