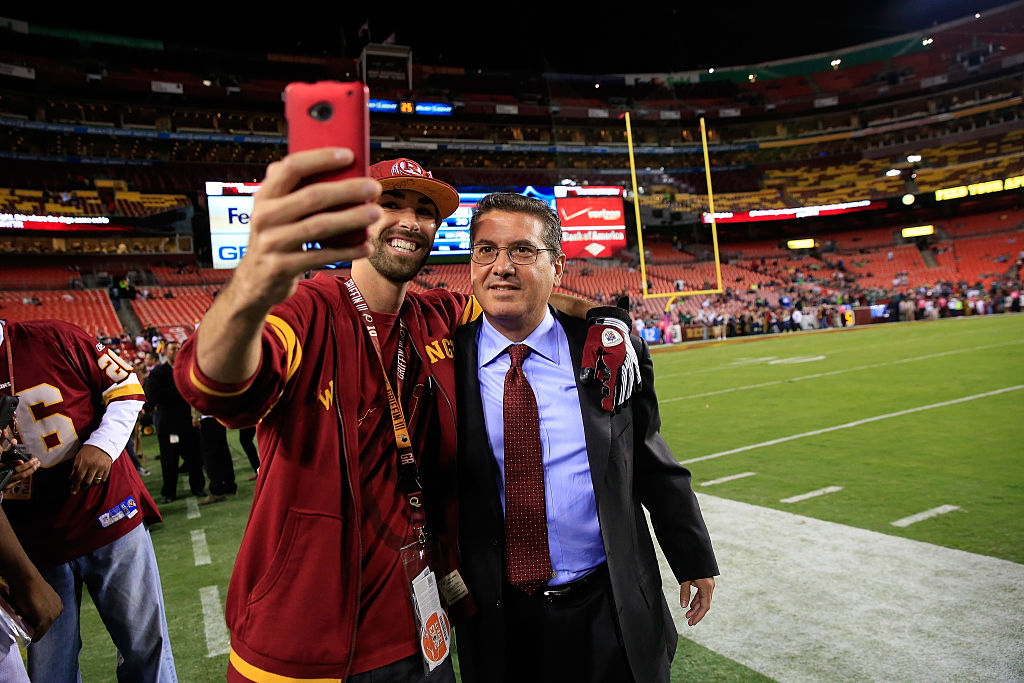 Daniel Snyder Won $66,000 By Suing a 72-Year-Old Washington Football Team Fan
Daniel Snyder has not made many fans as the owner of the Washington Redskins. It only got worse when he sued his own season-ticket holder.
Mention Daniel Snyder and be prepared to take cover. To say the Washington Redskins owner is not well-liked would be a massive understatement. After all, he's turned one of the NFL's most historic franchises into a perennial loser. No matter how much money he's thrown at flashy free agents, nothing ever seems to go right for him.
Redskins fans aren't exactly sympathetic to their owner's inability to put together a winning team. Snyder has perpetually gotten in his own way and wasted time and money on a team once synonymous with greatness. For all of his failures, there's one Daniel Snyder story that perfectly sums up why Redskins fans disdain one of the NFL's worst owners. In a cruel twist of irony, it involves Snyder suing one of his own fans for the paltry sum of $66,000.
Daniel Snyder's path to NFL ownership
Before he became one of the NFL's most notorious owners, Daniel Snyder amassed a massive net worth in the advertising business. He famously sold his Snyder Communications company in a deal that brought him about $300 million.
In May 1999, Snyder bought the Redskins for $800 million after longtime owner Jack Kent Cookie passed away. Of course, he couldn't have done that deal without borrowing a significant amount of money. Unfortunately, the weight of that $340 million loan forced him to sell 35 percent of his ownership stake in 2003.
Still, he's remained the face of the franchise and helped Washington become a highly profitable organization. Yet, any financial gains have been largely overshadowed by the team's continually disappointing on-field results.
Washington has been one of the NFL's worst teams under his watch
Since Daniel Snyder added the Redskins to his financial portfolio, Washington has gone from one of the NFL's proudest franchises to one of its most embarrassing. Along the way, Snyder has poured millions of dollars into big-name free agents. That money essentially went up in flames.
In the last 20 years, the Redskins have posted a winning record just five times. Their last winning season occurred in 2016 when they went 8-7-1 and finished third in the NFC East. Washington has won just a single playoff game in Snyder's entire tenure as owner.
As if that doesn't speak to his ineptitude, just look at how the Redskins have cycled through coaches and players. Snyder has employed a laundry list of head coaches, including Marty Schottenheimer, Steve Spurrier, Joe Gibbs, Jim Zorn, Mike Shanahan, and most recently, Jay Gruden. He signed Deion Sanders to a $56 million deal, only to watch him retire after one year. Snyder also handed Albert Haynesworth a stunning $100 million contract. The Pro Bowl defensive tackle lasted just two years in the nation's capital.
No matter how you slice it, Snyder's been an awful owner when it comes to building a sustainable winner. But his horrific personnel moves and coaching hires pale in comparison to the petty lawsuit he filed against a fan who unfortunately paid hard-earned money for season tickets.
Snyder sued 72-year-old fan for canceling her season tickets
Never mess with grandma. At least, that's the lesson Daniel Snyder hopefully learned from a truly bizarre lawsuit he filed in 2009. Nearly a decade ago, the petty Redskins owner sued a grandmother for not showing up to games.
The season-ticket holder worked as a real estate agent. However, once the housing market collapsed, she requested that the Redskins waive her season tickets. Instead of honoring her wish, Snyder responded by suing the 72-year-old for backing out of her ticket-renewal agreement.
Because she could not afford a lawyer, Snyder won a default judgment of about $66,000. In fitting fashion, Redskins fans and media members scoured the team's owner for his heartless handling of the fan's seemingly reasonable request. Daniel Snyder didn't force her to pay the petty sum. Apparently $66,000 didn't matter that much for a man worth $2.6 billion.