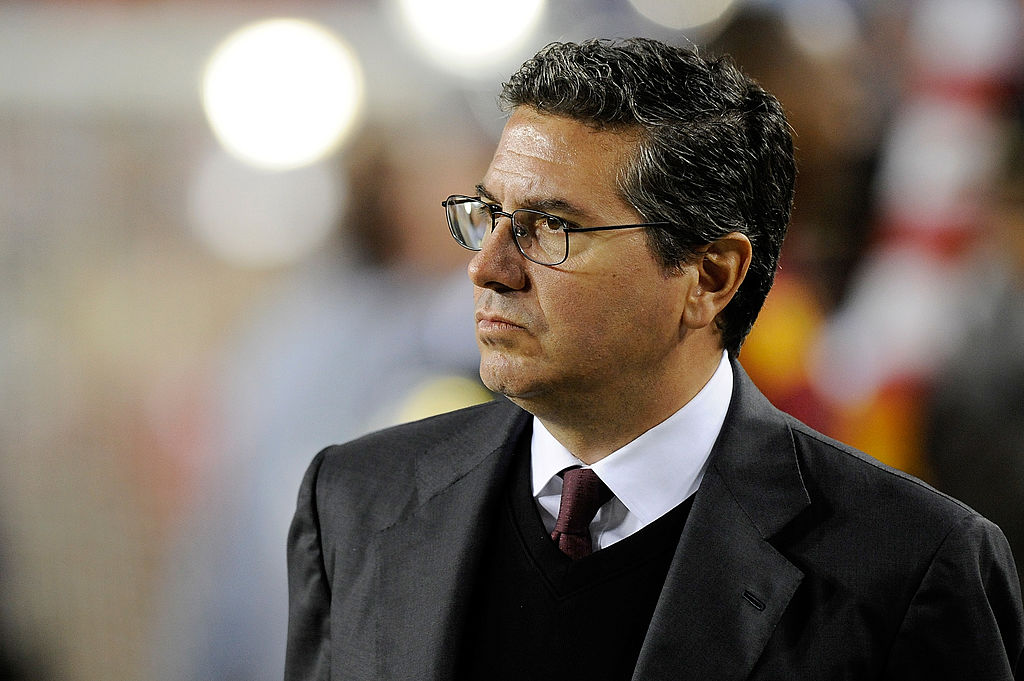 Washington Redskins Owner Daniel Snyder's Net Worth Soared With His Sister's Help
Daniel Snyder bought the Washington Redskins for a record price in 1999 and has much of his net wealth tied up in the team.
Businessman Daniel Snyder worked hard to build his vast net worth, but the Washington Redskins owner wouldn't have gotten to where he is now without a big helping hand from his father and sister.
Snyder may join Jerry Jones and Robert Kraft in being unpopular with a lot of NFL fans, but he made his family and other investors happy on his way to the top by making them rich.
Daniel Snyder has plowed his fortune into football
Daniel Snyder, 55, made an aggressive move in May 1999 when he borrowed $340 million to buy the Washington Redskins from the estate of Jack Kent Cooke for $800 million, which at the time was the most expensive deal for a sports franchise ever.
The crushing cost of the bank loan plus the debt assumed on what would become FedEx Field led to Snyder selling 35% of the Redskins to other investors in 2003, but he remains the controlling partner in a team that was grossing more money than every NFL team except the Dallas Cowboys and New England Patriots 15 years after he took over.
How Snyder came to accumulate enough wealth to buy the Redskins is a study in perseverance. His first major business venture after dropping out of the University of Maryland was a successful enterprise leasing jets to fly college students to spring break destinations. But fortunes changes with his next venture as Snyder's magazine aimed at college students lost $3 million of investors' money.
The advertising business worked out well
In 1989, Snyder and his sister Michele started Snyder Communications by taking a loan from their father and running up $35,000 on her credit cards. The ad agency flourished and led to expansion into related businesses and a larger geographic area. When the siblings took the company public in 1996, 32-year-old Daniel Snyder became the youngest CEO of a company listed on the New York Stock Exchange.
Among the big winners were Mort Zuckerman and Fred Drasner, who had lost money in the magazine venture. They were given company stock that ended up being valued at more than $500 million by the time the Snyders sold their business in 2000 for more than $2.1 billion. Snyder and his sister repaid their father with stock that netted them $60 million.
Daniel Snyder walked away with an estimated $300 million. Forbes now estimates Snyder's net worth at $2.6 billion, with much of that money tied up the nearly two-thirds of the Washington Redskins that he owns. Forbes puts the value of the football team at $3.4 billion.
Daniel Snyder has plenty of critics
Winning in the business world does not translate to success in the NFL, which has been a source of frustration for Washington Redskins fans. The Redskins made the playoffs in his first year Daniel Snyder operated the team but he made coaching changes at the end of the 2000 and 2001 seasons.
Snyder handed the reins to Steve Spurrier in 2002 before bringing back franchise legend Joe Gibbs in 2004. Gibbs got the Redskins back to the playoffs twice in four years, but the coaching carousel continued. Not counting interims, Snyder is on his eighth head coach since buying the team in 1999.
There have been just five playoff appearances and two postseason victories in the Snyder era. Compounding the competitive issues, Snyder has come under frequent criticism over the continued use of the Redskins nickname and mascot at a time when many professional and college teams have moved away from Native American references.
In January 2019, Sen. Elizabeth Warren of Massachusetts invoked Snyder's name, focusing on his recent purchase of a 305-foot yacht as she contended that wealthy Americans should pay a higher tax burden.
"This billionaire NFL owner just paid $100M for a 'superyacht' with its own Imax theater," Warren posted on Twitter. "I'm pretty sure he can pay my new #UltraMillionaireTax to help the millions of yacht-less Americans struggling with student loan debt."