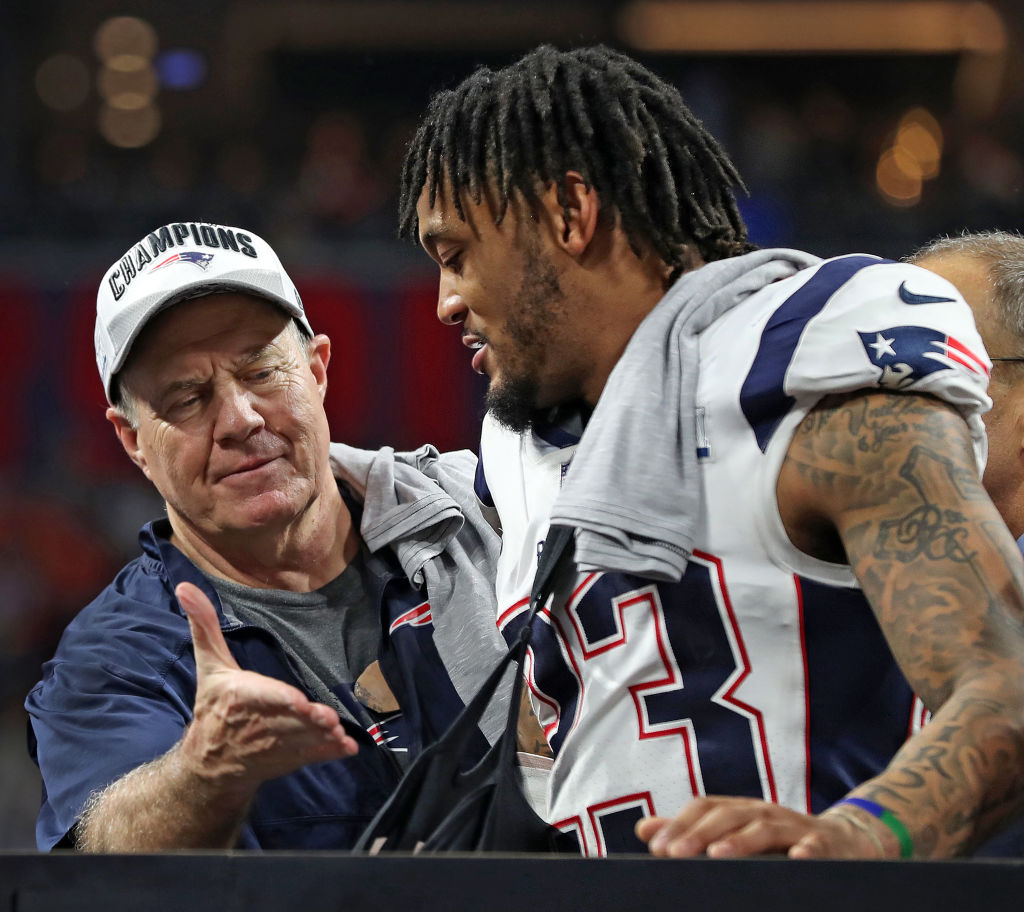 Bill Belichick Keeps Giving Patrick Chung What Tom Brady Desired
Patrick Chung and Tom Brady were instrumental in winning Super Bowls in New England, yet Bill Belichick has handled them quite differently.
Bill Belichick can be a notoriously difficult negotiator. In his 20-year run as the head coach and chief decision-maker of the New England Patriots, he's let a number of stars leave because of money. He's even traded away Richard Seymour, Chandler Jones and Jamie Collins due to contractual differences. Yet, the economically-driven Belichick has managed to show an aging Patrick Chung the respect Tom Brady deeply desired in his last few years with the Patriots.
Patrick Chung's unique Patriots career
Patrick Chung has had perhaps the most unique career of any Patriots player. New England selected the 5-foot-11, 215-pound safety with the 34th overall pick in 2009. However, the former Oregon star didn't exactly play up to his draft status. Miscast as a deep safety, Chung struggled to earn consistent playing time. After four rather disappointing seasons, he signed with the Philadelphia Eagles.
After just one season away from Belichick, Chung returned to his original NFL home. This time, the Patriots put Chung in a role better suited to his skill set. Since returning to Foxborough in 2014, Chung has been one of the most dependable members of the defense. Though he's never earned Pro Bowl love, Chung has played an instrumental role in New England's three recent Super Bowl championships.
Renowned for his toughness, versatility and leadership, the Jamaican native has teamed up with Devin McCourty to give the Patriots one of the NFL's best safety tandems. However, Chung has struggled with injuries in recent years, which would typically make him expendable. Yet, Belichick has treated his reliable defensive back much differently than Tom Brady.
Bill Belichick wouldn't show Tom Brady the ultimate form of respect
While Chung has resurrected his career in his second go-around in New England, Brady carried the team for two decades. Even though he didn't ascend to elite status right away, it's safe to say that the former sixth-round pick played an equal, if not more important role, in the Patriots' six Super Bowl titles than Belichick. However, Brady's paychecks didn't always match up with his prolific accomplishments.
Despite earning the GOAT title, the three-time NFL MVP consistently left millions on the negotiating table. Even after Belichick traded away Jimmy Garoppolo, he still didn't give Brady the respect he wanted in terms of long-term security. Meanwhile, the New Orleans Saints had no trouble paying Drew Brees big money.
With Belichick choosing the year-to-year route, Brady's commitment to the team waned. Coincidentally, his play also slipped the last two seasons. Even though the Patriots won the Super Bowl in 2018, Brady played a game-manager role. This offseason, he finally had the opportunity to control his fate. And while the Patriots probably didn't need to make him the NFL's highest-paid quarterback, Brady rightfully desired a multi-year deal to ensure his status as QB1. Yet, when push came to shove, Belichick didn't budge and the greatest quarterback of all time took his talents to Tampa.
Belichick can't stop extending Chung
As a general manager, Bill Belichick almost always sticks by the principle of, "It's better to get rid of a player a year early rather than a year late." By letting the 42-year-old Brady walk, he showed no reluctancy to concede that stance. Yet, the way Belichick has treated Chung over the years has been completely different.
According to Spotrac, the Patriots signed their defensive leader to a three-year, $8.2 million contract extension with $3.4 million guaranteed in 2015. New England tacked on a one-year extension for Chung in April 2016. Two years later, Belichick handed his starting safety another extension totaling $7.8 million over two years. In April 2019, he gave Chung yet another contract extension that resulted in a nice pay bump.
In a cap-saving maneuver, the 32-year-old Chung received an extension for the third straight year. Belichick tacked on two more years for $6.4 million ($4.1 million guaranteed) to keep Chung under contract through 2023. Somehow, a safety who hasn't started 16 games since 2016 has managed to get annual pay raises from arguably the most frugal and calculated mind in football. It turns out Patrick Chung has gotten the ultimate form of respect from Bill Belichick that Tom Brady never could.