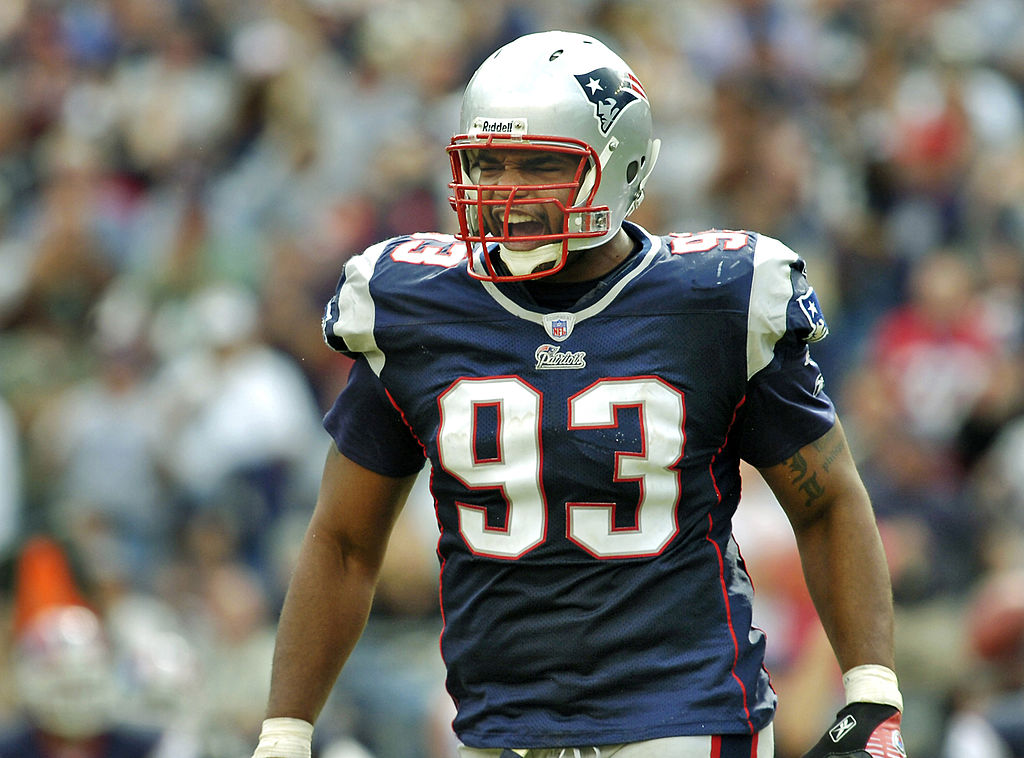 Patriots Hall of Famer Richard Seymour Deserves to be Enshrined in Canton
Patriots Hall of Famer Richard Seymour was one of the most dominant defensive lineman in NFL history and deserves a spot in Canton.
Richard Seymour never had a double-digit sack season. In fact, the former New England Patriots defensive lineman recorded fewer than 60 in his 12-year NFL career. Yet, there's no doubt that he belongs in the Pro Football Hall of Fame.
While Tom Brady became the face of the Patriots, Seymour became the focal point of a defense that brought three Super Bowl championships to Foxborough. And while he may have come up short this year, the former University of Georgia star should get a bust in Canton sooner than later.
Richard Seymour became a dominant force for the Patriots
Bill Belichick has rarely picked in the top-10 of the NFL draft. In fact, he's done it just twice as the head coach and general manager of the Patriots. While 2008 first-rounder Jerod Mayo turned out to be a rock-solid player, Belichick landed a transcendent talent in 2001 in Richard Seymour.
The sixth overall pick out of Georgia became an immediate starter for a squad that nobody expected much out of. But the 6-foot-6, 310-pounder transformed New England's defense thanks to his prodigious physical gifts. Capable of playing end, tackle, or even nose guard, Seymour anchored the NFL's sixth-best scoring defense.
From 2002-2005, Seymour made the Pro Bowl every year. He earned three consecutive first-team All-Pro honors while helping the Patriots capture three Super Bowl titles. Though he recorded just 39 sacks in 111 games in New England, much of that had to do with Belichick's defensive scheme.
Seymour consistently took on multiple blockers, which allowed linebackers like Willie McGinest, Mike Vrabel and Roosevelt Colvin to rack up big sack totals. Despite his standing as an all-time great, Seymour didn't finish his career in New England.
Perennial All-Pro still played at a high level with the Raiders
Seeking a new contract, Seymour ultimately landed in Oakland via trade. Belichick managed to get a first-round pick in exchange for the five-time Pro Bowler. He subsequently used that selection on Nate Solder, who anchored the left tackle spot for two Super Bowl-winning squads.
While Belichick may have thought Seymour's best days were behind him, the gifted defensive lineman proved otherwise. In four seasons with the Raiders, he racked up 18.5 sacks and 42 quarterback hits. After last earning a Pro Bowl berth in 2006, he got named to two consecutive Pro Bowls in 2010 and 2011 before retiring after the 2012 season.
By the time he wrapped up his 12-year NFL career, the former top-10 pick totaled 498 tackles, 57.5 sacks, 91 tackles for loss, 39 passes defended, and most importantly, three Super Bowl rings.
Seymour earned a spot in Patriots Hall of Fame
In May, Richard Seymour rightfully earned a spot in the New England Patriots Hall of Fame. Even Bill Belichick had some incredibly praiseworthy words for his former superstar lineman in an official statement on the Patriots website.
"Richard was a rare physical and athletic talent who possesses excellent intelligence. He was more than most any offensive player could handle and this enabled us to benefit as a defense in many ways. Richard came into the league as a mature, humble, high character person and quickly became one of the cornerstone players in the early stages of this program. We would not have won three championships in four years without him. I am thrilled he has been recognized as one of the franchise's all-time greats."

While Seymour successfully gained enshrinement in the Patriots Hall of Fame, he has fallen short in the Pro Football Hall of Fame voting process in two straight years. However, that should change sooner than later.
Tom Brady supports his former teammate's Hall of Fame candidacy
His raw numbers may not reflect it, but based on comments from both Belichick and Tom Brady, the five-time Pro Bowler deserves a spot amongst the NFL's all-time greats. In a letter posted to the Patriots website supporting his former teammate's Hall of Fame candidacy, Brady spoke candidly about the impact Seymour had on establishing New England's dynasty.
"Richard was named a team captain in just his second season and became a perennial All-Pro and Pro Bowl player. Looking back at that time, I have an even greater appreciation for the roles he played on our defense, which powered us to six division titles and three Super Bowl Championships during his eight-year Patriots career."
If TB12 approves, then Hall of Fame voters should, too. It may take a few more cracks, but given his game-changing ability, versatility, and championship resume, Richard Seymour deserves a spot in Canton.