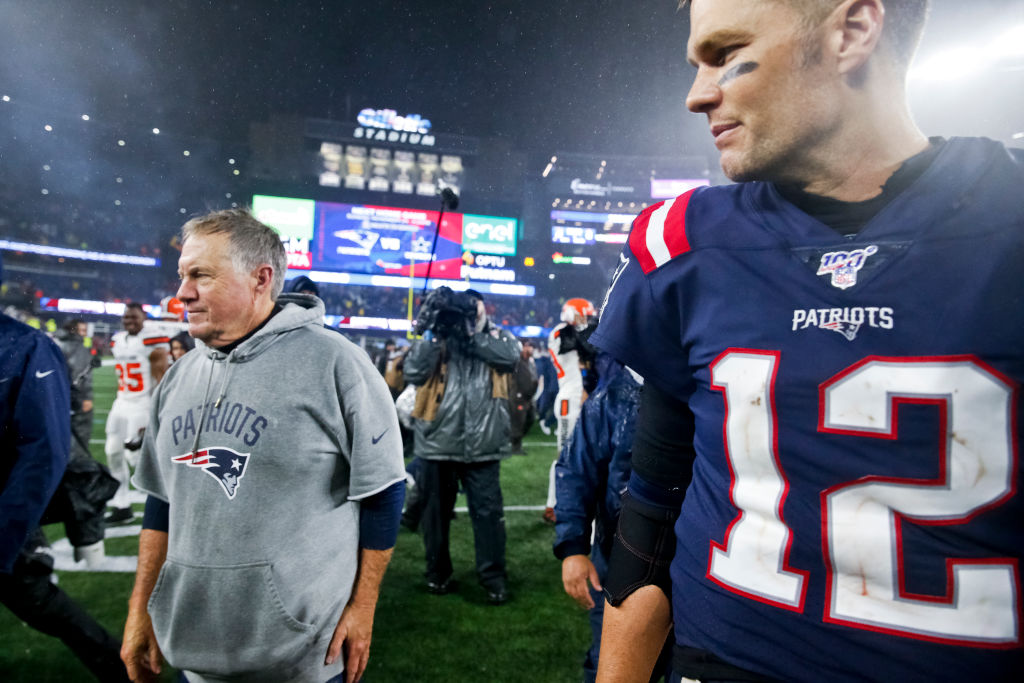 If Tom Brady Wins a Super Bowl in Tampa, What Will Haters Complain About?
Tom Brady can silence his haters by bringing a title to the Buccaneers after winning six Super Bowl championships with Bill Belichick.
It's virtually impossible to find a hole in Tom Brady's resume. After all, when you go from a sixth-round pick to winning six Super Bowl titles, there's not much else you can possibly do to prove your worth. But while New England Patriots fans still hold Brady in high regard, he gets plenty of hate from other NFL fans.
It certainly can't be fun to watch the same quarterback play in the Super Bowl nine times in a 20-year period. And watching him do that alongside Bill Belichick can't feel good for non-Patriots fans, either. But if Brady manages to bring a Super Bowl title to Tampa, he'll officially silence his detractors by accomplishing the feat without the greatest coach in NFL history.
Tom Brady and Bill Belichick experienced incredible success together
You can't discuss the Patriots' dynasty without Tom Brady and Bill Belichick. Both men established reputation as fierce competitors willing to push the boundaries to win. From a coaching standpoint, no one can match Belichick's intimate knowledge of the rulebook. His ability to change on the fly and mold a new gameplan on a weekly basis has put him in a position to challenge Don Shula's all-time wins record.
On the field, Brady made magic happen. Utilizing a diverse cast of weapons throughout the years, he made winning the AFC East a virtual lock. The University of Michigan product led the Patriots to nine Super Bowl appearances. Rather than relying on physical gifts, Brady's preparation, dedication and focus allowed him to become the GOAT.
Together, the two NFL legends brought six Super Bowl titles to Foxborough and made Robert Kraft incredibly rich in the process. However, the debate in both New England and elsewhere has been whether Brady or Belichick contributed more to the NFL's most successful dynasty. Ultimately, we may just find out the answer to that this season.
Buccaneers are legitimate Super Bowl contenders with TB12
As the Patriots embark on the post-Brady era, nobody knows what to expect. On the other hand, the Buccaneers have the pieces in place to make a gigantic leap with TB12 leading the offense. For Brady, it has to be exciting to look around and see Mike Evans and Chris Godwin out wide. That dominant duo has a strong case to rank as the NFL's best.
He'll also have old pal Rob Gronkowski back in the fold. Throw in 2017 first-rounder O.J. Howard, and it's not a stretch to say that this might be the best set of weapons Brady has worked with since the days of Randy Moss and Wes Welker.
Tampa does play in an extremely competitive division. Drew Brees and Matt Ryan also boast excellent supporting casts. However, neither can measure up to Brady when it comes to postseason success and experience. The Buccaneers haven't hoisted the Lombardi Trophy since 2002. That squad, though, won with a historic defense.
With Tom Brady on board, the Buccaneers no longer have a question mark at the quarterback position. There may be growing pains early due to the lack of offseason work, but if Brady and the offense get clicking down the stretch, Tampa has a legit shot at winning Super Bowl LV. In fact, according to Vegas Insider, the Bucs boast the fifth-best Super Bowl odds.
Brady can silence his haters by winning without Belichick
For Tom Brady, winning a Super Bowl in Tampa means much more than adding another ring to his collection. Sure, the hardware is nice. But more importantly, it will give him the ultimate trump card over everyone who hates on the fact that he spent his entire career with the greatest coach in NFL history.
While that's not necessarily Brady's fault, the argument that he wouldn't have been the same player without Belichick definitely has some merit. After all, New England captured its first championship mostly due to its stout defense. Even the Patriots' 2018 Super Bowl victory over the Los Angeles Rams came in a similar fashion.
Now, though, the three-time NFL MVP and the new face of the Buccaneers can silence those haters by bringing a title to Tampa. Entering his age-43 season, Brady will have to defy the odds to accomplish that. And he'll have to do so with a head coach with just one playoff victory on his resume compared to Belichick's 31.
Then again, hasn't Tom Brady made an entire career out of proving everyone wrong?