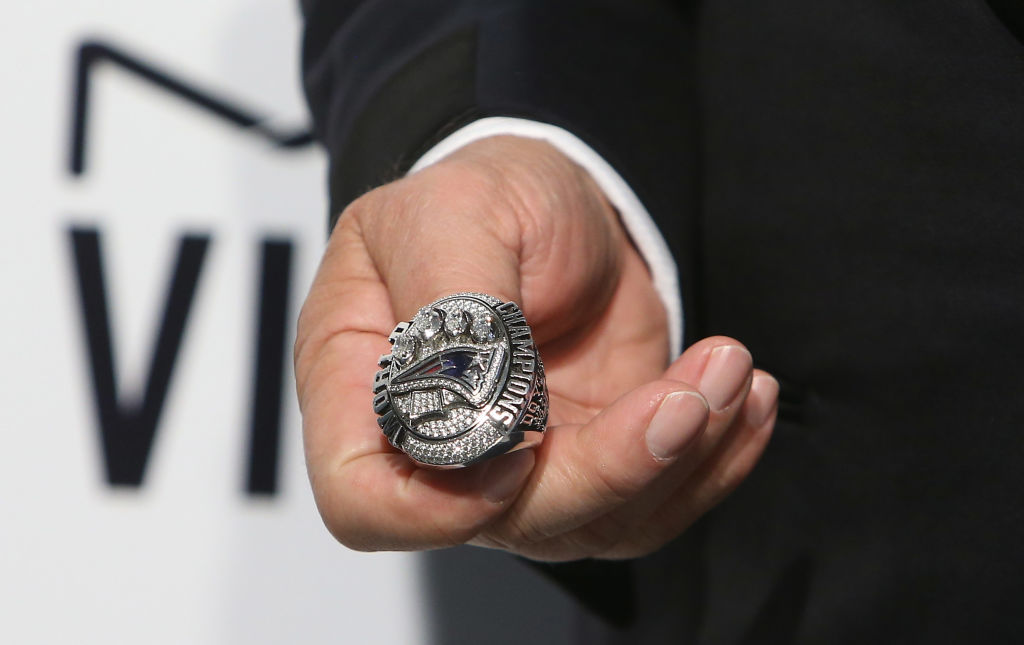 Robert Kraft Sold His Super Bowl Ring for an Obscene Amount of Money
Patriots owner Robert Kraft sold one of his Super Bowl rings for an incredible amount of money that went to an even better cause.
Robert Kraft has made a habit out of collecting Super Bowl rings. As the owner of the New England Patriots, he's been privileged to hoist the Lombardi Trophy six times in the last two decades. Thanks to the incredible combination of Bill Belichick and Tom Brady, the 78-year-old has put Jerry Jones to shame when it comes to championships.
Recently, though, the billionaire owner auctioned off one of his Super Bowl rings for a great cause. And the price it fetched will truly blow you away.
Robert Kraft has overseen the NFL's most successful dynasty
Robert Kraft went from being a dedicated Patriots fan to owning the franchise. He took over in 1994 and New England made it to the Super Bowl two years later. Though Drew Bledsoe failed to deliver a title, it's safe to say the Patriots did just fine when he went down with a devastating injury. That opening provided an opportunity for the world to get to know Tom Brady.
From the moment he took over as the team's starting quarterback, the former sixth-round pick engendered tremendous confidence from his teammates, coaches, and of course, Robert Kraft. Brady made a meteoric rise from an unknown backup to becoming the youngest quarterback to win a Super Bowl.
Of course, the early years of the Patriots dynasty relied much more on their dominant defense rather than the right arm of TB12. In that regard, Bill Belichick shined. The defensive genius and the former Michigan standout began to carve out a reputation as an unstoppable duo. Kraft often stayed in the background, letting his head coach and quarterback handle business on the football field.
The Patriots won the AFC East on an annual basis and made deep playoff runs throughout the 2000s. However, they came up short in two Super Bowl matchups against the New York Giants before finally getting back on top. Before Brady left for Tampa this offseason, he won three more rings and made Robert Kraft even wealthier in the process.
Patriots owner sold his Super Bowl ring for an incredible cause
For Robert Kraft and Patriot Nation, the epic Super Bowl comeback against the Atlanta Falcons has to go down as the most exciting victory in franchise history. Down 28-3, Brady torched the Falcons in the fourth quarter and overtime to complete the biggest comeback in Super Bowl history. Capturing that fifth ring represented a major milestone for Kraft and the organization. The victory put the Patriots in a three-way tie with the San Francisco 49ers and Dallas Cowboys for the most titles in NFL history behind the Pittsburgh Steelers. New England captured its sixth title two years later.
However, Kraft decided to put that ring up for auction for a terrific cause. As part of Fanatics' All In Challenge, the ring represented just one of many items available in the largest virtual fundraiser in history. According to ESPN, Kraft's Super Bowl ring fetched 35 bids. The original bid started at $75,000, but the eventual selling price blew that figure away. Ultimately, an unidentified bidder won the ring for the tidy sum of $1.025 million.
Will Kraft get a seventh ring without Tom Brady?
Now that Robert Kraft auctioned off one of his valuable Super Bowl rings, it'll be interesting to see if he's able to replenish his collection. To achieve that goal, he'll have to hope Belichick can coax greatness out of second-year quarterback Jarrett Stidham.
The 2019 fourth-round pick obviously has huge shoes to fill. He barely saw the field as a rookie, but for now, he appears to be New England's best option to win in 2020. Belichick has a long history of turning unwanted, undervalued players into key cogs. If he can win a Super Bowl with Stidham, it'll only reinforce why he's the greatest coach in NFL history.
Robert Kraft had to watch his de-facto son walk away this offseason. He also sold one of his Super Bowl rings for charity. But in the end, he retained the most important part of the Patriots' dynasty: Bill Belichick. And if Kraft hopes to set the NFL record with a seventh Super Bowl title, that's all that matters.