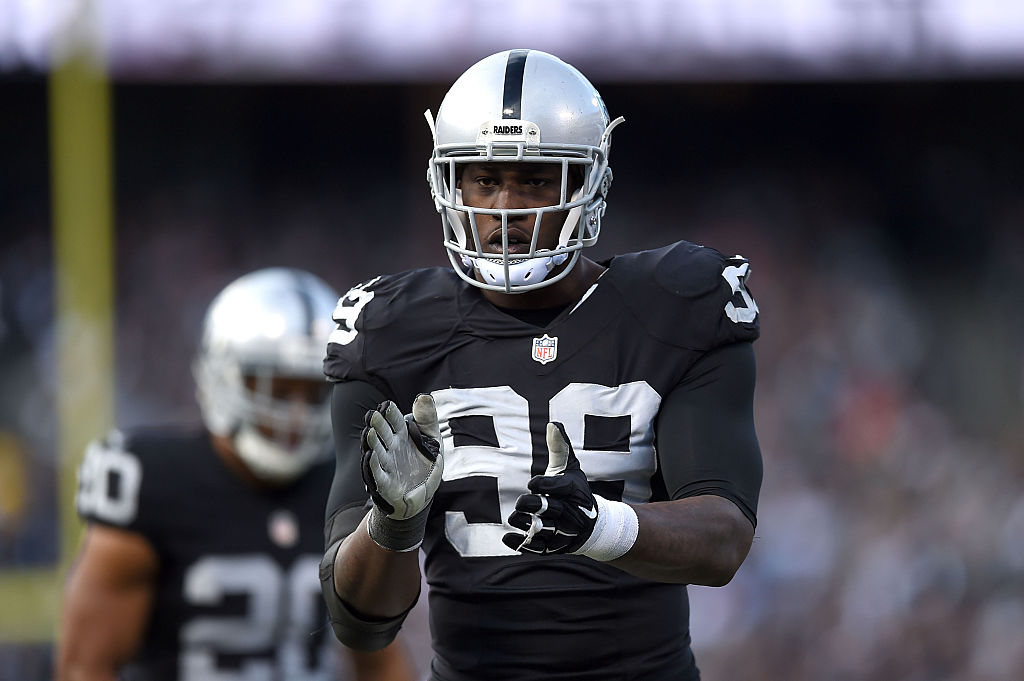 Aldon Smith Has a New Role in Mind With Cowboys
Aldon Smith has finally returned to the NFL, and the Cowboys defensive end has a plan to make an impact both on and off the field.
Early in his career, Aldon Smith looked like the next Reggie White. Unfortunately, his stardom faded fast due to substance abuse issues. The talented sack artist hasn't played an NFL game since 2015. But after getting his life on track, he has a chance to re-write his career narrative with the Dallas Cowboys. While Jerry Jones may be counting on Aldon Smith to make an impact off the edge, the former All-Pro has an even bigger goal to make his NFL comeback story a true success.
Aldon Smith was on a Hall of Fame pace with 49ers
Nearly a decade ago, the San Francisco 49ers seemingly found the NFL's next great edge rusher. Smith went seventh overall in the 2011 NFL draft and became an immediate superstar. As a rookie, the 22-year-old racked up 14 sacks and 27 quarterback hits. Utilizing his incredible length and burst, Smith followed up with an even better second season. Starting all 16 games, he totaled 19.5 sacks, 29 quarterback hits and 18 tackles for loss. That earned him first-team All-Pro honors for a 49ers team that advanced all the way to the Super Bowl.
That ultimately represented the peak of the mountain for the 6-foot-5, 255-pound pass-rusher. Smith suited up in just 11 games in 2013 and watched his sack total drop to just 8.5. On August 29, 2014, the NFL suspended Smith for nine games as a result of violating the league's substance-abuse policy. When he did return that year, he totaled just two sacks. San Francisco cut Smith before the 2015 season.
Former All-Pro last played in 2015
Aldon Smith didn't have to wait long for a second chance. The Oakland Raiders signed him about a month later. He played just 45 percent of the team's defensive snaps before getting suspended for one year by the NFL for his role in a hit-and-run accident. The one-time superstar did not get reinstated and sat out the 2016 and 2017 campaigns. It only got worse, as the Raiders cut Smith during the 2018 offseason after an alleged domestic violence incident.
After four years away from football, Smith finally got his big break. Thanks in large part to Jay Glazer, he re-shaped his body and got on track. With Glazer's help, he bulked up to 287 pounds and earned a one-year, $4 million deal from the Cowboys. Considering he hasn't played a snap since 2015, that's a decent deal for the former first-round pick. However, Aldon Smith's desire to make an impact goes far beyond the football field.
Smith's plan to make his Cowboys comeback meaningful
Given his lengthy history of off-field issues, it's understandable why Cowboys fans have doubts about whether Aldon Smith can stay on the right path. After all, this is the same fan base that has watched Randy Gregory waste his prodigious pass-rushing talent because of his own substance-abuse problems.
Earning the trust from fans, teammates, coaches and even Jerry Jones will be key for Smith. Based on his conversation with Glazer, he certainly seems to have the right mindset on how to make sure his NFL comeback with the Cowboys means more than just sacking quarterbacks on Sundays.
"I believe that with the platform that the NFL gives players, and particularly me with the things that I've gone through and the things that I've learned, that it would give me a chance to help out others. So it's not just deserving a shot to play but it's deserving a shot to use that platform so I can help out other people."
Actions are louder than words. In this case, Smith has a long way to go to prove he's matured and can handle the pressure of playing in Dallas. Ultimately, he has a tremendous opportunity to not only resurrect his NFL career but also become a role model. If he can recapture his early 49ers form and also stay focused off the field, Aldon Smith will become one of the best comeback stories in NFL history.
Statistics courtesy of Pro Football Reference