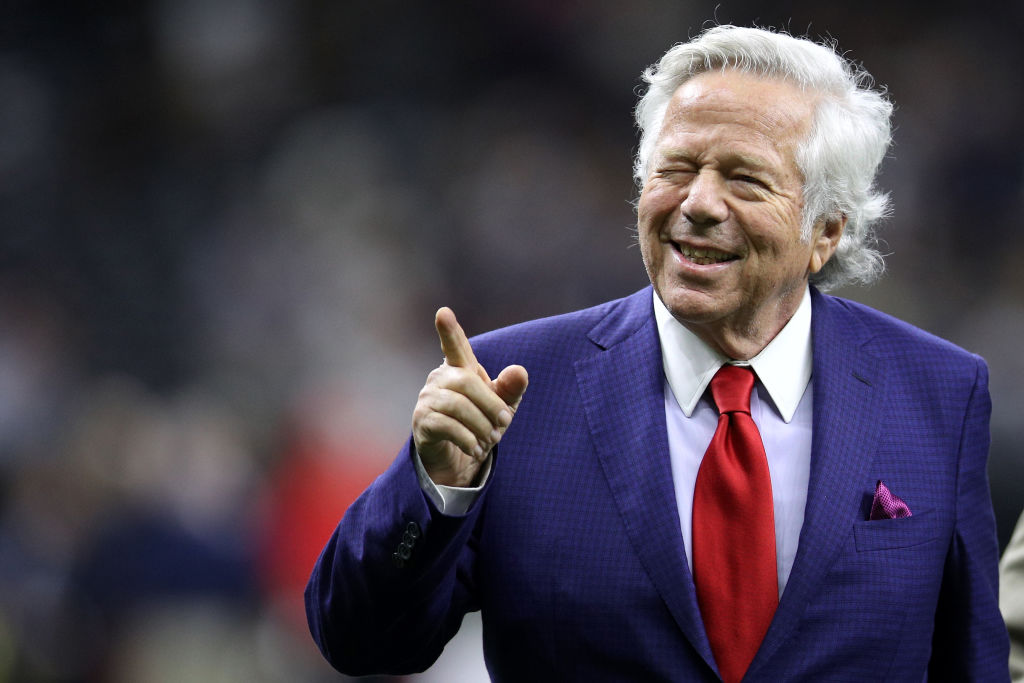 Robert Kraft May Not Have Saved Tom Brady, but He May Be Saving Lives
New England Patriots owner Robert Kraft may not have been able to save Tom Brady from leaving, but he may be saving lives.
New England Patriots owner Robert Kraft may have let quarterback Tom Brady slip away, but he stepping up big time away from the football field. Football fans, Patriots fans, in particular, have had a beef with Kraft since the Patriots let their legendary quarterback walk away and sign with the Tampa Bay Buccaneers. Kraft, however, has likely built a new group of backers after his latest non-football move.
Robert Kraft and Tom Brady part ways
After six Super Bowl titles and nine Super Bowl appearances, Tom Brady will not be taking snaps for the New England Patriots for the first time in 20 years. Brady and the New England Patriots couldn't reach a deal on an extension this offseason and the Tampa Bay Buccaneers came in an swooped the quarterback away with a two-year deal.

Since the 2001 season, Brady and Kraft have been part of a team that has had an unprecedented amount of success on the football field. After taking over for an injured Drew Bledsoe during the '01 season, Brady has cemented himself as the greatest New England Patriots player in history and some say he's the greatest to ever play in the NFL.

Aside from the six Super Bowl rings, Brady has been the NFL's Most Valuable Player three times. He's also made the Pro Bowl in 14 seasons. Brady, on three occasions, led the league in touchdown passes and in passing yardage. He has thrown 541 touchdown passes in his career.
Kraft assists Massachusetts Gov. Charlie Baker
Massachusetts Gov. Charlie Baker was concerned about the state's supply of N95 masks which were desperately needed to help contain the spread of the coronavirus (COVID-19). Baker had struck a deal with Chinese manufacturers to acquire 1.2 million of the masks, but the only problem was how they would get here.

Baker spoke with longtime friend Jonathan Kraft, son of New England Patriots owner Robert Kraft, and said, "I just have to get them here." Jonathan Kraft works as both the Patriots team president and the chairman of the board at Massachusetts General Hospital. Jonathan Kraft offered the use of the plane, but there were obstacles. Would the plane be ready on short notice? Would Chinese officials grant permission for the plane to land in China during the pandemic?

Robert Kraft, along with Gov. Baker and others, sent letters asking for special permits and assuring that no member of the crew would leave the plane. The crew was granted a waiver, but still needed visas. The members of the crew scrambled to make sure they had one. On Wednesday, the plane had landed in China.

Kraft delivers the goods
One day after Robert Kraft's plane landed in Shenzen, China, the plane returned to Massachusetts with more than one million N95 masks to help front-line workers during the pandemic. Not only did Kraft send the plane to retrieve the masks, he partnered with the state to help pay for them.

"Tonight's arrival of a major shipment of N95 masks on the Patriots' plane was a significant step in our work to get front-line workers the equipment they need," Massachusetts Gov. Charlie Baker later said on Twitter. "And it's an example of how collaboration and partnership can lead to real solutions during these challenging times."
Kraft, who also purchased an additional 300,000 for New York, said the whole process was a challenge. He also used the New England Patriots' football mentality of 'taking no days off' and 'doing your job' to help complete the mission.
"It was — there was a lot of red tape, but a lot of people cooperated," Kraft said. "We had three governors. We had a counsel from China, our crew who flew probably more hours than they should have, but they knew how important it was. And, you know, it's just — it's like doing your job and never taking time off when something's really important.
"And the team effort — and I'll just tell you the response we've gotten from America when our plane came back, people are looking for good things," he said. "We are — this is the greatest country in the world. It's time for us to rally together and solve these kinds of issues."