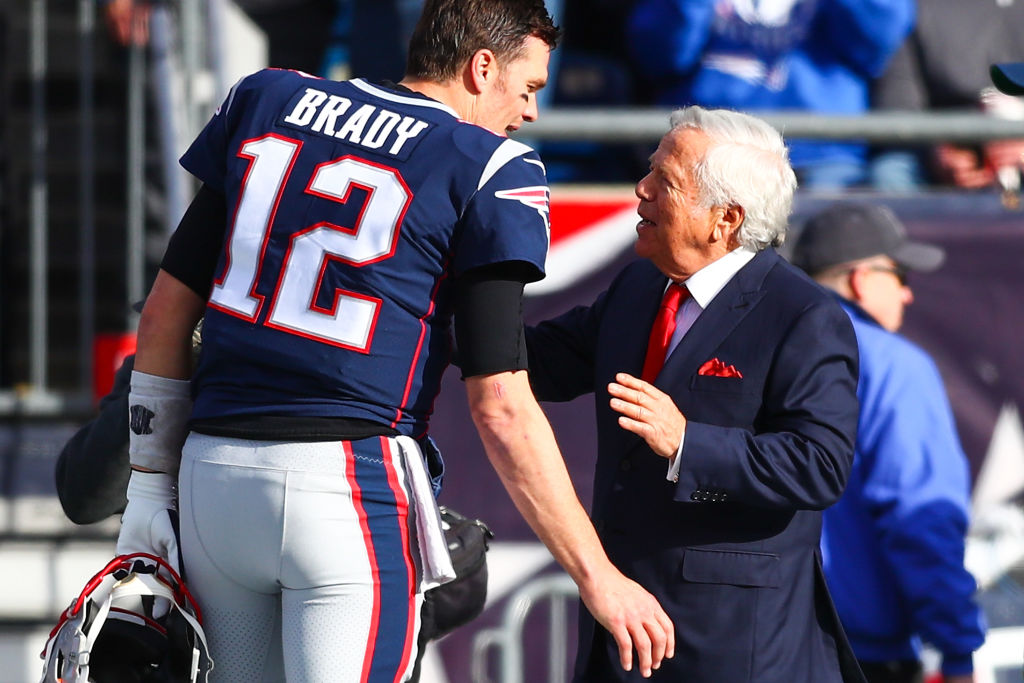 Robert Kraft Hopes That Tampa Bay Buccaneers Fans Will 'Take Care of' Tom Brady
After Tom Brady's departure, New England Patriots' owner Robert Kraft has a specific request for Tampa Bay Buccaneers fans.
While professional sports might be big business, there's still a human element at play. Players, owners, and coaches are all people; when you're spending an entire season working together, it's impossible to avoid forming a bond. Over the past two decades, Bill Belichick, Tom Brady, and Robert Kraft formed quite a partnership in New England.
That trio, however, has been broken up, with Tom Brady heading south to join the Tampa Bay Buccaneers. Robert Kraft isn't happy to see his star player go, but the Patriots owner did have one specific request for Florida football fans.
Tom Brady is joining the Tampa Bay Buccaneers
For years, Tom Brady was the face of the New England Patriots. While the quarterback always seemed like the one player who Bill Belichick wouldn't replace, the head coach is now facing that exact scenario.
Throughout the 2019 season, hints started to emerge that Brady could be leaving Foxboro; the quarterback put his house up for sale, then publically voiced his frustration with the Patriots' offense. After months of speculation, that reality has come to pass.
On St. Patrick's Day, Brady took to social media to confirm that he was leaving New England. While it took some time to hammer out the details, the veteran quarterback has since signed a hefty contract, making him a Tampa Bay Buccaneer.
Neither Bill Belichick nor Robert Kraft is happy about losing their quarterback
When you lose your franchise player, no one is going to be happy about it. Bill Belichick and Robert Kraft are no exception to that rule.
According to Karen Guregian of the Boston Herald, Belichick was a little shocked" when Brady called his coach to share his decision. Kraft, however, was a little more verbose.
"Think about loving your wife & for whatever reason, there's something – her father or mother – that makes life impossible for you," the Patriots owner explained to NFL Network's Michael Giardi. "And you have to move on, but you don't want to." Kraft also put up an ad on a billboard near Gilette Stadium, thanking the quarterback for his service to the Patriots.
Robert Kraft wants Buccaneers fans to take care of Tom Brady
Robert Kraft's show of appreciation wasn't limited to a billboard, though. The New England Patriots owner also took out a full-page ad in the Tampa Bay Times to send a message to his former quarterback.
For 20 amazing years, you gave us everything you had," the ad explains. "When you arrived as a sixth-round pick — and the best selection this franchise has ever made — no one imagined all you'd accomplish or how much you'd soon mean to an entire region. You now leave New England after two decades of dominance as the GOAT and forever a part of our family."
The ad goes on to list Brady's accomplishments, before making a request of the local fans. "To the Buccaneers fans and Tampa Bay community — take care of him," the write-up concludes. "You got a great one."
After their recent struggles, there's no doubt that the Tampa Bay fans will embrace Tom Brady. His mere presence has returned the Buccaneers to relevance; if the quarterback can turn things around on the field, too, he'll be a hero before long.