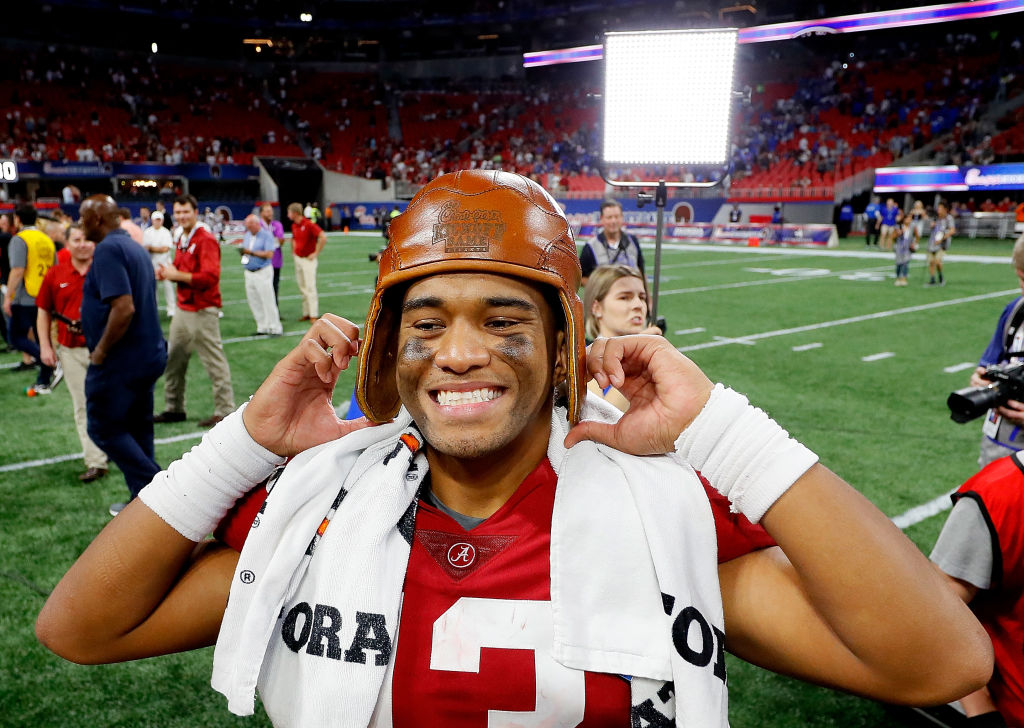 Tua Tagovailoa Has Already Overtaken Tom Brady Without Throwing an NFL Pass
Tua Tagovailoa hasn't played a down for the Dolphins yet, but he's already toppled Tom Brady off his financial throne due to his popularity.
Tua Tagovailoa was a captivating star at the University of Alabama. The southpaw signal-caller put together a terrific college career that unfortunately ended with a devastating hip injury. As the new face of the Miami Dolphins, he'll be tasked with transforming the AFC East franchise into a Super Bowl contender. Though he has yet to throw a single NFL pass, Tua has already overtaken Tom Brady in an area that shows just how popular he already is amongst NFL fans.
Tua Tagovailoa and Tom Brady are embarking on new journeys
Tua Tagovailoa's journey to the NFL didn't go as smoothly as planned. Before the 2019 college football season, he looked like a surefire lock to go No. 1 overall. But after suffering a season-ending hip injury in November, his NFL draft stock took a bit of dive. Teams rightfully wondered whether the 6-foot, 217-pounder could withstand the physical toll of playing at the next level.
While Joe Burrow ended up going first in the 2020 NFL draft, Tagovailoa's injury didn't cause such a dramatic slide. The Dolphins patiently waited for the former SEC star to drop right in their lap. That capped off a brilliant rebuilding plan by Miami, who also signed Byron Jones and Kyle Van Noy this offseason.
Staying in the Sunshine State, the Tampa Bay Buccaneers made the biggest free-agent splash by signing Tom Brady. Twenty years with Bill Belichick grew old for TB12. The six-time Super Bowl champion even coaxed Rob Gronkowski out of retirement to give the Bucs a devastatingly deep set of weapons. Brady certainly can't complain about trading in cold Massachusetts winters for year-round Florida sunshine.
Tua outranks Brady in jersey sales
Tua Tagovailoa hasn't even gotten his feet wet in the NFL, but he's already beaten Brady in a key category that demonstrates his insane popularity. As of May 20, the talented quarterback has the two-highest selling jerseys amongst all NFL players. Dolphins fans have fallen in love with both the aqua and white versions of Tua's jersey. He wore No. 13 at Alabama but will don No. 1 in Miami.
However, the NFL's GOAT isn't far behind. In fact, Brady's Buccaneers jerseys take up the next four spots. Ironically, Gronkowski also makes the cut, ranking seventh and ninth. Burrow is the only other player who makes an appearance in the NFL's top-10 jersey sales. His black Bengals jersey ranks eighth.
Which Florida-based QB will shine in 2020?
While Tom Brady may be looking up at Tua Tagovailoa in the jersey ranking standings, he may get the last laugh when it comes time to hit the field. The three-time NFL MVP took a risk by leaving the only organization he ever knew. However, there's no doubt Brady's supporting cast will be infinitely better than what he left behind in New England.
Tampa's receiver tandem of Mike Evans and Chris Godwin might be the best in football. Evans has surpassed 1,000 receiving yards in each of his first six seasons. Godwin emerged as a legit No. 1 wideout himself by totaling 1,333 yards on 86 catches last year. Meanwhile, Gronkowski and O.J. Howard give Brady two big-bodied tight ends who can stretch the seam.
Down in Miami, Tagovailoa won't be hurting for weapons, either. DeVante Parker finally made good on his first-round billing by catching 72 passes for 1,202 yards and nine scores. The AFC's leading receiver could take his game to another level with Tua under center. In addition, the Dolphins have an athletic tight end of their own in Mike Gesicki. Of course, Miami's franchise QB may not see the field if Ryan Fitzpatrick has anything to say about it.
Ultimately, Brady's supporting cast and proven track record gives him the upper hand on the field. The Buccaneers should be a playoff team who may just make a surprising Super Bowl run. Tua Tagovailoa may outrank Brady in jersey sales, but he faces a long road to match TB12's six Super Bowl rings.