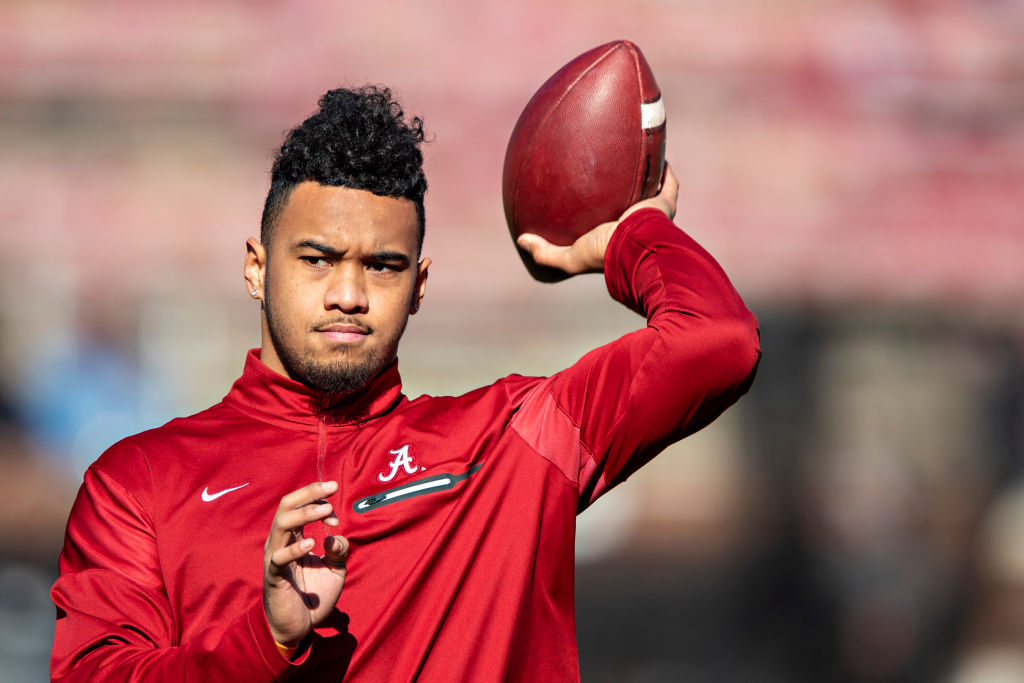 Tua Tagovailoa Already Measures up to Tom Brady in One Respect
Tua Tagovailoa is already a hit with Miami Dolphins fans, who are gobbling up his jerseys in the NFL's website.
Tua Tagovailoa has moved ahead of 20-year veteran Tom Brady without ever having taken a snap in the NFL. Tagovailoa has the two best-selling jerseys on NFLshop.com as football fans in the state of Florida are going wild about their new signal-callers this offseason.
Miami loves its new QB, even if he doesn't play this fall
Miami Dolphins fans are understandably giddy as they anticipate the 2020 NFL season. Although the team was just 5-11 in the first year under coach Brian Flores and has had just two winning seasons in 14 years, things are looking up in South Florida. The Dolphins think they have their future franchise quarterback in former Alabama star Tua Tagovailoa and they beefed up the roster across the board with six of the first 70 selections in the 2020 NFL draft.
Tagovailoa threw for 2,840 yards, 33 touchdowns, and just three interceptions last fall before his season-ending injury against Mississippi State. His career numbers for the Crimson Tide were 7,442 passing yards, 87 touchdowns, and 11 interceptions.
Interestingly, it's not out of the realm of possibility that Tagovailoa plays only sparingly or perhaps even not at all this season even though some are touting him as one of the favorites for NFL Offensive Rookie of the Year. Tagovailoa is coming off a serious hip injury in his final season at Alabama, which caused concern for some NFL teams that were in the market for a quarterback.
In addition, the Dolphins have veteran quarterback Ryan Fitzpatrick to run the offense and Josh Rosen in reserve while Tagovailoa gets acclimated. That could be especially important this year if the coronavirus pandemic substantially limits or even wipes out all offseason activities leading up to the start of training camps in July.
Tua Tagovailoa jerseys are selling like crazy
Miami Dolphins rookie Tua Tagovailoa has the two best-selling jerseys on the NFL's official shopping site this offseason. The aqua road version with his No. 1 on it leads the list, followed by his white road jersey.
Not surprisingly, the state's other new high-profile quarterback is also a huge hit with fans in the market for NFL jerseys. The next four jerseys of the most popular list belong to Tom Brady, who joined the Tampa Bay Buccaneers via free agency this offseason. In fact, variations of Brady's jersey hold down 14 of the next 32 spots on the list, which likely indicates that the former New England Patriots star is outselling anyone else overall. The Bucs aren't missing a trick, marketing pewter, white, and red versions of the Brady jersey.
The leading rookie jersey behind Tagovailoa belongs to Joe Burrow, the former LSU star selected first overall last month by the Cincinnati Bengals. Los Angeles Chargers quarterback Justin Herbert, Dallas Cowboys receiver CeeDee Lamb, and Denver Broncos wideout Jerry Jeudy are next among first-year players.
Aside from Brady, the only jerseys remotely close to the top of the best-sellers list belonging to a veteran are those for Rob Gronkowski, the former Patriots tight end who'll also be playing for Tampa Bay this fall.
Women can't get enough of Brady and Gronk
Tom Brady was responsible for more jerseys being sold in 2019 than any other NFL player. Following him on the list were Patrick Mahomes, Ezekiel Elliott, Khalil Mack, and Dak Prescott. Mack, Baker Mayfield, and Brady were the top three in 2018.
The popularity of Brady's jersey has much to do with his crossover appeal. Only Brady (four versions) and teammate Rob Gronkowski (two) have women's jerseys currently showing up among the 74 top-sellers on the NFL site.