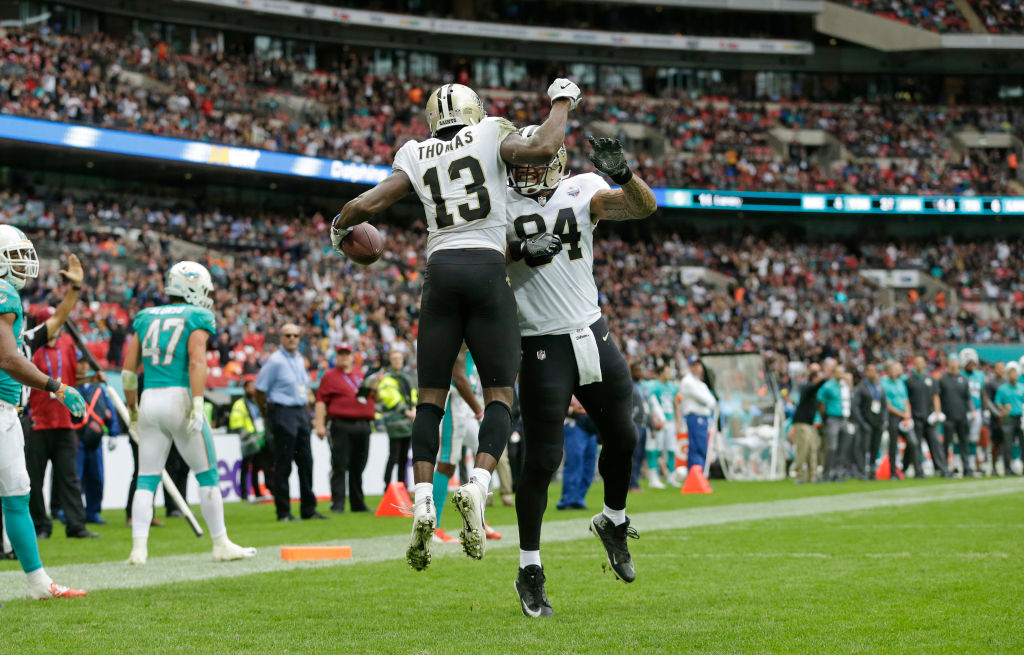 Michael Thomas Beats DeVante Parker Where it Matters Most
Michael Thomas and DeVante Parker may play the same position, but the Saints star blows the Dolphins receiver away in both production and money.
Since entering the NFL as a second-round draft pick, Michael Thomas has developed into the league's top receiver. Even the New Orleans Saints have to be surprised at their No. 1 wideout's statistical dominance. The highly-paid and highly-productive All-Pro has been waging a social media war with Miami Dolphins wideout DeVante Parker. Though Parker parlayed a breakout campaign into a lucrative deal, he doesn't even belong in the same discussion as Michael Thomas given his comparatively cheap deal and glaring lack of consistency.
DeVante Parker looked like the next NFL draft bust
DeVante Parker entered the NFL with sky-high expectations. After all, he looked like a bonafide star at Louisville as Teddy Bridgewater's top target. The physically gifted wideout racked up 33 touchdowns in 39 starts. At the NFL combine, Parker ran a blazing 4.45 and posted a 36.5-inch vertical jump. Given his strong track record of production and elite measurables, the Dolphins drafted the Kentucky native with the 14th overall pick in the 2015 NFL draft.
Let's just say that the selection looked like a major mistake until last season. As a rookie, Parker caught 26 passes for 494 yards and three touchdowns. However, he struggled to earn consistent snaps and couldn't stay healthy. From 2016-2018, he started just 27 games and totaled six touchdowns. For a player with prolific downfield skills, he looked more like a possession receiver than a No. 1 option.
Despite four years of inconsistent play, Miami picked up Parker's fifth-year option. That fortuitous move set the stage for a life-changing season. Thanks to a new coaching staff and improved health, the former first-rounder shed his bust label and made millions in the process.
Dolphins rewarded breakout star with a big payday
It's rare for a player to make the fifth-year leap. Yet, that's exactly what Parker did in 2019. Though the Dolphins didn't have great quarterback play, the former collegiate star showed everyone why he was such a highly-coveted NFL draft prospect. A bigger, stronger and faster Parker dominated as Miami's go-to receiver. He set career-highs across the board with 72 catches for 1,202 yards and nine touchdowns. The 6-foot-3, 216-pounder even toasted Stephon Gilmore, who earned NFL Defensive Player of the Year Honors last season.
Parker's breakout campaign, which included leading the AFC in receiving yards, resulted in a major pay raise. In fact, the Dolphins didn't even wait for the season to finish before locking up their WR1. In December, Parker signed a three-year, $30.5 million extension with $14 million fully guaranteed, according to Over the Cap. Parker reportedly received a $9.5 million signing bonus. Prior to the 2019 season, he had renegotiated a two-year, $10 million deal that scheduled to pay him just $5 million in 2020.
Michael Thomas blows Parker out of the water with his contract
One good season turned into life-changing money for DeVante Parker. On the other hand, Michael Thomas is anything but a one-year wonder. Since the Saints made him the 47th overall pick in 2016, the 6-foot-3, 212-pounder has increased his production on a yearly basis. Thomas recorded 92/1,137/9 as a rookie before ripping off three straight 100-catch seasons as Drew Brees' favorite target.
While Parker enjoyed his first 1,000-yard campaign in 2019, all Thomas did was set the single-season record with 149 receptions. He also led the NFL with 1,725 receiving yards. From a production standpoint, Parker doesn't belong in the same conversation given Thomas' four-year totals of 470 catches, 5,512 yards and 32 touchdowns.
More importantly, though, his contract makes Parker's recent extension look like chump change. Last summer, the Saints signed their star wideout to a five-year deal worth $96.25 million with $35.64 million fully guaranteed, according to OTC. That massive extension included a $20 million signing bonus. When put side by side, it's abundantly clear that Parker's deal isn't in the same stratosphere. Ultimately, the Twitter war between DeVante Parker and Michael Thomas may be entertaining, but when it comes to money and production, there's no debate about which receiver reigns supreme.