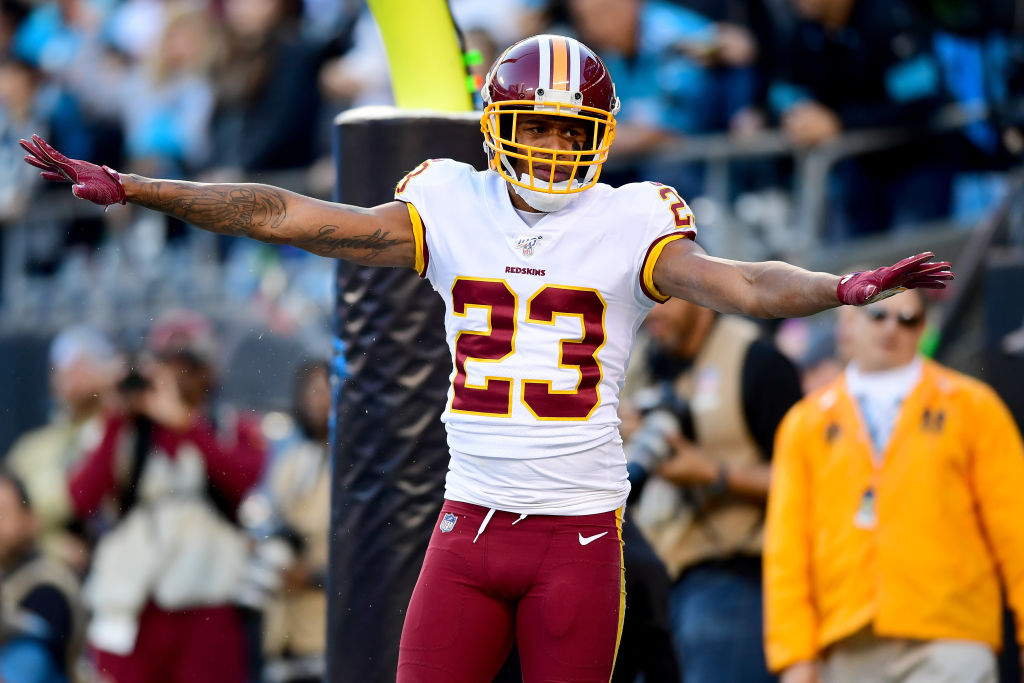 Quinton Dunbar Blew His Chance at Life-Changing Money With the Seahawks
Quinton Dunbar has quietly become one of the NFL's top young corners, but he just blew his chance to cash in with the Seattle Seahawks.
While first-round picks like Joe Burrow become overnight millionaires, undrafted free agents like Quinton Dunbar have to scratch and claw for financial security. After developing into an underrated star with the Washington Redskins, he landed with the Seattle Seahawks this offseason via trade. It should have been a career-altering move for Quinton Dunbar. But the rising cornerback just blew his opportunity to finally break the bank before ever suiting up for Seattle.
Quinton Dunbar transitioned to corner with the Washington Redskins
Before Quinton Dunbar developed into a lockdown corner, he spent his formative years trying to beat them. A versatile receiver at the University of Florida, he racked up 111 catches, 1,500 yards and eight touchdowns in four years with the Gators. Despite NFL-caliber measurables, Dunbar didn't get selected in the 2015 NFL draft.
However, the Redskins signed the Miami native after the draft concluded to play receiver and special teams. That plan took a slightly different route. After spending his entire career on the offensive side of the ball, Dunbar moved to cornerback. Making the position switch proved to be a brilliant coaching decision by Jay Gruden and his coaching staff. Though he started just eight games during his first three seasons, Dunbar recorded three interceptions and 18 passes defended. It clearly looked like the Redskins had stumbled on a hidden gem.
Seattle Seahawks traded for the rising star this offseason
Rapid development resulted in a decent pay raise for Quinton Dunbar. In 2018, the Redskins signed their rising star to a three-year, $10.5 million contract. However, the deal contained just $3.75 million guaranteed. Given his ascent to top-starter status, Dunbar ranked as one of the NFL's biggest bargains. A terrific 2019 season only escalated Dunbar's desire for a lucrative long-term deal. Seeking a contract commensurate to his abilities, he essentially forced his way out of Washington once Ron Rivera came on board.
About a month before the 2020 NFL draft, the Seahawks scored a sweet deal by sending a fifth-round pick to the Redskins for the talented defensive back. Considering Legion of Boom staples Richard Sherman and Earl Thomas departed in recent years, the Seahawks certainly needed to restock their once-legendary secondary.
Acquiring Dunbar theoretically gives Seattle some security at a valuable position. Shaquill Griffin, the Seahawks' top corner, has just one year left on his rookie contract. On paper, the 6-foot, 194-pound Griffin and 6-foot-2, 202-pound Dunbar are a potentially dominant duo. Yet, that talented tandem may never play together based on Dunbar's off-field actions.
Dunbar just cost himself millions
Landing in Seattle's system should have been a life-changing experience for Quinton Dunbar. After all, the Legion of Boom banked millions of dollars as the NFL's most dominant secondary. But thanks to his legal troubles, Dunbar blew a fantastic opportunity to land a potentially record-setting contract.
Less than a month after the 2020 NFL draft, the Seahawks' top offseason addition found his way into the headlines for all the wrong reasons. According to the Miramar (Fla.) Police Department, the rising star allegedly partook in an armed robbery along with New York Giants CB DeAndre Baker. While Baker faces more serious charges, Dunbar's alleged role doesn't paint a pretty picture, either.
For a player on the verge of breaking the bank, this could be viewed as career suicide. An incident like the one described in the arrest warrant should make the Seahawks more than hesitant to hand their newly-acquired rising star millions in guaranteed money. In fact, Dunbar could get released without ever suiting up for Seattle and miss out on much more than his potential $3.4 million payday for 2020. Ultimately, in the most important year of his football life, Quinton Dunbar just cost himself his financial future and perhaps his freedom.
Contract numbers courtesy of Over the Cap