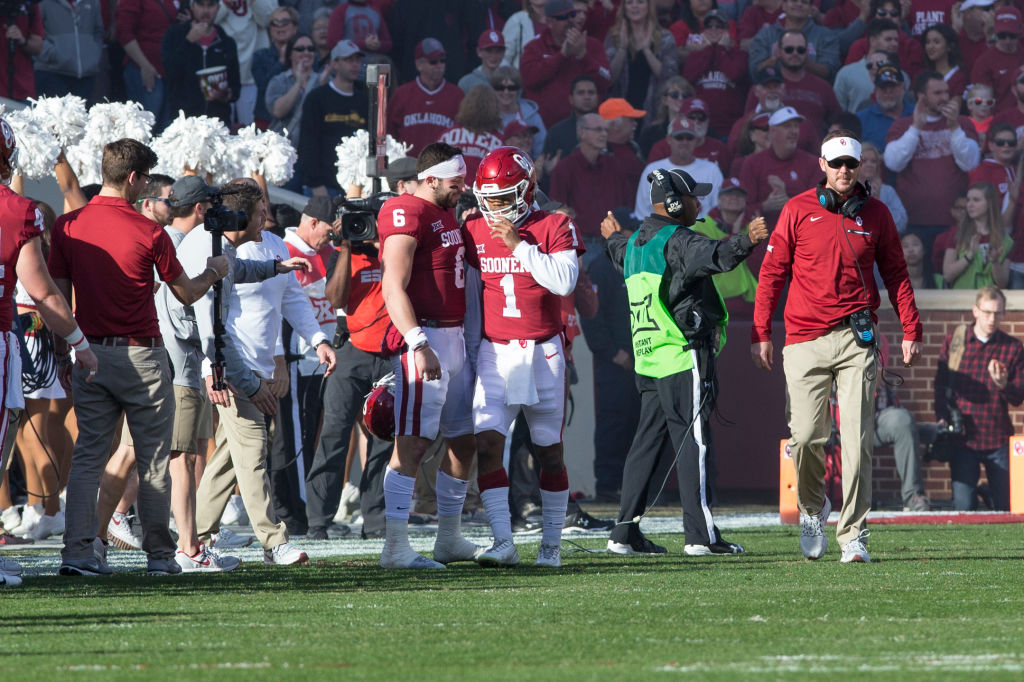 Baker Mayfield and Recent Star Oklahoma QBs Can Thank Lincoln Riley For Their $74 Million Payday
Baker Mayfield, Kyler Murray and Jalen Hurts can thank Oklahoma head coach Lincoln Riley for turning them into wealthy NFL quarterbacks.
If you're a quarterback looking to break the bank, you should have Lincoln Riley on speed dial. The Oklahoma Sooners head coach helped Baker Mayfield, Kyler Murray and Jalen Hurts go from transfers to Heisman Trophy-worthy stars. All three experienced incredible success slinging the rock in the Sooners' spread system. And thanks to Riley, Oklahoma's three recent star quarterbacks have become incredibly wealthy.
Baker Mayfield transferred to Oklahoma and became the No. 1 overall pick
Before he became the No. 1 overall pick in the 2018 NFL draft, Baker Mayfield was a two-time walk-on. He started his college career at Texas Tech under Kliff Kingsbury. His Red Raiders tenure lasted just one year. Mayfield transferred to Oklahoma to play for Bob Stoops.
Despite his small stature, he proved to be a great fit for the Sooners. He threw 36 touchdowns as a sophomore before exploding for 40 as a junior. Mayfield's senior season coincided with Riley's promotion to head coach. While the brash quarterback's antics didn't win over a lot of fans, he proved to be the best player on the field every Saturday.
A picture-perfect fit for Riley's spread attack, the incredibly accurate Mayfield set career-highs in passing yards (4,627), touchdowns (43) and quarterback rating (198.9). After finishing fourth in 2015 and third in 2016, he finally took home the Heisman Trophy. The Cleveland Browns made Mayfield the first overall pick and signed their new franchise quarterback to a four-year contract totaling $32.68 million, according to Spotrac. Talk about a huge payday for a guy who walked on at two Division I programs.
Lincoln Riley helped Kyler Murray follow in Mayfield's footsteps
Like Baker Mayfield, Kyler Murray started his college career in Texas. Only instead of suiting up for the Red Raiders, the 5-foot-10, 192-pound dual-sport athlete donned Aggies colors. However, after one year, he too took his talents to Oklahoma.
Ironically, Murray spent the 2017 season as Mayfield's backup. He only threw 21 passes and certainly didn't engender any conversation about becoming a first-round pick. Yet, when he got his opportunity, he shined. In his only year as a starter, the athletically gifted QB ripped off one of the most impressive seasons in college football history. Murray completed 69 percent of his passes for 4,361 yards and 42 touchdowns. He tossed just seven interceptions on 377 attempts. More impressively, he totaled 1,001 rushing yards and 12 more scores.
Thanks to Lincoln Riley, Murray won the Heisman Trophy just one year after Mayfield took home college football's top individual award. And like his predecessor, he also became the No. 1 overall pick. The Arizona Cardinals signed their dual-threat franchise QB to a four-year contract worth just north of $35 million. Murray flashed electrifying ability as a rookie and looks poised for a huge second season with DeAndre Hopkins in the fold.
Jalen Hurts became the latest Oklahoma transfer to score a big payday
Few imagined the Philadelphia Eagles would take a quarterback early in the 2020 NFL draft. But that's exactly what they did by selecting Jalen Hurts with the 53rd overall pick. That represented a huge accomplishment for a player who lost his starting job to Tua Tagovailoa at Alabama.
Unlike Mayfield and Murray, Hurts actually experienced incredible success early in his college career. The 6-foot-1, 218-pounder started 29 games for the Crimson Tide as an exciting dual-threat QB. However, Riley got him to transfer to Oklahoma and boy did that decision pay off.
Though he finished second in the Heisman voting, Hurts put together a fantastic year in 2019. He obliterated his previous career-highs across the board. An excellent scheme fit, he threw for 3,851 yards and 32 touchdowns. The former Alabama starter ran for almost 1,300 yards and added another 20 TD on the ground.
Ultimately, Jalen Hurts didn't go No. 1 overall like his two predecessors at Oklahoma. But thanks to Lincoln Riley, he parlayed a breakout campaign into a lucrative NFL contract. According to Spotrac, Hurts' should earn about $6 million on his four-year deal. Baker Mayfield, Kyler Murray and Jalen Hurts will combine to make about $74 million on their rookie deals thanks to Lincoln Riley and his unstoppable offensive system.
Statistics courtesy of Sports Reference