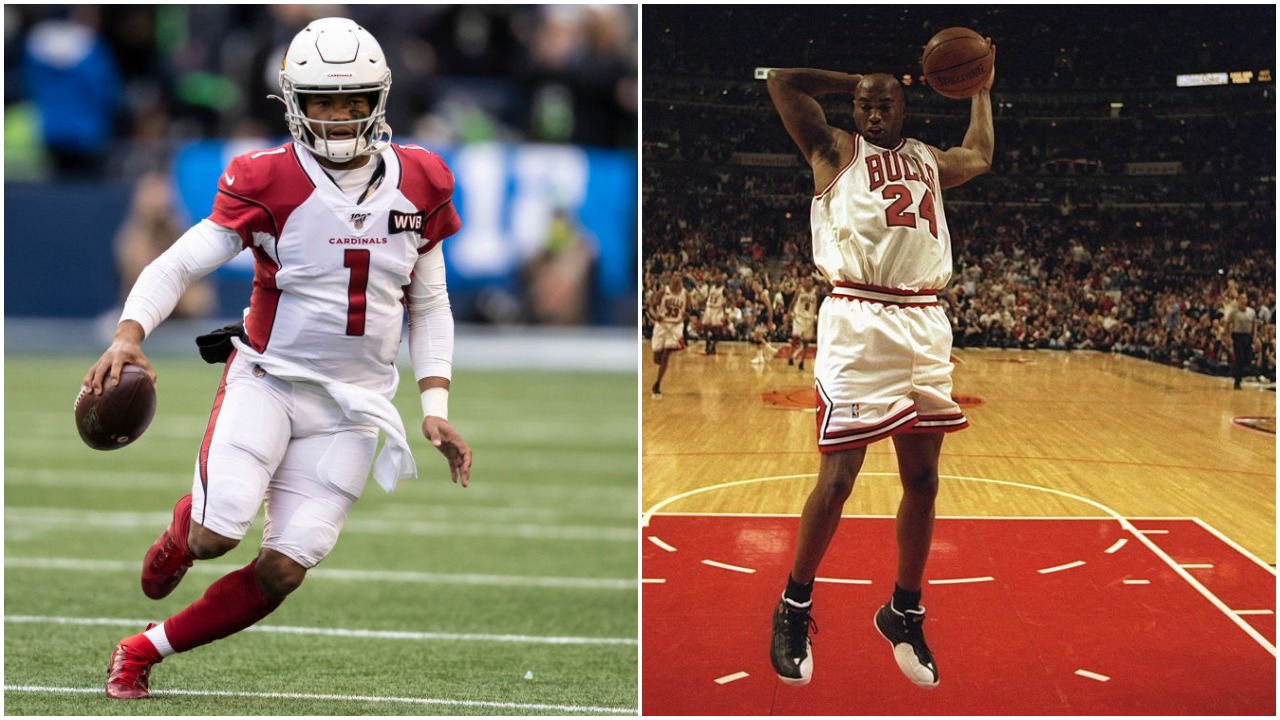 The Awesome Connection Between Kyler Murray and Scott Burrell
Arizona Cardinals quarterback Kyler Murray and one-time NBA champion Scott Burrell share an amazing piece of history in professional sports.
It's quite unfortunate that following The Last Dance documentary, Scott Burrell might now best be remembered as Michael Jordan's whipping boy in his lone season with the Chicago Bulls in 1997-1998. But instead of connecting him with Michael Jordan for all of eternity, let's connect Scott Burrell with another great athlete, Kyler Murray. Wait, what?
While it wouldn't seem like an NBA role player from the 1990s and a current NFL quarterback that won the Heisman two years ago would have much in common, there's actually an amazing connection between the two: baseball. Did you know that Scott Burrell and Kyler Murray are the only two people to be drafted in the first round of two major sporting organizations?
Scott Burrell was taken in the first round of the 1989 MLB draft and played minor league baseball while playing basketball at UConn
What some may not know about Scott Burrell is that he was a multi-sport star at Hamden High School in Connecticut, excelling in not just basketball but as a pitcher in baseball as well. Following his senior year, he was taken in the first round of the 1989 MLB amateur draft with the 26th overall pick by the Seattle Mariners. However, Burrell wanted to go to college and chose not to sign with the Mariners. He had planned to go to the University of Miami to play baseball but was convinced to stay close to home to play basketball at UConn, where he had a fantastic career.
However, that didn't mean Burrell's baseball career was over. His name was re-entered into the MLB draft in 1990 and he was taken in the fifth round by the Toronto Blue Jays. Ahead of his sophomore season with the Huskies, Burrell joined Toronto's Single-A affiliate, the St. Catharines Blue Jays in the New York-Pennsylvania League, and posted a 1-4 record with a 5.86 ERA. He then played his second year at UConn, averaging 12.7 points, 7.5 rebounds, and 3.1 assists. He then went back to baseball that summer and pitched much better. Splitting time between St. Catharines and Myrtle Beach, Burrell posted a 1-2 record with a 1.91 ERA and 36 strikeouts in seven starts before finally deciding to hang up his cleats to concentrate on basketball.
In the 1993 NBA draft, Scott Burrell was taken in the first round with the 20th overall pick by the Charlotte Hornets, becoming the first man to be drafted in the first round in two major sports. Now, is it just me or does anyone else wish we could have seen Scott Burrell pitching to Michael Jordan at some point?
Kyler Murray famously chose football over baseball after signing a big contract with the Oakland A's
Like Scott Burrell, Kyler Murray was a multi-sport star in high school. In his senior year at Allen (TX) High School in 2015, Murray was the first person ever selected to play in both the Under Armour All-America Baseball and Football games. He was considered a top prospect ahead of the 2015 MLB draft but withdrew his name when he decided to attend Texas A&M, where he was originally scheduled to play both football and baseball. He chose to concentrate on football with the Aggies but returned to baseball when he transferred to Oklahoma. In two seasons for the Sooners' baseball team, Murray hit .261 with 10 home runs and 53 runs batted in and was taken with the ninth overall pick in the 2018 MLB draft by the Oakland A's, with whom he signed a contract that included a $4.9 million signing bonus.
It was originally thought that Kyler Murray's decision to play baseball might be easy as many thought he was too small for the NFL. However, he became one of the best quarterbacks in college football in 2018 and won the Heisman Trophy. Murray initially said that he would report to A's training camp in the spring of 2019 but then decided to forgo a baseball career to join the NFL. He was the first overall pick in the 2019 draft by the Arizona Cardinals and joined Scott Burrell in the history books. If Kyler Murray ever decides to return to baseball, the A's retain his rights.
No, Bo Jackson and Deion Sanders didn't get taken in the first round of both the NFL and MLB drafts
When talking about multi-sport stars, the two names that usually come up aren't Kyler Murray and Scott Burrell. It's usually Bo Jackson and Deion Sanders, both of whom famously played in both the NFL and Major League Baseball. But neither one of them was drafted in the first round in both sports.
Bo Jackson was first drafted by the New York Yankees in the second round of the 1982 MLB draft before deciding to attend Auburn. He was then selected with the first overall pick in the 1986 NFL draft by the Tampa Bay Buccaneers but refused to play for them, opting instead to play baseball for the Kansas City Royals, who selected him in the fourth round of the 1986 MLB draft. Jackson re-entered his name in the NFL draft pool in 1987 and was taken by the Raiders in the seventh round.
Before enrolling at Florida State, Deion Sanders was selected in the sixth round of the 1985 MLB draft, oddly enough by the Kansas City Royals. But he chose not to sign and became an All-American football player for the Seminoles. He was then taken in the 30th round of the 1988 MLB draft by the New York Yankees and was then the fifth overall pick in the 1989 NFL draft.
So go ahead and throw that fun Scott Burrell and Kyler Murray into your next sports trivia night. It's almost guaranteed to drop a few jaws.
*All stats courtesy of Sports-Reference