Scott Burrell Appreciates Michael Jordan's Tough Love and Is Now a Successful Head Coach
As viewers of The Last Dance witnessed over the past five Sundays, Scott Burrell was a constant whipping boy for Michael Jordan during the Chicago Bulls' 1997-1998 season. While some have criticized Jordan for the way he treated Burrell, the former UConn star says he was never bullied and actually appreciates what MJ did for him. Once his playing days were over, Burrell never left the game and is now a very successful head coach at the college level.
Scott Burrell was a much better player than people realize
Most remembered (especially now) for his one season as a role player with Michael Jordan and the Bulls, it's sometimes easy to forget that Scott Burrell was a solid player before coming to the Windy City. He had a great career at UConn and became the first player in NCAA history to record 1,500 points, 750 rebounds, 275 assists, and 300 steals.
He was drafted by the Charlotte Hornets in 1993 and came off the bench his first season before cracking the starting lineup his second year, a season in which he averaged 11.5 points. Burrell was never going to be the first option on a team that included Alonzo Mourning, Larry Johnson, and Dell Curry but he played his role quite well. He upped his scoring average the following season but injuries limited him to just 20 games, which would become a problem throughout his career.
He was traded to the Golden State Warriors during the 1996-1997 season and then made his way to the Bulls ahead of "The Last Dance" campaign in 1997-1998.
He appreciates what Michael Jordan did for him
Everyone who watched The Last Dance saw that Michael Jordan picked on Scott Burrell quite a bit. He outed him for drinking, called him "garbage" at one point, and had a few more colorful names for him as well. While some have come out and said that it was inappropriate bullying, Burrell himself doesn't see it that way. He appeared on ESPN's "Get Up" earlier this week (video above) and believes that MJ was simply trying to toughen him up a bit, something that this generation of players just don't understand.
"It would never work. Kids have a lot of egos, they've never been coached, they've never been pushed. I can't say everyone, but for the most part, they've never been challenged every day. Today's AAU circuit, if kids aren't happy with a team, they'll go to a different team instead of working through issues or getting better.

"It makes it tough to be Michael Jordan and push people the way he did back in the day, compared to today's coaches and today's society. People consider it bullying what Michael did. I think it was just challenging people to be the best person they can be."

Scott Burrell
Following his lone season in Chicago, Scott Burrell spent two years with the New Jersey Nets and one final NBA season back with the Hornets before taking his talents overseas. Burrell finally retired in 2006 but he wouldn't be away from the game for long.
Scott Burrell has become a successful coach at the collegiate level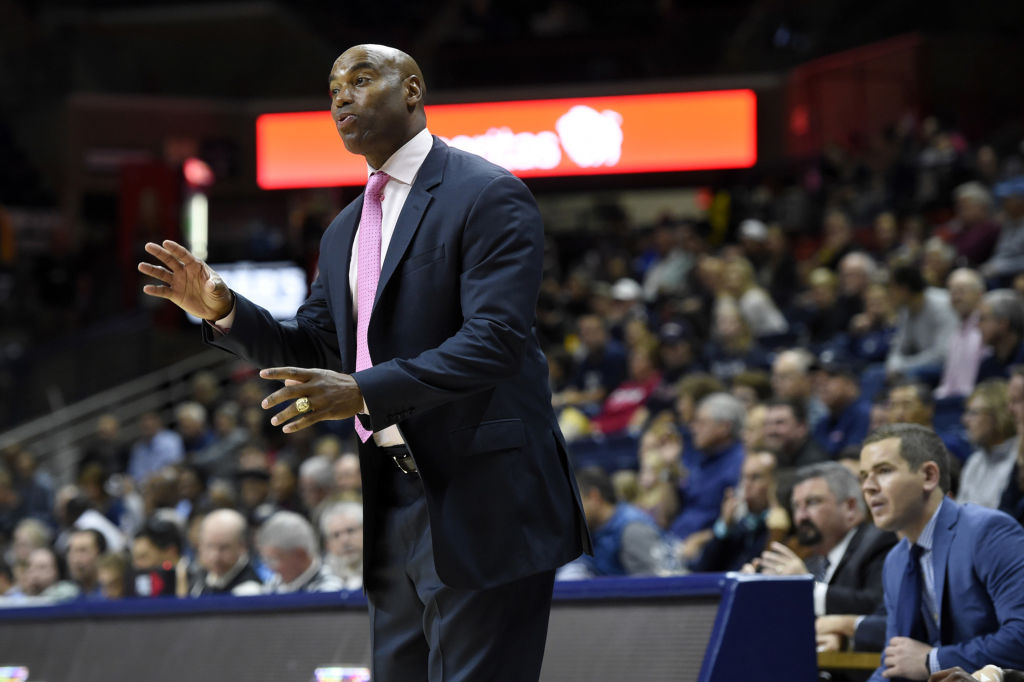 In 2007, Scott Burrell began his second career in the game of basketball. He went back to the state of Connecticut and took an assistant coaching job at Quinnipiac, where he served under former UConn assistant Tom Moore, who returned to the Huskies in 2018. In the eight seasons in which Burrell was on the bench, the Bobcats won 143 games and made four appearances in the postseason.
In 2015, Scott Burrell accepted the head coaching job at Division II Southern Connecticut State University and found immediate success. In his first season at SCSU, he led the team to an NCAA Tournament berth with a 22-8 record as was named conference Coach of the Year. Now through five seasons, Burrell has led the Owls to 91 victories, the best opening five-year stretch in the program's history.
One just has to wonder if those Owls practices look anything like Scott Burrell's practices with Michael Jordan and the Bulls.