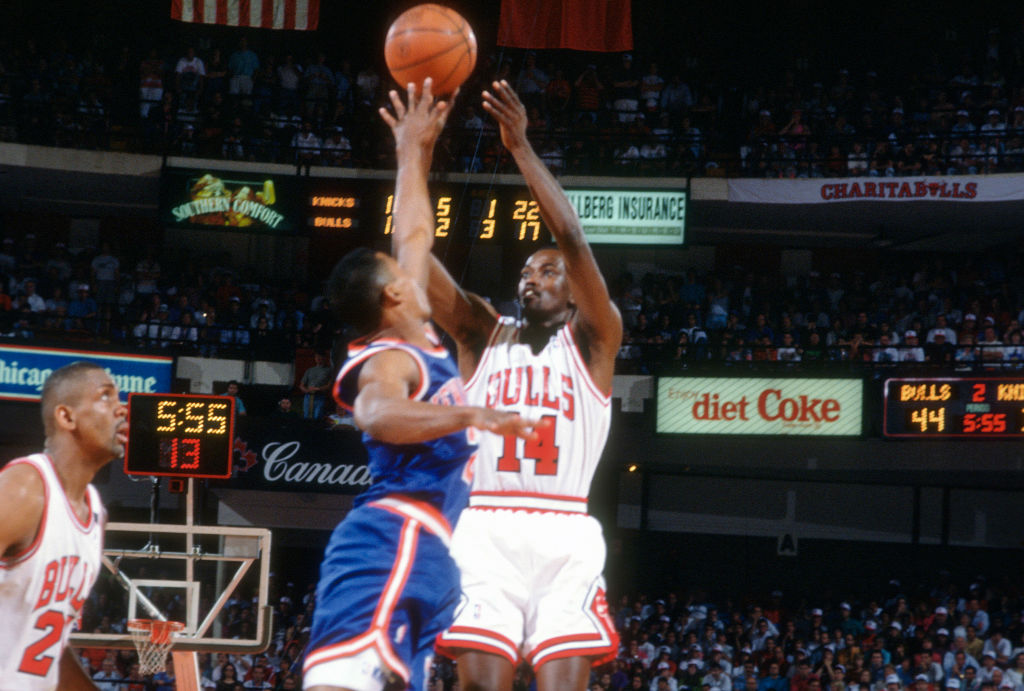 Craig Hodges Tore Into Michael Jordan For Some of His Comments in 'The Last Dance'
Michael Jordan's ex-teammate with the Chicago Bulls, Craig Hodges is taking issue with some of MJ's comments in 'The Last Dance.'
While most people are loving The Last Dance, there are certain people that have taken issue with some things. Toni Kukoc, who helped Michael Jordan win his last three titles with the Chicago Bulls, has spoked out against some of the negativity of the ESPN docuseries. Award-winning documentarian Ken Burns, who was responsible for the critically-acclaimed Baseball series, has a problem with Jordan's production company being involved with The Last Dance. And you can now add another of MJ's ex-teammates to the list as Craig Hodges tore into Michael Jordan in a recent radio interview.
Craig Hodges joined the Chicago Bulls in 1988
After playing for three teams in his first six seasons in the NBA, Craig Hodges joined the Chicago Bulls via trade in 1988, the same year Michael Jordan won the first of five NBA Most Valuable Player awards. Hodges was a solid role player for Chicago for four seasons, averaging 6.2 points off the bench. He was one of the league's best three-point shooters and won three consecutive NBA Three-Point Contests from 1990-1992. He was a part of the Bulls' first two title runs but was waived by Chicago in 1992 and finished his career overseas. He also spent one year in the CBA with the Rockford Lightning. He later joined Phil Jackson's staff with the Los Angeles Lakers and won two titles as an assistant coach in 2010 and 2011.
He took issue with Michael Jordan's comments about the 'cocaine circus'
In the very first episode of The Last Dance, Michael Jordan told the story of a preseason game he played in Peoria, Illinois, in his rookie season in 1984-1985 and what went down in the hotel. Jordan said he started knocking on doors and when someone finally opened up, he witnessed what he said was "practically the whole team" doing drugs and hanging out with women and said he had never seen anything like it. The interviewer, not Jordan himself, called it the "cocaine circus" but MJ did have a nice laugh about it. Well, Craig Hodges had a big problem with that and recently spoke with Chris Broussard and Rob Parker on their Fox Sports Radio show, "The Odd Couple," about it.
"One of the things as players we call this a fraternity. So I'm watching the first episode and I was upset about the 'cocaine circus.' That bothered me because I was thinking about the brothers who are on that picture with you who have to explain to their families who are getting ready to watch this great Michael Jordan documentary event and they know you're on the team, and now you've got to explain that to a 12-year-old boy."

Craig Hodges on Michael Jordan and "The Last Dance"
It is interesting to note that Craig Hodges himself wouldn't have been implicated in this as he was just beginning his four-year run with the Milwaukee Bucks at the start of the 1984-1985 season.
Craig Hodges also didn't like Michael Jordan calling Scottie Pippen selfish and accusing Horace Grant of leaking info
The "cocaine circus" apparently isn't the only thing that Craig Hodges dislikes about The Last Dance. He went on to say how much he didn't enjoy Michael Jordan calling Scottie Pippen selfish for demanding a trade during the Bulls' 1997-1998 season. He also took issue with MJ accusing Horace Grant of leaking information to Sam Smith for "The Jordan Rules" book that painted an unflattering picture of Michael Jordan, which I still believe was the reason for a glaring omission in episode six. It also seems that Craig Hodges is a little hurt that he wasn't asked to be a part of the ESPN project.
"Then the Scottie Pippen part. Scottie was 'selfish.' C'mon, man, c'mon. And then last night with Horace, that hurt me. I'm letting MJ know that that ain't right, dude. Horace did not deserve to take the fall for 'Jordan Rules.' If MJ knows something else and knows Horace's motive, then tell us how Horace did it for my sake, because I'm your teammate, brother, just like they are, and I'm kind of salty how everybody got interviewed but me."

Craig Hodges on Michael Jordan and "The Last Dance"
Well, we'll just have to wait and see if anything else upsets Craig Hodges moving forward. The next two installments of The Last Dance premiere this Sunday on ESPN.