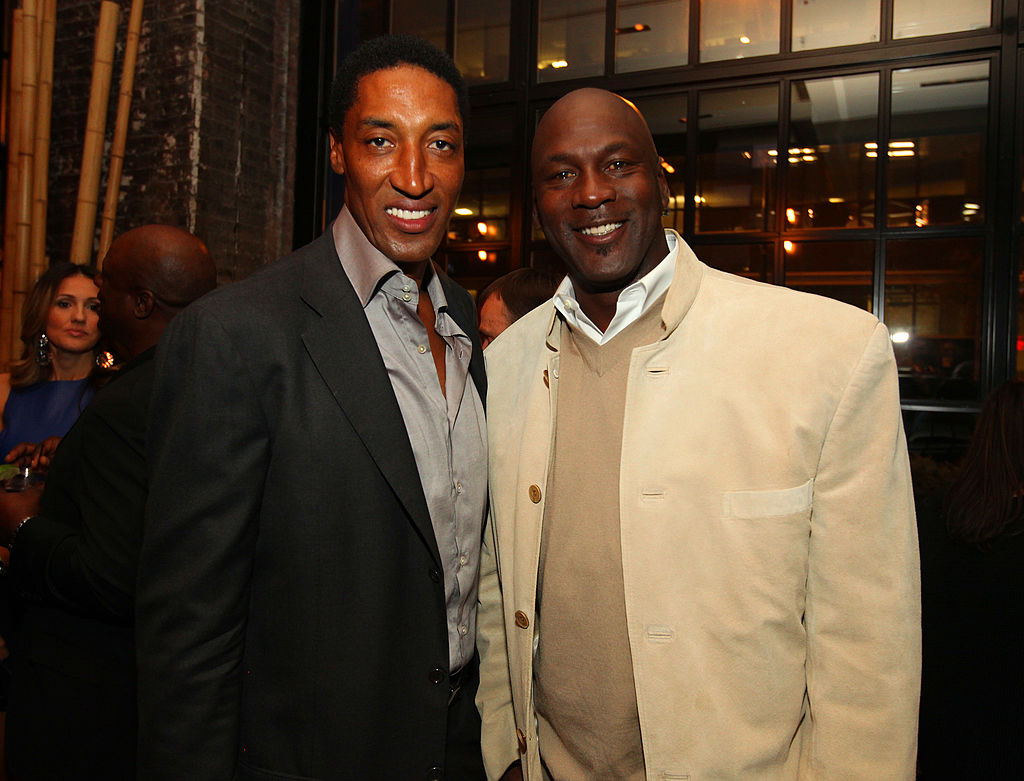 Scottie Pippen Actually Made More Money in the NBA Than Michael Jordan
It might surprise you to know that Scottie Pippen actually made more money in his NBA career than Michael Jordan did.
Michael Jordan and Scottie Pippen will forever be linked as one of the greatest duos in NBA history. The pair won six NBA titles together with the Chicago Bulls in the 1990s and also won a gold medal together as part of the famed 1992 Dream Team. While most will always seem as the second-best player of the two and the Robin to MJ's Batman, it might surprise you to know that Scottie Pippen actually made more money than Michael Jordan did as an NBA player.
Outside of their last two years together with the Bulls, the salaries of Michael Jordan and Scottie Pippen weren't that far apart
Michael Jordan was always going to be the highest-paid player on the Chicago Bulls. He just was. After all, he is Michael Jordan. However, during the majority of the Bulls' run in the '90s, Scottie Pippen's salary wasn't that far behind. Yes, it did get a little insulting toward the end when Pip was sixth on the salary list in the Windy City behind Jordan, Toni Kukoc, Ron Harper, Dennis Rodman, and Luc Longley. But for the most part, following the end of his rookie deal, Pippen wasn't making that much less than MJ.
In 1991-1992, Michael Jordan made $3.25 million. Scottie Pippen made $2.77 million. In 1992-1993, Jordan earned $4 million while Pippen earned $3.425 million. So the difference wasn't that big. During the 72-10 season in 1995-1996, Jordan pulled in $3.85 million. Pippen's salary during that record-breaking season was $2.925 million. Okay, things did get out of hand those final two years when MJ was pulling in a combined $63 million as compared to Scottie's $5.025 million.
Pip finally made his big money when MJ retired
After years of waiting for the big contract to happen, Scottie Pippen finally signed one ahead of the lockout-shortened season in 1999. Michael Jordan, Phil Jackson, and Dennis Rodman were all gone and Pippen was as well. In a sign-and-trade with Houston, Pippen inked a five-year deal and was off to the Rockets, although that stay only lasted a year. Pippen was traded to Portland in October 1999 and spent four years with the Trailblazers. In total, that five-year contract ended up paying Scottie Pippen more than $77 million.
Meanwhile, Michael Jordan returned to the NBA in 2001 with Washington and played two years for the Wizards. However, he decided to only take a million bucks in salary each year and donated his entire 2001-2002 earnings to September 11th relief. So from 2001 to 2003, Jordan made $2 million while Pippen made close to $38 million. Pippen tacked onto his overall total by signing a two-year/$10.3 million contract back with the Bulls in 2003, although he only ended up playing 23 games of that contract. Call it payback for years of underpayment.
Scottie Pippen made $16 million more than Michael Jordan in the NBA
In total, Scottie Pippen made $109,957,430 in his 17-year career in the NBA. If you only count the 17 seasons in which he actually played a game, that works out to about $6.468 million per season. Michael Jordan made a grand total of $93,772,500 in his 15-year career, which averages out to about $6.252 million per year. So not only did Scottie Pippen make more than $16 million more in the NBA than did Michael Jordan, his average salary per season is higher as well.
The obvious difference between the two over the years was (and still is) Michael Jordan's deals off the court, which naturally puts him way ahead of Scottie Pippen as far as net worth is concerned. But it's still interesting to know that after all of the talk we've heard during The Last Dance about Scottie Pippen being underpaid, he actually made more overall money as a player than Michael Jordan.