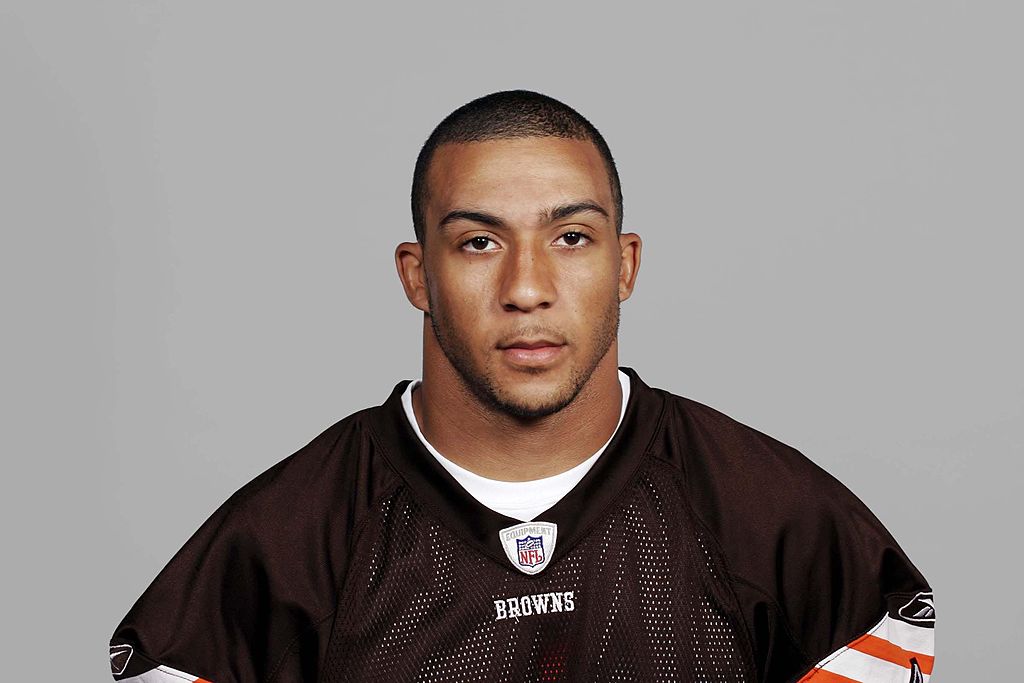 Kellen Winslow Jr.'s Frightening Fall From Browns Star to Convicted Rapist
Kellen Winslow Jr. could have been an NFL star, but the former Browns tight end went from a first-round flameout to a convicted rapist.
The story of Kellen Winslow Jr. is far from simple. The son of an NFL legend, he had all the tools to become a Hall of Famer himself. Yet, despite becoming a first-round pick by the Cleveland Browns, the younger Winslow never lived up to the hype. But his disappointing football career seems like a distant memory in light of his legal troubles. For years, Kellen Winslow Jr. ran routes and caught footballs. Nowadays, he spends his time behind bars.
Kellen Winslow Jr. went from the University of Miami to the Cleveland Browns
If you could have drawn up a future NFL tight end, you'd end up with someone like Kellen Winslow Jr. Blessed with terrific speed and size, he became one of the top players in college football at the University of Miami. As a sophomore, he burst onto the national scene by hauling in 57 catches for 726 yards and eight touchdowns. The Hurricanes fell just short of completing an undefeated season during Winslow's breakout year.
As a junior, the talented pass-catcher totaled 60/605/1 before entering the 2004 NFL draft. In a loaded class that featured Eli Manning, Larry Fitzgerald, Philip Rivers and Ben Roethlisberger, Winslow became the highest tight end selected in more than three decades when the Browns picked him sixth overall. Adding an elite talent like Winslow should have given the Browns a long-term building block. Unfortunately, Cleveland didn't exactly get a great return on its investment.
Injuries kept the talented tight end from living up to his immense potential
Kellen Winslow Jr. may have one of the greatest "what if" careers in NFL history. The dynamic playmaker simply didn't get a chance to flash his immense potential due to significant injuries. In his rookie season, he suffered a broken leg and played just two games. However, that didn't end up affecting his career nearly as much as the torn ACL he suffered during the summer of 2005.
ESPN reported that the promising prospect damaged his knee in a motorcycle crash that resulted in a misdemeanor charge for disregarding safety. Winslow also suffered internal injuries in the crash. He missed the entire 2005 season but did play all 16 games the following year.
In 2007, the 24-year-old enjoyed his only 1,000-yard campaign when he racked up 1,106 receiving yards and five touchdowns on 82 catches. However, the Browns moved on from their former first-rounder after just one more year. Winslow landed in Tampa and turned into a decent chain-mover. He caught just 14 touchdown passes from 2009-2013 and didn't last beyond his age-30 season after brief stints with the New England Patriots and New York Jets. Injuries played a large role in Kellen Winslow Jr.'s disappointing on-field career, but his decisions off of it eventually landed him in prison.
Winslow pleaded guilty to rape and sexual battery charges in 2019
Many athletes have had to stand in court. Some have spent years behind bars. But Kellen Winslow Jr.'s story certainly ranks as one of the strangest and most shocking. According to USA Today, in June 2019, Winslow was found guilty of raping a homeless woman in California. He also got convicted of two misdemeanor charges for indecent exposure and a lewd act in public that involved two more women.
On November 4, 2019, Winslow pleaded guilty to rape and sexual battery charges stemming from two different incidents. He faces a prison sentence between 12 to 18 years. Winslow could have faced life in prison if he didn't plead guilty and take the deal.
Kellen Winslow Jr. was scheduled to find out his punishment before the COVID-19 pandemic resulted in his sentence hearing being postponed.