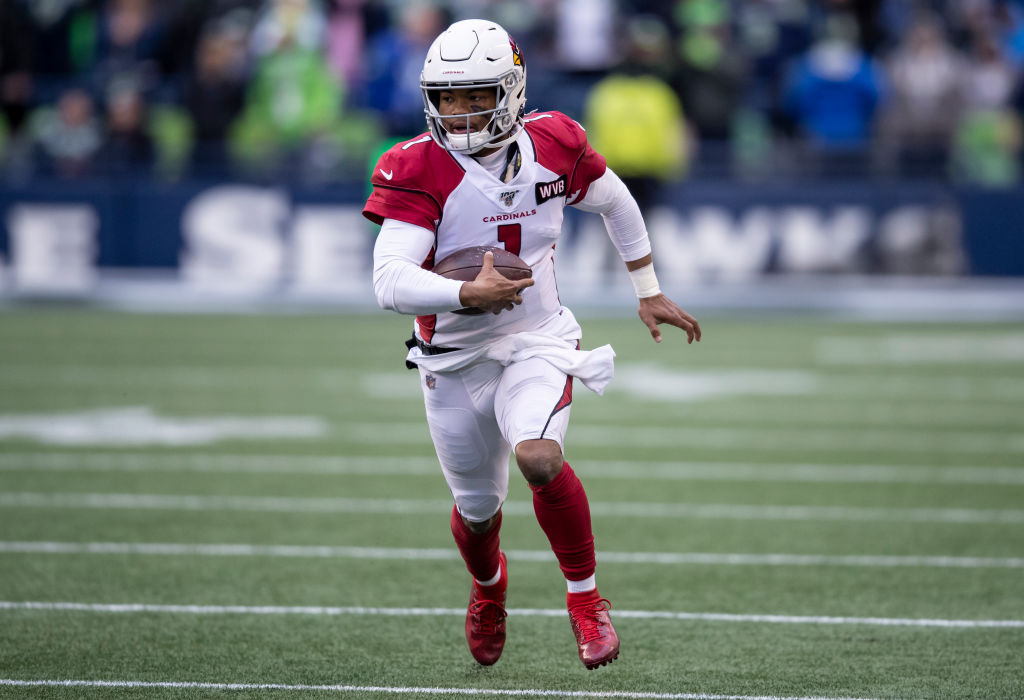 Kyler Murray Scored a $16 Million Payday By Choosing Football Over Baseball
By choosing the NFL over Major League Baseball, Arizona Cardinals quarterback Kyler Murray added $16 million to his bank account in a matter of moments.
While all NFL players are supreme athletes, certain stars had the skills to pay the bills in more than one professional sport. From legends like Bo Jackson and Deion Sanders managed to play both football and baseball during their careers, Kyler Murray decided to leave America's pastime for good and become the Arizona Cardinals starting quarterback. In retrospect, it looks like he made the right decision.
During his first season in the NFL, Murray showed that he's more than capable of becoming a star on the gridiron. Even if he never plays another game, though, he already fattened his bank account by choosing football over baseball.
Kyler Murray could have gone pro in football or baseball
Growing up, most kids play multiple sports before settling on their favorite. Kyler Murray, however, never limited himself to one pastime.
Murray showed great potential on both the football field and the baseball diamond, and he headed to Texas A&M, ready to play both sports. Things didn't go too well in College Station, though. Murray began the season as the backup quarterback and, while he eventually won the top job, only appeared in eight games; he decided to transfer in December, meaning he never got to suit up for the Aggies' baseball team.
Murray landed at Oklahoma and, after sitting out for a season, joined the football team as Baker Mayfield's backup. He got his chance to shine in the starting role come 2018, though; with Mayfield in the NFL, Murray threw for 4,361 yards and 42 touchdowns, rushed for 1,001 yards and 12 additional scores, and claimed the Heisman Trophy.
Despite his football success, Murray followed through on his plan and played baseball for the Sooners, too. Eventually, however, he would have to choose between the two sports.
Picking the NFL and scoring an additional $16 million
For an ordinary professional athlete, draft day is the highlight of their life. Kyler Murray, however, got to become a first-round draft pick on two separate occasions.
While Murray opted out of the MLB draft when he decided to attend Texas A&M, he started receiving big-league attention again at Oklahoma. In 2018, the Oakland Athletics decided to take a chance on the outfielder and selected him with the ninth overall pick of the draft.
Murray, of course, remained a Sooner and posted an eye-popping 2018 football season. Come April 2019, the Arizona Cardinals selected him with the first overall pick of the NFL draft. Now, there was a concrete choice to make.
At least from a financial perspective, though, the deal Murray had an obvious choice. While the A's made a sizable offer—Robert Klemko of Sports Illustrated reported that $14 million of guaranteed money, a $4.6 million signing bonus, and a spot on the 40-man roster was on the table—Major League Baseball simply doesn't have the financial might of the NFL. Murray chose to sign with the Arizona Cardinals; thanks to his status as the first overall pick, the quarterback signed a $35 million deal. According to Spotrac, $23.5 million of that money came in the form of a massive signing bonus.
Based on his rookie season, Kyler Murray made the right move
Even if Kyler Murray turned into an NFL bust, it would have been hard to argue with taking an extra $16 million to avoid riding the bus through the Oakland A's minor league system. Based on his rookie year, though, it seems like we don't have to worry about that.
In his first season with the Cardinals, Murray started every game. While the club struggled and there were plenty of growing pains, the young quarterback did pretty well for himself. He threw for 3,722 yards, 20 touchdowns, and 12 interceptions on the year; he also ran for 544 additional yards and found the endzone four times on the ground. That was good enough to earn Offensive Rookie of the Year honors and a spot as a Pro Bowl alternate.
By choosing the NFL over Major League Baseball, Kyler Murray added an extra $16 million to his bank account. If he keeps playing as he did in 2019, the money will keep flowing.
Stats courtesy of Sports-Reference and Pro-Football-Reference