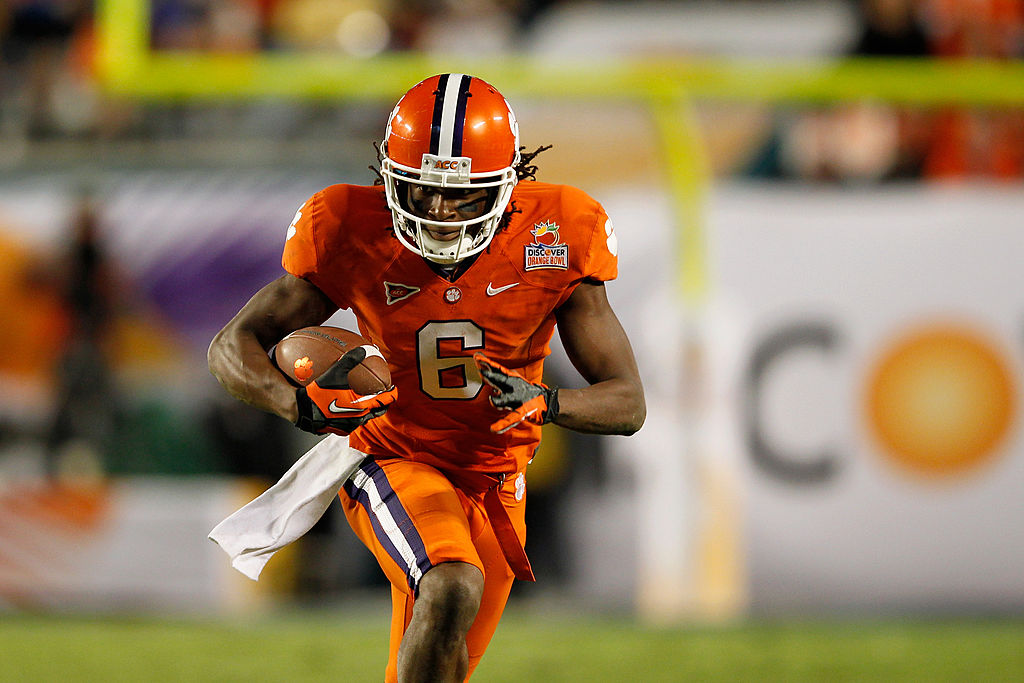 DeAndre Hopkins Refuses to Say He Went to Clemson Because of the School's Ties to Slavery
DeAndre Hopkins became a star at Clemson University, but the NFL star refuses to acknowledge that due to the school's ties to slavery.
DeAndre Hopkins dominated at Clemson University. He continued to put up prolific numbers with the Houston Texans. And now, he's a member of the Arizona Cardinals. However, if you ever catch Hopkins' player intro on a TV broadcast, you'll notice he refuses to say the name of his former school.
As it turns out, Clemson has some ties to slavery. And for Hopkins, that leaves him with no choice but to distance himself from the place that made him a household name.
DeAndre Hopkins was a star at Clemson
A three-sport athlete in high school, DeAndre Hopkins stayed close to home by signing with Clemson. The South Carolina native wasted no time demonstrating his next-level skills. As a true freshman, he led the Tigers with 52 catches for 637 yards and four touchdowns.
In his second season, Hopkins broke out for 72/978/5. However, Sammy Watkins actually topped the team in receiving. Still, that simply set up what turned out to be one of the most dominant seasons by a college wideout.
Hopkins once again increased his production. This time, he left no doubts about who was the best wideout at Clemson. With Watkins battling injuries, the upperclassman set career-highs in catches (82), yards (1,405) and touchdowns (18). His sensational junior season resulted in first-team All-ACC honors. Of course, that led to a first-round draft selection.
Hopkins has a serious issue with the school's ties to slavery
Despite leaving Clemson as arguably the most impressive receiver in school history, DeAndre Hopkins rarely discusses where he came from. In fact, he doesn't even mention his school by name. While that may have been an easy oversight, the newest member of the Cardinals brought the issue to everyone's attention in a major way via Instagram.
"Clemson University still honors the name of well known slave owner and pro-slavery politician John C. Calhoun on its buildings, signs, and in the name of its honors program. I felt this oppressive figure during my time at Clemson and purposely do not mention the University's name before NFL games because of it."
For Hopkins, it makes total sense why he doesn't mention Clemson anymore. It makes even more sense considering the Black Lives Matter movement and protests in the wake of George Floyd's death. Interestingly, he's not the only former Clemson star who has an issue with the school's ties to slavery.
Deshaun Watson is also fighting for change at his former school
Deshaun Watson didn't get a chance to play with DeAndre Hopkins in college, but they formed a strong bond during their time together in Houston. The former NFL teammates have stepped up to fight to make a significant change at Clemson.
According to ESPN, both Watson and Hopkins are part of a group petitioning the university to remove Calhoun's name from the honors college. In his Instagram post, Hopkins included several quotes from Calhoun. One of them reads, "Slavery is indispensable to a republican government."
Though they no longer play for the same team, Watson echoed Hopkins' displeasure on Twitter while sharing a link to the petition.
"Clemson University should not honor slave owner John C. Calhoun in any way. His name should be removed from all University property and programming. I am joining the students, faculty & DeAndre to restart this petition to rename the Calhoun Honors College."
More than 14,000 people signed the petition as of Tuesday evening. Perhaps with NFL star power behind it, Clemson will remove Calhoun's name. If so, that could mean DeAndre Hopkins will no longer refuse to acknowledge his former school.