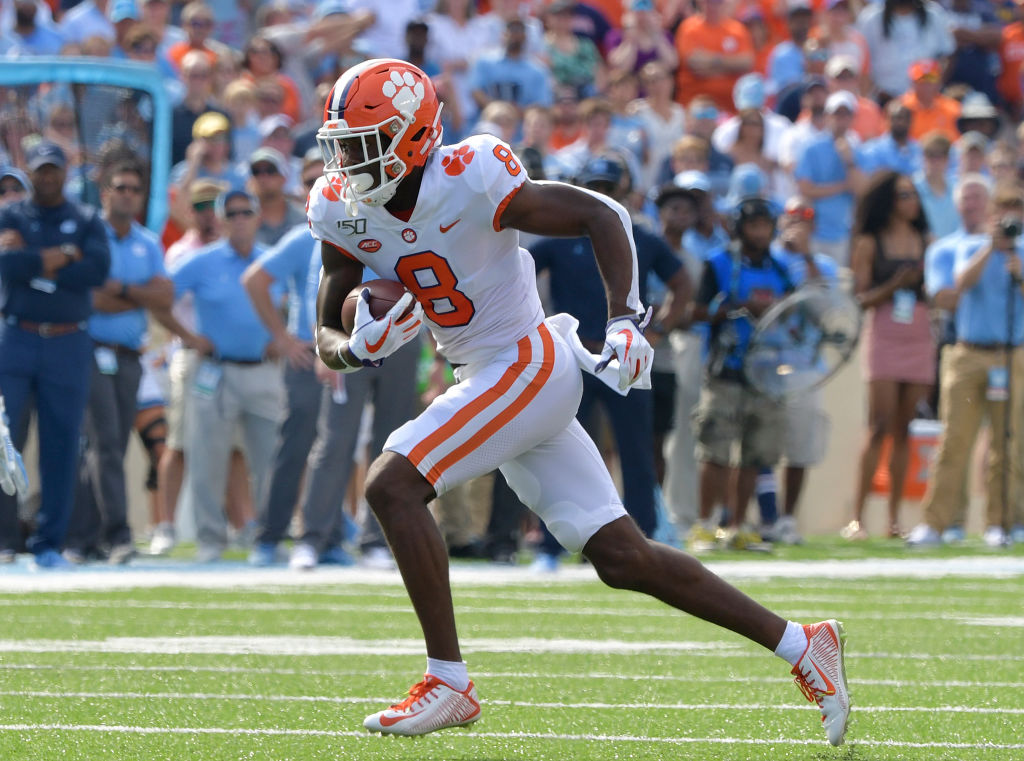 The Next DeAndre Hopkins May Never Get His Chance to Become an NFL Star
Justyn Ross looked like the next DeAndre Hopkins at Clemson. Now, the star receiver may never play football again due to a spinal issue.
DeAndre Hopkins may be the crown jewel, but Clemson has churned out a number of star receivers in the last decade. From Sammy Watkins to Mike Williams to Tee Higgins, the Tigers have made it a habit of producing NFL wideouts. Justyn Ross should have been the next one.
Yet, the uber-talented junior won't play football in 2020. In fact, he may not ever play again. And if that's the case, it'll be a tragic story for a player who possesses the skill set to become the next DeAndre Hopkins.
DeAndre Hopkins starred at Clemson before becoming an NFL All-Pro
A decade ago, a young DeAndre Hopkins announced his arrival to the college football scene. As a freshman, he racked up 52 catches for 637 yards and four touchdowns. After nearly cracking 1,000 yards as a sophomore, he saved his best for last. In his final season at Clemson, Hopkins racked up 82/1,405/18.
That sensational season should have made him a top-10 pick. However, due to concerns about his speed, Hopkins slid to the 27th pick. The Houston Texans scored a draft-day steal. At 6-foot-1, 212 pounds, the former ACC star slotted in perfectly opposite perennial Pro Bowler Andre Johnson.
In just his second NFL season, Hopkins posted 1,210 yards on 76 catches. He earned his first Pro Bowl nod the following year after catching 111 passes for 1,521 yards and 11 TD. Despite an abysmal quarterback situation, Hopkins cemented himself as one of the NFL's elite wideouts.
Once Deshaun Watson arrived, he took his game to another level. In each of the last three years, Hopkins has earned first-team All-Pro honors while racking up ridiculous numbers. Strangely, though, Bill O'Brien traded away Houston's top offensive weapon to the Arizona Cardinals this offseason.
Still, that shouldn't take away from the fact that DeAndre Hopkins has established a reputation as a Hall of Fame-worthy wideout after dominating at Clemson. So when Justyn Ross signed with the Tigers, he certainly had an excellent idol to emulate.
Justyn Ross seemed poised to follow in Hopkins' footsteps
A highly coveted high-school recruit, Ross projected to be Clemson's next great wideout. As a freshman, he quickly showed everyone why he deserved to be mentioned in the same breath as DeAndre Hopkins.
The 6-foot-4, 205-pounder put together one of the most dominant debuts in college football history. Though he caught just 46 passes, Ross racked up 1,000 yards to go along with nine TD. Of course, he saved his best for last. In Clemson's national title game victory over Alabama, he caught six passes for 153 yards, including a 74-yard touchdown.
Even on a team with Tee Higgins, Ross still had scouts drooling over his NFL potential. Last season, he caught 66 passes, including eight touchdowns. Heading into this fall, he projected to be one of the top wideouts in the country. Unfortunately, fate had another plan.
Ross faces a murky football future due to spinal issue
Unfortunately for Clemson fans, Justyn Ross won't play this season. In fact, the talented pass-catcher may never put on a helmet and shoulder pads again. In June, ESPN reported that the Tigers' top wideout will miss the 2020 season due to a congenital fusion in his spine.
Ross suffered what the team thought was a stinger during a scrimmage in the final practice session before the coronavirus pandemic ended spring workouts. The next day, team doctors said X-rays revealed the issue, which Swinney said Ross has had since birth without being aware of it.

The spinal issue will require surgery. However, Clemson head coach Dabo Swinney said he did not know of a single player who returned to play after undergoing the surgery Ross needs.
Ultimately, only time will tell if Justyn Ross returns to Clemson or enters the 2021 NFL draft. Those options might be off the table entirely if he can't get cleared to play football again. Either way, this spinal issue puts a huge wrench in his ability to become the next DeAndre Hopkins.