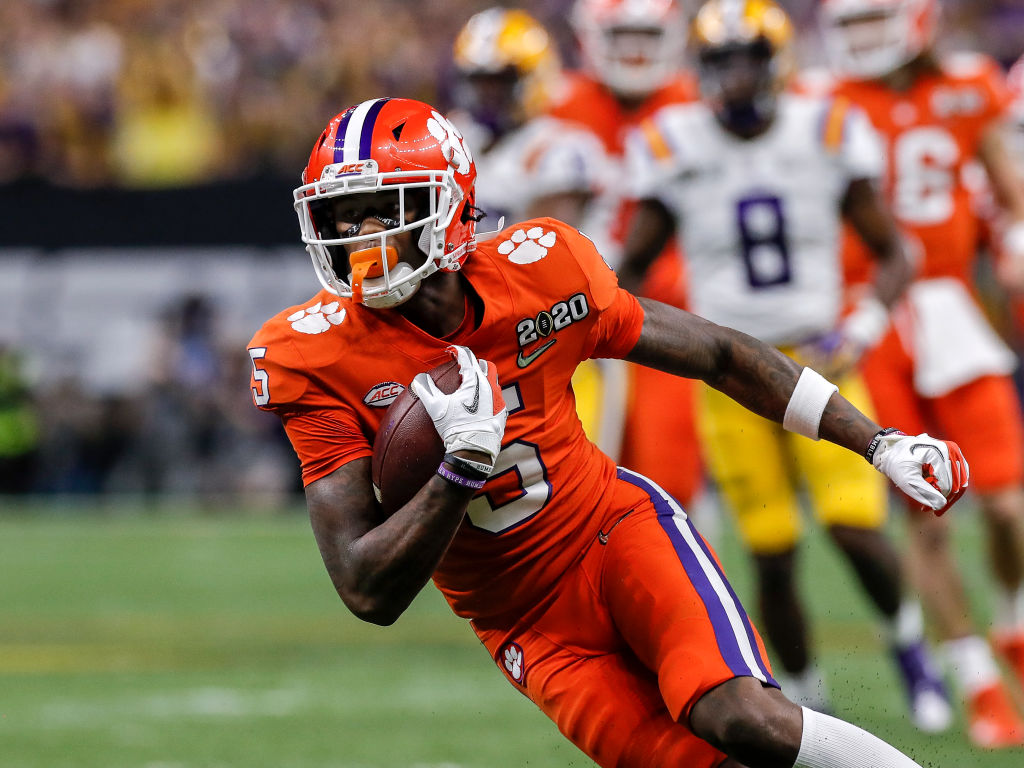 Tee Higgins Turned Two Toy Cars Into an $8 Million NFL Payday
As a kid, Tee Higgins played football for Hot Wheels. Once he signs his contract with the Cincinnati Bengals, he'll make millions in an instant.
Coming out of the 2020 NFL draft, most of the discussion focused on Joe Burrow joining the Bengals. While that's understandable—everyone loves the prospect of a new franchise quarterback—Cincinnati actually came away with quite a few promising players. Wide receiver Tee Higgins is one of those rookies.
Although Higgins won't be earning first-round money with the Cincinnati Bengals, he'll still take home a nice chunk of change in the NFL. That financial reality will be quite a bit different than his childhood when he played football for a few Hot Wheels cars.
Tee Higgins' road to the NFL
During high school, Tee Higgins emerged as a star on both the basketball court and the football field. While he initially committed to the University of Tennessee, he switched to Clemson and decided to ply his trade on the gridiron.
During his first season with the Tigers, Higgins appeared in seven games; while he only had 17 total receptions, he showed plenty of big-play potential, racking up 345 yards for the season. While he would get more playing time with each passing season, that explosiveness wouldn't go away.
As a sophomore, Higgins pulled in 59 catches for 936 yards and 12 touchdowns; the following season, he caught the same number of passes but upped his potential to 1,167 yards and 13 touchdowns. After claiming first-team All-ACC honors, the junior declared for the 2020 NFL draft. He, of course, would land with the Cincinnati Bengals in the second round.
Playing for Hot Wheels cars as a kid
During his time at Clemson, Tee Higgins developed into one of the nation's most dynamic young receivers. As a child, however, he almost quit football forever.
Growing up in Tennessee, Higgins wasn't the biggest fan of football. On one particularly hot day of Pop Warner action, he decided that he had enough.
"I wasn't really big on being outside in the heat with all the pads. That was not my thing at the time," Higgins told ESPN's Maria Taylor, according to The Clemson Insider. "It was real hot that day, and I was like, 'I don't want to do this.' So, I went into the stands, in the middle of the game, and sat next to me aunt."
At that moment, however, Higgins' aunt made an offer that would change anything. She told him that she would buy him two Hot Wheels cars for every touchdown he scored; the young receiver promptly returned to the field and found the end zone three times.
"After the game, I was like, 'Let's go to Wal-Mart. Let's go get my Hot Wheels," he explained. "Ever since then, football is just a part of me, and I have loved it ever since."
Tee Higgins can buy plenty of Hot Wheels with his NFL salary
By slipping into the second round of the NFL draft, Tee Higgins missed out on some guaranteed money. When he signs on the dotted line, however, the receiver will still be able to buy all the Hot Wheels his heart desires.
As spelled out by Spotrac, Higgins' initial NFL contract will be worth approximately $8,686,785. He'll receive almost $4 million of that money upfront, however, in as a signing bonus. Once he gets that check, though, the receiver has something more meaningful in mind than toy cars.
"I always wanted to be in the NFL, and me being able to take care of my mom, and have her stress free, is just something I always wanted to do," Higgins continued. "So, this is something I have been looking forward to. You know, it is crazy.
All stats courtesy of Sports-Reference