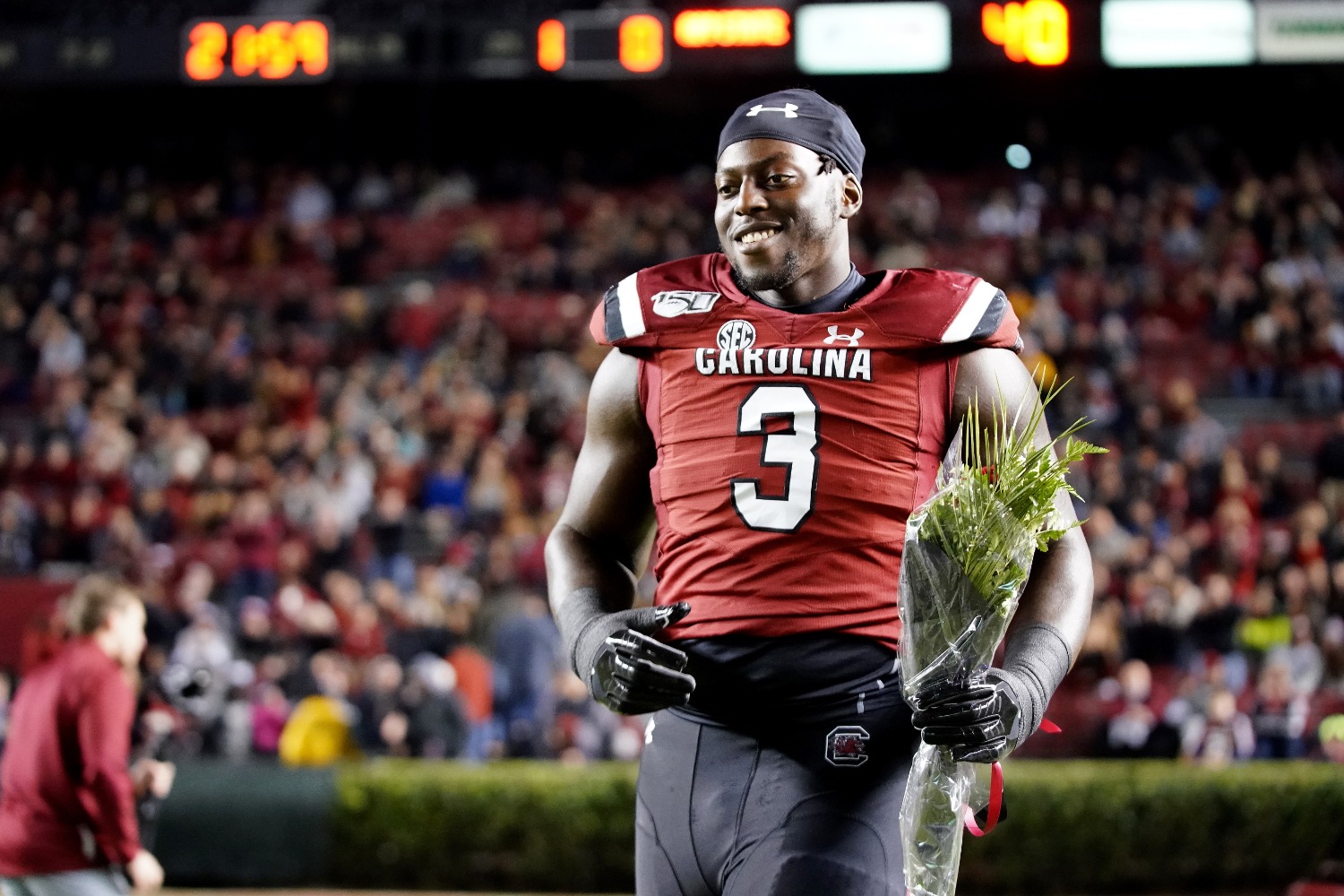 Javon Kinlaw Went From Boiling Bathwater and Being Homeless to Signing $15 Million Contract With 49ers
Javon Kinlaw took an incredible journey to the 49ers that included being homeless and having to boil his own bath water as a kid.
For Javon Kinlaw, making it to the NFL seemed like a pipedream. So when the San Francisco 49ers made him the 14th overall pick of the 2020 NFL draft, it represented a monumental achievement. After all, he grew up essentially homeless and even had to boil his own bathwater. Now, he boasts a $15 million contract and the chance to become an NFL star.
Javon Kinlaw went from an SEC star to a first-round draft pick
Javon Kinlaw can attribute his football success to moving to South Carolina. Following his high-school career, he played one year at Jones County Junior College. The hulking 6-foot-5 defensive lineman landed a scholarship to the University of South Carolina. And in no time at all, he proved to be the program's best defensive lineman since Jadeveon Clowney.
Kinlaw broke out as a full-time starter in 2018. Showcasing a rare blend of speed and power, he racked up 30 tackles (nine for loss), four sacks, two forced fumbles, and five passes defended. That put him on the radar for NFL scouts heading into his senior season.
With an opportunity to increase his NFL draft stock and cement his status as a first-round prospect, Kinlaw elevated his game in 2019. He earned first-team All-SEC honors after recording 35 tackles (six for loss) to go along with a career-high six sacks.
Heading into the 2020 NFL draft, the Trinidad and Tobago native ranked as one of the top players at his position. Teams salivated over Kinlaw's upside as a game-wrecking interior force. He ultimately went off the board with the 14th pick to the 49ers. But for Javon Kinlaw, achieving his NFL dream meant even more because of the obstacles he overcame to get there.
Kinlaw's journey to the 49ers included being homeless as a youth
Many NFL players face challenges in their pursuit of greatness. Few went through as much adversity as Javon Kinlaw. His family moved from Trinidad and Tobago to Washington D.C., which seemingly should have set them up for success. But at the Senior Bowl, Kinlaw relayed the difficulty in growing up without many of the resources we take for granted.
"We went without electricity, no water, things like that. We had to use the neighbor's hose to fill up totes of water. We would take them back in the house. We had gas, a gas stove. We would light the stove with a little match or something, get a tall pot, boil the water, mix it with some cold water, put it in a bucket, take it upstairs, take a shower like that. At a young age, we just thought that was normal."
In addition, Kinlaw explained that he and his brothers had to settle for whatever food they could find. Sometimes dinner might be bologna or hot dogs. Other times they ate oatmeal or just buttered bread. His experiences with a lack of food even carried over to JUCO.
"Fun fact, my first two days there I didn't even eat, because I didn't know where the cafe was at," Kinlaw said. "Then I didn't know the food was free, so when I found out it was free, I was going crazy."
Of course, he managed to get plenty of access to food over the last few years. Now, the 324-pounder oozing with All-Pro upside can set his sights on his football future.
Can the rookie defensive tackle step in seamlessly for DeForest Buckner?
When the 49ers drafted Javon Kinlaw they not only added a premier talent but also filled a huge hole. Prior to the draft, they traded DeForest Buckner to the Indianapolis Colts. In exchange, they received the first-round pick that ultimately helped them land the South Carolina defensive tackle.
As a plug-and-play replacement for Buckner, Kinlaw's role should be clearly defined. He joins a stacked defensive line that features Nick Bosa, Arik Armstead, Dee Ford, and Solomon Thomas. On paper, San Francisco boasts the top unit in the NFL.
Kinlaw will have to show he can defeat NFL offensive linemen and add more pass-rush moves to his repertoire. But considering the attention Bosa and Armstead demand, he should have plenty of one-on-one pass-rush opportunities.
Now that he's officially under contract with the 49ers, Kinlaw can sleep a little easier knowing he has nearly $15.5 million guaranteed, according to Spotrac. Just don't expect him to rest on his laurels. He's gone through too much to settle for mediocrity. From boiling water to signing a life-changing contract, Javon Kinlaw's journey should be fun to watch.