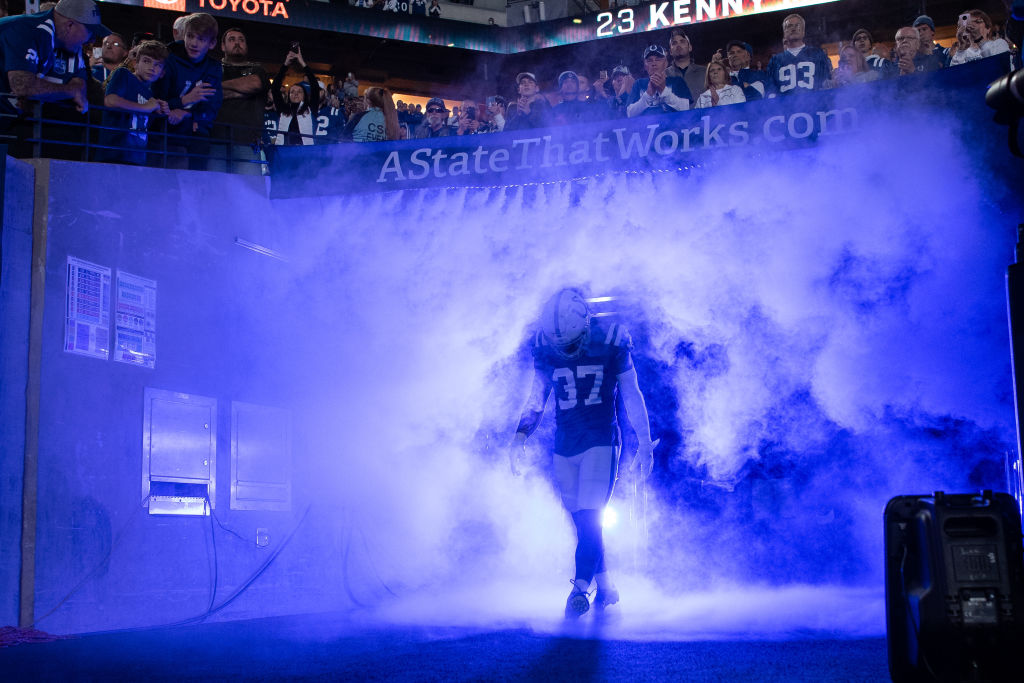 Khari Willis Called a Couch at Peyton Manning Children's Hospital Home During His Rookie Year With the Colts
Khari Willis spent most of his rookie season with the Colts sleeping on a couch at Peyton Manning Children's Hospital.
Most NFL rookies barely get enough time to sleep. From attending team meetings to studying their playbook to lifting weights, they have a full plate. For Khari Willis, his rookie season included much more than that. In fact, the Indianapolis Colts safety spent most of his nights sleeping on a couch at the Peyton Manning Children's Hospital.
Why did he call a couch home? That's just what a good dad does.
Khari Willis' journey to the Colts
A Michigan native, Khari Willis didn't travel far to play his college ball. He took his talents to Michigan State. The talented safety spent his first two years in a backup role. However, by his junior season, Willis started to gain national attention. His first year as a starter included 71 total tackles (5.5 for loss), three sacks, two interceptions, and one forced fumble.
Willis cemented his status as a future NFL draft pick with a strong senior season. Though he recorded just one interception, he totaled 77 tackles to go along with a career-best seven passes defended. With 4.52 speed and high marks for leadership, intelligence, and character, Willis entered the 2019 NFL draft as a mid-round prospect.
The Colts liked the Michigan State safety so much that they surrendered two fourth-round picks to move up for Willis. He became the 11th safety off the board after Indianapolis drafted him 109th overall. A day one starter, Willis played a ton of snaps for the Colts.
But instead of recovering from the daily grind at home, he called a pullout sofa at Peyton Manning Children's Hospital home during the fall of 2019.
Willis slept at the Peyton Manning Children's Hospital most of his rookie season
For most rookies, trying to keep up with football responsibilities represents a major hurdle. Trying to balance a personal life makes the transition from college to the pros even more difficult. But for Khari Willis, he faced an obstacle that no one should have to endure.
According to Zak Keefer of The Athletic, Willis spent every night of his rookie season sleeping at Peyton Manning Children's Hospital due to his twin sons being born prematurely.
The twins were tiny, born 13 weeks premature, one weighing 1 pound, 15 ounces, the next 1 pound, 14 ounces. The first time Khari saw them, both were hooked up to ventilators, breathing tubes sticking out from their noses and mouths. It'd be a month before he could hold them in his arms.

Willis feared whether his sons would even survive. But the first-year NFL player couldn't sacrifice his day job. Instead, after every practice, he showered at the team facility. He ate his meals there. And after finishing everything else related to football, he'd drive 19 minutes back to the hospital.
This routine took place for four months. And despite trying to focus on providing for his new family, Willis still had the stress of his sons' survival on the line. His father, John, understood what his son faced during a pivotal time in his life.
"There were days when I feel like it really got to him," he said. "Khari isn't going to come out and say it, but it was really hard. It was on his mind. The immediate pressures of playing at that level, the NFL, as a 23-year-old? That's just a lot by itself. To have all this on top of that? It was so hard."
Luckily, in late November, Kassius and Kyren Willis added enough weight and reached a safe point to leave the NICU. With his family finally healthy and together, that put football back into focus for Khari Willis.
Can the rising safety help the Colts reach the Super Bowl in his second season?
By the end of his rookie season, Willis endured more than any other rookie in the league. It turns out from an on-field perspective, the new father looked like a savvy veteran. His 73 total tackles ranked second at the position amongst newcomers and third on the Colts.
Looking ahead to the 2020 season, the 5-foot-11, 213-pounder will look to make a leap in the playmaking category. He failed to record an interception, sack, forced fumble or fumble recovery in year one. For the Colts to take the next step, they'll need Willis, and a host of other young defenders, to make more plays on the ball.
Indianapolis did sign former Minnesota Vikings corner Xavier Rhodes. Along with recent draft picks like Rock Ya-Sin, Malik Hooker, and Julian Blackmon, the Colts could boast one of the league's more talented secondaries.
Now it'll be up to Willis and Co. to take the Colts deep into the postseason. At least this season, the father of two should recover much better sleeping at home rather at the incredible hospital named after Peyton Manning.