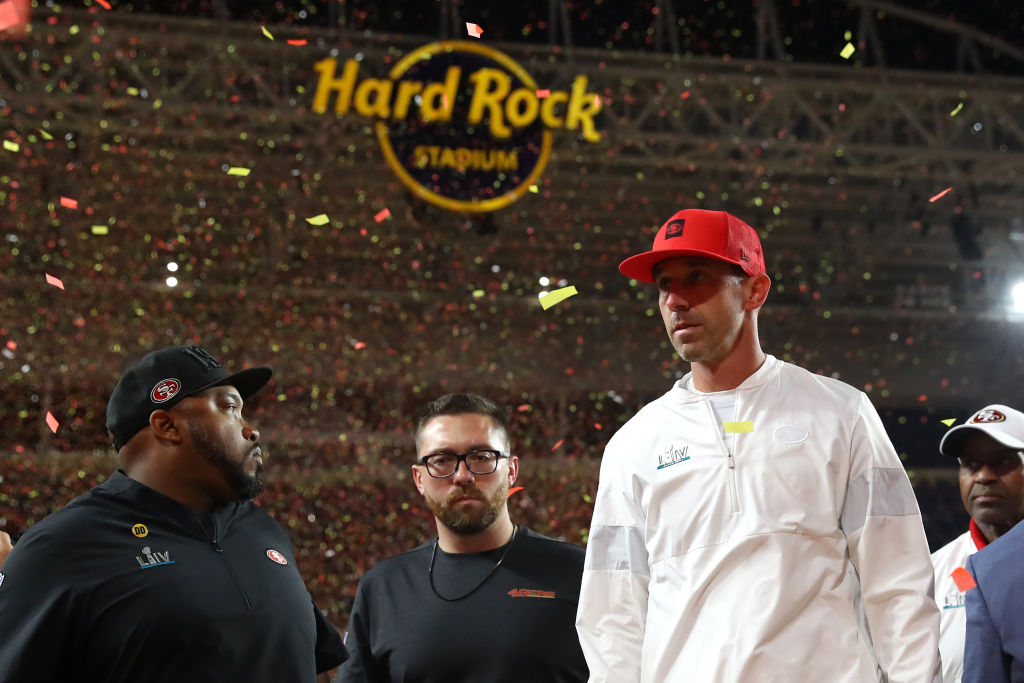 Kyle Shanahan Scored a Massive Payday From the 49ers Despite Epic Super Bowl Collapses
Kyle Shanahan is one of the NFL's brightest head coaches, but he has some epic playoff collapses. The 49ers still gave him a lucrative payday.
Kyle Shanahan has quickly established a reputation as one of the NFL's best head coaches. The man in charge of the San Francisco 49ers obviously has great bloodlines and a brilliant offensive mind. And in a short time, he's managed to win a ton of games while rebuilding one of the league's worst rosters.
Of course, Shanahan has also overseen two epic Super Bowl collapses. If he plans on becoming the next Bill Belichick, he'll have to coach better in the postseason. Ultimately, 49ers showed they aren't worried by handing their head coach a massive contract extension. But will Shanahan overcome his playoff woes to make the investment worthwhile?
Kyle Shanahan's coaching career includes some epic playoff collapses
Kyle Shanahan sure has come a long way from his days as a University of Texas wide receiver. With legit football experience and a legendary father as a head coach, the Minnesota native embarked on his own coaching journey. Shanahan became a marquee name because of his offensive brilliance and ability to maximize the talents of his players.
In his second season as the offensive coordinator of the Atlanta Falcons, he turned Matt Ryan into the NFL's MVP. Julio Jones caught 83 passes for 1,409 yards. Devonta Freeman and Tevin Coleman formed a devastatingly diverse backfield. All of that led the Falcons to a Super Bowl showdown against Belichick's New England Patriots.
Despite jumping out to a 28-3 lead, Atlanta scored just seven points after halftime. Instead of running the ball, killing the clock, and icing the game, the Falcons dropped back to pass five times on their penultimate fourth-quarter drive. Meanwhile, Tom Brady led his team to the greatest comeback in Super Bowl history due in large part to Shanahan's poor playcalling.
In February, he once again found himself coaching for the Lombardi Trophy. And once again his offense tanked in crunch time. The 49ers gained just 49 yards and failed to score on four fourth-quarter drives. After going up 20-10 late in the third quarter, they lost 31-20 to Patrick Mahomes and the Kansas City Chiefs.
49ers signed Shanahan to another six-year contract
Two Super Bowl collapses could end a coach's career. But in the case of Kyle Shanahan, the 49ers obviously see brighter days ahead. By turning the team into a Super Bowl contender in just three years, Mike Shanahan's son got himself a lucrative contract extension. According to Adam Schefter of ESPN, the 49ers signed their head coach to a new six-year deal.
The six-year contract replaces the three years remaining on his deal and ties him to the 49ers through the 2025 season, league sources told ESPN. It also makes Shanahan one of the NFL's five highest-paid head coaches.
Schefter reported that the deal came together easily once Shanahan and 49ers owner Jed York sat down. Of course, Shanahan signed a six-year contract when he first came aboard in 2017.
As one of the NFL's highest-paid coaches, he now faces even more pressure to perform in the postseason. Luckily, Kyle Shanahan has a roster that's more than capable of atoning for its Super Bowl collapse.
Can San Francisco win a Super Bowl title in 2020?
As the defending NFC champions, the 49ers enter the 2020 season with a target on their back. Many expected San Francisco to improve from its dismal 2018 campaign. But it certainly surprised many to see the team go 13-3 and end up in the Super Bowl in Shanahan's third year at the helm.
However, that should be the standard moving forward. San Francisco has a roster that features both star power and quality depth. Jimmy Garoppolo played all 16 games for the first time in his career and looked like a potential star.
Sure, he has holes to iron out in his game. And he certainly deserves some blame for the 49ers' fourth-quarter collapse. But considering he entered the 2019 season with just 10 starts to his name, Garoppolo deserves more time to prove he's an elite quarterback.
He'll also benefit from a dynamic group of skill players perfectly suited to succeed in Shanahan's offense. George Kittle can overtake Rob Gronkowski as the best tight end in NFL history. Receivers Deebo Samuel and Brandon Aiyuk offer great run-after-the-catch ability. And Raheem Mostert could become the next superstar running back to emerge from under a Shanahan.
Defensively, the 49ers swapped out DeForest Buckner for first-round pick Javon Kinlaw. Other than that, San Francisco will enjoy tremendous continuity on that side of the ball. Given their complete roster and intelligent head coach, the 49ers should absolutely be considered a Super Bowl favorite.
But if Kyle Shanahan plans on getting another contract extension someday, he'll need to bring the Lombardi Trophy back to the bay.