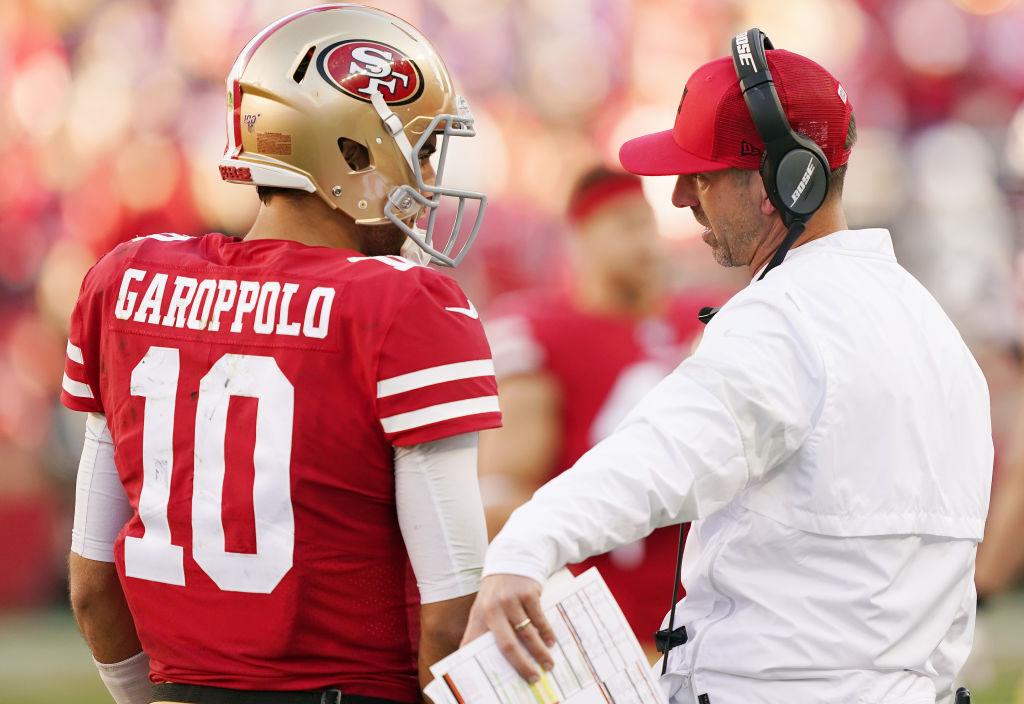 Despite Their Super Bowl Defeat, Kyle Shanahan Still Believes In Jimmy Garoppolo
Despite his struggles in the Super Bowl, San Francisco 49ers head coach Kyle Shanahan isn't giving up on Jimmy Garoppolo just yet.
Every quarterback dreams of having the ball in their hands with a chance to win the Super Bowl. Jimmy Garoppolo got that chance, but he and the San Francisco 49ers came up short. Despite that disappointing end to the season, Kyle Shanahan doesn't feel any differently about his man under center.
While the head coach isn't happy to have lost another Super Bowl, he's not pointing any fingers at Jimmy Garoppolo. If anything, he sees plenty of positives about his quarterback's 2019 NFL campaign.
Jimmy Garoppolo and Kyle Shanahan come up short
Through the first three quarters of Super Bowl LIV, things were going according to plan for the San Francisco 49ers. In the fourth quarter, though, everything changed for Kyle Shanahan and Jimmy Garoppolo.
Despite building up a lead with their dominant ground game, the 49ers decide to change things up. Shanahan started calling passes; Garoppolo had thrown the ball well earlier in the evening, but he struggled down the stretch. Passes were batted down at the line of scrimmage or fell incomplete, giving the Chiefs more time to mount a comeback. They, of course, did just that.
When the game finished, the spotlight fell squarely on Shanahan and Garoppolo. Critics honed in on the head coach's play-calling and clock management; Super Bowl LIV was the second time he let a lead slip in the championship game. Garoppolo finished the night 20-31 with 219 passing yards, one touchdown, and two interceptions, failing to make a big play when his team needed it the most.
Kyle Shanahan hasn't lost faith in his quarterback
After letting the lead slip in Super Bowl LIV, it would be understandable if Kyle Shanahan had some second thoughts. The 49ers head coach, however, wouldn't change his play-calling or want anyone besides Jimmy Garoppolo under center.
"Jimmy is one of the main reasons we got to the Super Bowl," Shanahan told ESPN. "He overcame a lot. This was his first year in his career going through an entire NFL season, so he still doesn't have as many starts as Baker Mayfield. He had a hell of a first year truly playing the position, especially coming off an ACL."
"You have to fight through that as a quarterback where your rhythm and everything is not there at the beginning of the year," the 49ers head coach continued. "And for him to be like that and to not let the pressure get to him and to improve as the year went I think says a ton about Jimmy and I can't tell you how much I loved coaching the guy as a player and as a person this year."
Jimmy Garoppolo isn't elite yet, but he's still in a good spot
No head coach is going to publically rip their quarterback after making it to the Super Bowl, but Kyle Shanahan still made some good points about Jimmy Garoppolo.
While Jimmy G isn't a new face to NFL fans, 2019 was his first full season as a starter; that's always going to present a new set of challenges. Garoppolo handled some situations well—he shone on third downs and did enough to get the 49ers to a Super Bowl—but he was far from perfect. The 49ers had a strong running game, but when they needed their quarterback to make a play, he wasn't the most consistent.
Those aren't mortal sins, but things we'll have to watch next season. On paper, experience should help Garoppolo improve his timing and decision making; an extra year with his teammates and Kyle Shanahan shouldn't help either.
As of now, there's no reason for Shanahan or the San Francisco 49ers to doubt Jimmy Garoppolo. Next season, however, we'll have a better idea of the quarterback's long-term potential.