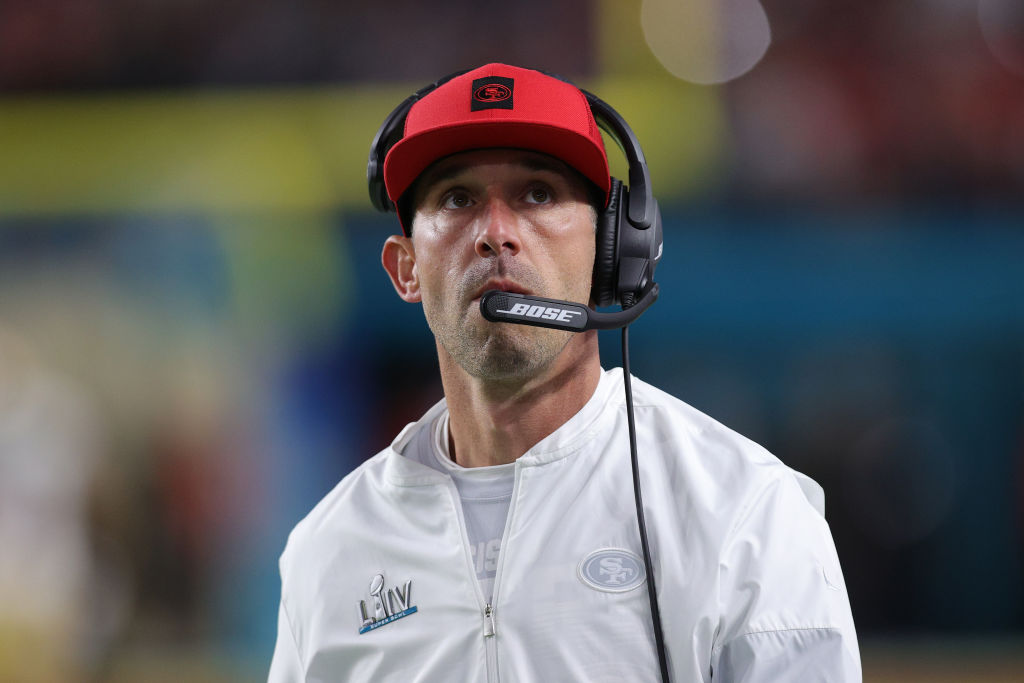 Is Kyle Shanahan Officially a Playoff Choker?
On Sunday night, San Francisco 49ers head coach Kyle Shanahan mismanaged another Super Bowl. Is he officially a choker?
For better or worse, a Super Bowl changes everyone's legacy. On Sunday night, Andy Reid's reputation changed forever; the Kansas City Chiefs' head coach is no longer the guy who can't win the big game. 49ers' coach Kyle Shanahan, however, left Miami feeling a bit differently.
For the second time in his career, Shanahan came up short in the Super Bowl. Does that mean he's officially a playoff choker?
Kyle Shanahan blows it with the Atlanta Falcons
In Super Bowl LI, the Atlanta Falcons seemed to be cruising past the New England Patriots. As we all know, though, the game didn't end that way.
While the Falcons held onto a 28-3 lead in the third quarter, they weren't able to keep their foot on the gas. The Patriots started chipping away at the deficit; when Atlanta got the ball back, they seemed eager to return it to Tom Brady's hands. New England managed to force overtime, before winning on the opening possession of the extra frame.
As the Falcons' offensive coordinator, Kyle Shanahan received his fair share of the blame; if his unit was able to keep moving the chains, everything might have been different. The current 49ers coach said that he doesn't consider the loss "anything to run away from," but it remains part of his legacy.
Another set of Super Bowl issues
While he might not have admitted it, Super Bowl Sunday was a chance for Kyle Shanahan to change his playoff legacy. Instead, the exact opposite happened.
Although the San Francisco 49ers seemed like they had locked things up, they managed to snatch defeat from the jaws of victory. Two particular coaching decisions stood out; Shanahan's clock mismanagement at the end of the first half and his strange choice to abandon the running game when the Chiefs came charging back.
"The last thing you're thinking about when you're up three points and there is that much time left, the clock is not an issue at that time, especially with the timeouts," Shanahan said when reporters asked about his play-calling down the stretch. "The issue was moving the chains. If you move the chains, then you will wind the clock."
Does Kyle Shanahan deserve to be known as a choker?
When Kyle Shanahan wakes up on Monday morning, he'll probably have his fair share of regrets. Branding him a choker, though, is still a bit unfair.
Did Shanahan make some poor choices down the stretch in two Super Bowls? Yes, he did. At the same time, though, he didn't fumble the football or commit a holding penalty at the end of Super Bowl XL. On Sunday night, he called the perfect play to get Emmanuel Sanders open at a crucial movement; it's not the coach's fault that Jimmy Garoppolo overthrew his receiver.
It's important to keep sample size in mind. Kyle Shanahan has spent 12 NFL seasons as an offensive coordinator or head coach; two poor games don't overrule all of those, even if they were the Super Bowl. While it's easy to label him a choker, that's an easy way out. No one is excusing his poor Super Bowl performances, but you can't frame an entire career around two games.
You can be an excellent head coach and still struggle in the big spot; just ask Andy Reid about that.