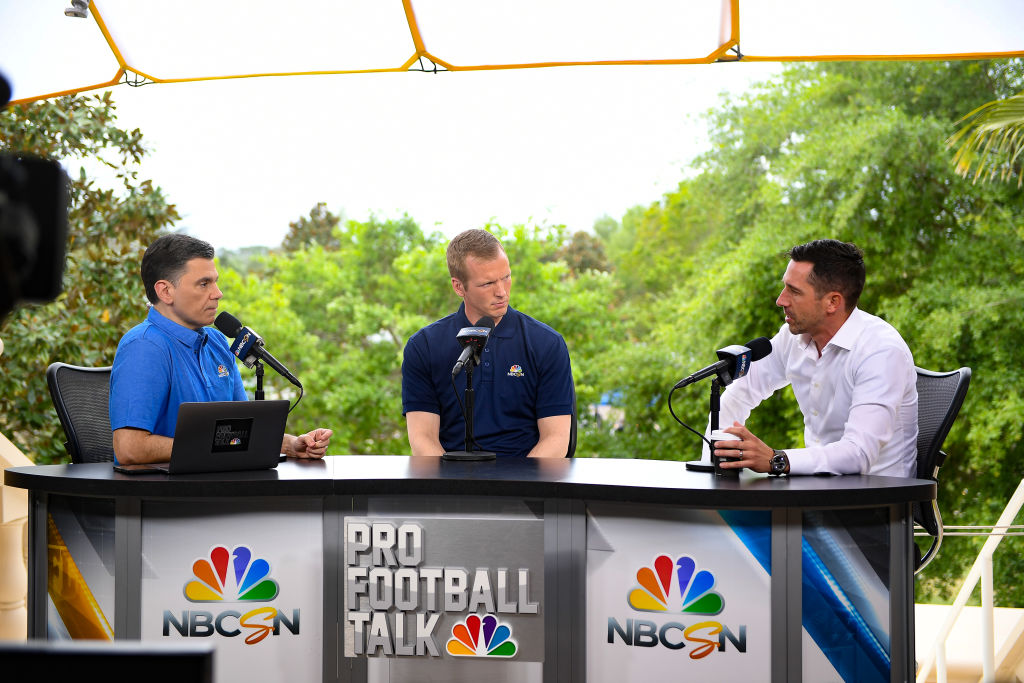 Kyle Shanahan Once Called Chris Simms, Roy Williams and Cedric Benson Teammates
Before Kyle Shanahan became the head coach of the San Francisco 49ers, he played his college ball at the University of Texas.
Football has always been in Kyle Shanahan's blood. After all, he's the son of legendary NFL coach Mike Shanahan. Like his dad, Kyle has carved out his own coaching career. Since taking over in 2017, he's managed to turn the San Francisco 49ers into one of the league's most dominant teams.
But before he embarked on his own coaching journey, the Minnesota native actually wore a helmet and shoulder pads. And at one point, he played on the same field as future NFL players like Chris Simms, Roy Williams, and Cedric Benson. Kyle Shanahan has come a long way from his days at the University of Texas. Now, he's one of the NFL's best young head coaches.
Kyle Shanahan's NFL bloodlines
You can't talk about Kyle Shanahan without discussing his father. The elder Shanahan carved out a 20-year career as an NFL head coach. He got his start with the Los Angeles Raiders back in the late '80s. However, most fans associate the hard-nosed head coach with the Denver Broncos.
In 14 seasons at the helm, he led the Broncos to a 138-86 record. More importantly, Denver won back-to-back Super Bowl titles. Mike Shanahan posted just two losing seasons during that 14-year stretch.
While his tenure with the Washington Redskins didn't live up to his Hall of Fame billing, it did give his son an opportunity to get into the coaching game. Kyle Shanahan served as the team's offensive coordinator from 2010-2013. The Redskins ranked fourth in scoring in 2012, which happened to be Robert Griffin III's rookie season.
Of course, growing up around the game helped the younger Shanahan achieve success from the sidelines. But before he traded in his cleats for a whistle, he had some big-game experience himself as a player.
Shanahan played alongside NFL talent in Texas
While he never made it to the NFL as a player, Kyle Shanahan did play at a major university. After initially starting out at Duke University, he transferred to the University of Texas. Upgrading his surroundings also included playing alongside much more talented teammates.
As a receiver for the Longhorns, he played on the same offense that featured several future NFL players. Chris Simms emerged as one of the better quarterbacks in college football. He ended up getting drafted by the Tampa Bay Buccaneers in 2003.
Though Shanahan caught just 14 passes in college, he did sit in the same meeting room with a much more successful receiver. For two years, he got a chance to see Roy Williams develop into one of the best playmakers in the country. Williams got selected seventh overall by the Detroit Lions in 2004. He never lived up to his draft status but he did catch 44 touchdowns in eight seasons.
Shanahan also called Cedric Benson a teammate back in the day. Undoubtedly one of the best running backs in college football history, Benson racked up 5,540 yards and 64 rushing touchdowns with the Longhorns. He went on to have a successful NFL career with the Cincinnati Bengals. Benson sadly passed away on August 17, 2019.
49ers have one of the NFL's best head coaches
Kyle Shanahan never impressed anyone as a player. However, as a coach, it's a whole different story. At 40 years old, he's one of the youngest in the NFL. Yet, he's already built up an impressive resume.
He went 6-10 in his first year as the 49ers head coach. Injuries played a massive role in the team's 4-12 record in 2018. However, with Nick Bosa in the fold and a healthy Jimmy Garoppolo under center, the 49ers went 13-3 last season. Ultimately, Patrick Mahomes thwarted San Francisco's Super Bowl dreams after Shanahan's team took a lead into the fourth quarter.
Moving forward, the 49ers should be excited about their future. They have a franchise QB, a stout defense, the best tight end in football, and a multitude of other playmakers. Most importantly, though, they have a major edge at head coach. Don't be surprised to see Kyle Shanahan top his father's two Super Bowl titles as a head coach one day.
Statistics courtesy of Sports Reference and Pro Football Reference