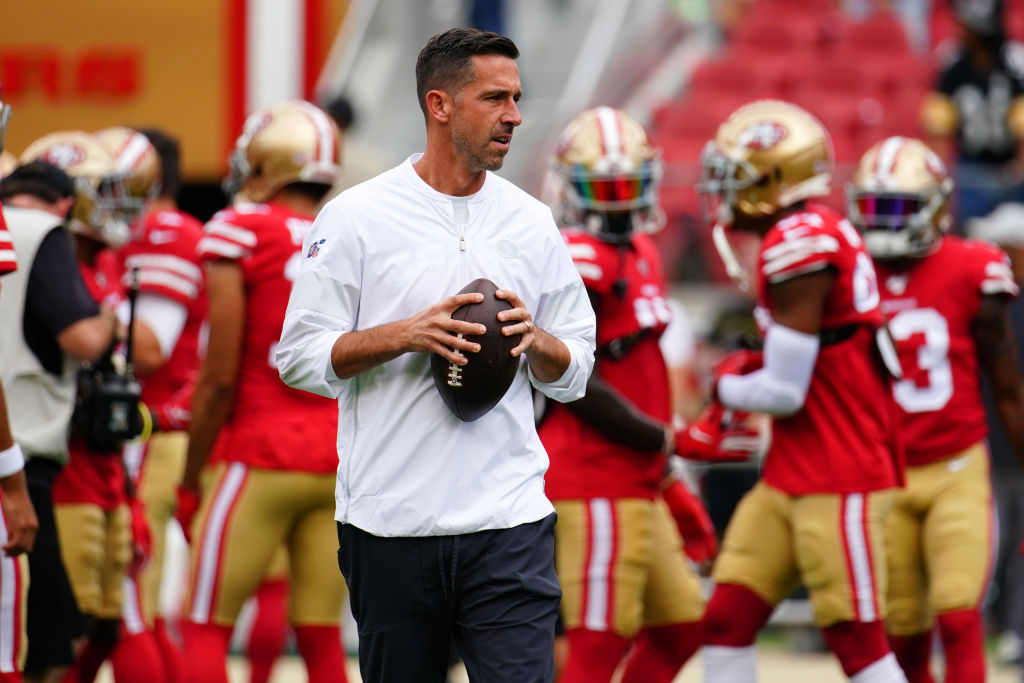 NFL: Kyle Shanahan's Bold Claim About His San Francisco 49ers Defense
The San Francisco 49ers dominated the Los Angeles Rams to remain undefeated. Head coach Kyle Shanahan, however, still thinks his team can improve.
It's an old sports cliche that defense wins championships. While all sports, especially the NFL, may be trending towards offense, certain coaches still build a game plan around stopping the other team. San Francisco 49ers head coach Kyle Shanahan, throughout his career, hasn't been one of those guys.
On Sunday, however, his 49ers squad shut down the Los Angeles Rams, holding their explosive offense to only one touchdown. After the game, however, Shanahan made a bold claim about his defensive unit's play.
Kyle Shanahan's coaching career
As his name might lead you to believe, Kyle is the son of former Denver Broncos head coach Mike Shanahan. His coaching career, however, has taken him outside of his father's gaze.
After his college football career ended, Kyle got his first coaching gig as a graduate assistant at UCLA. He used the role as a learning experience and spent one season in California before joining the Tampa Bay Buccaneers as an offensive quality control assistant.
After a season in Florida, Shanahan moved to the Houston Texans. Over three years with the club, he served as the wide receivers coach, the quarterbacks coach, and eventually the offensive coordinator. He would also call the plays for the Washington Redskins, Cleveland Browns, and Atlanta Falcons before taking over as 49ers head coach in 2017.
While his background is on offense—he still runs a variant of the attacking scheme his father used in Denver—it's the San Francisco defense that has been making headlines.
The San Francisco 49ers defense shuts down the Los Angeles Rams
On Sunday, the 49ers defense put the rest of the NFL on notice. The went into Los Angeles, met a potent Rams offense head-on, and shut them down. Sean McVay's men could only muster one touchdown and less than 200 yards the entire game.
While the 49ers defense has some big names—guys like Richard Sherman, Dee Ford, and Nick Bosa spring to mind—they're not a star-driven unit. Five different players have 20 or more tackles this season, while 17 total sacks are spread across eight different defenders. Interceptions and forced fumbles are also distributed fairly evenly, painting a picture of a defensive unit that works together for a greater good.
This quality was evident after the Rams ran their way down the field for a touchdown on their opening drive. While no one on the 49ers defense was happy, they didn't panic.
"We knew we had a couple guys get out of their gaps, and when you do that, you are gonna get gashed," Shannahan explained. "But to watch the guys not freaking out, not yelling at each other, just calming down and understanding what happened, and watching the coaches deal with them, very quickly, I realized I can go back and focus on the offense."
The best is yet to come
That confidence inspired Shanahan to make a bold claim after the game. Despite his team's undefeated start and the defense's dominant performance, he feels like their performance will only improve.
We're 5-0, which is a great thing, but we're not playing our best ball," he said. "We can do a lot of things better than that. It seemed like our defense played at an extremely high level, obviously minus the first drive. We can continue to get better on offense. We can continue to get better on special teams. I also think our defense is just getting started, too."
While there's definitely room for improvement on the offensive side of the ball, the 49ers defense has looked pretty impressive thus far. One factor to watch, however, will be their confidence: now that they know they can stop anyone, their game might push on to the next level.