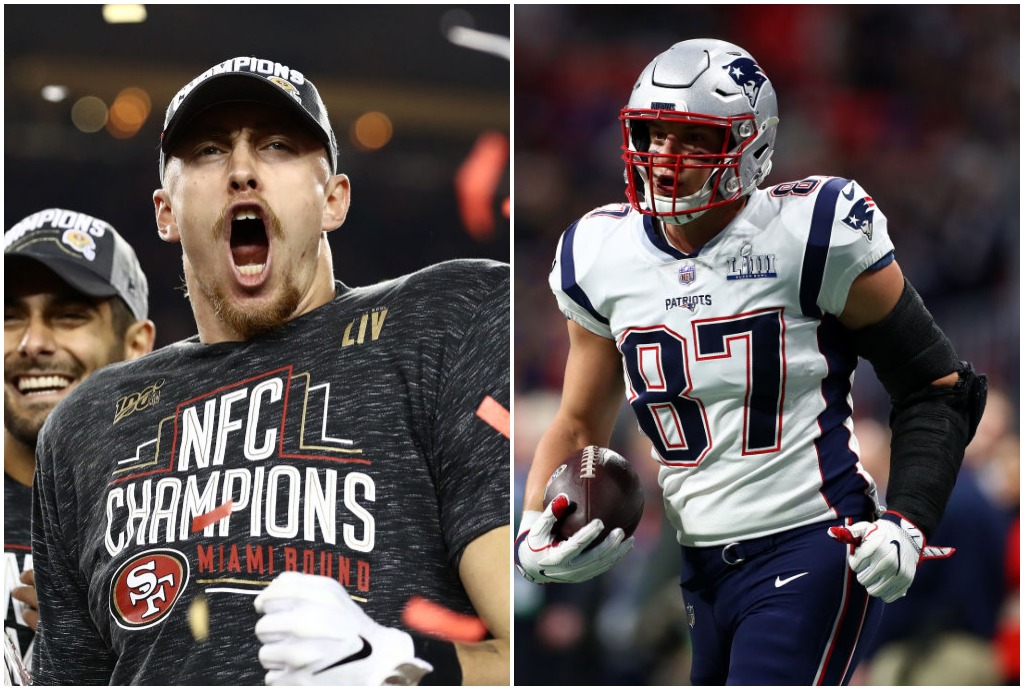 George Kittle Can Overtake Rob Gronkowski as the Best Tight End in NFL History
George Kittle still has a long ways to go, but the 49ers star can surpass Rob Gronkowski as the greatest tight end in NFL history.
George Kittle hasn't even begun his fourth NFL season. Yet, the San Francisco 49ers star has already established a reputation as one of the NFL's premier tight ends. A dominant all-around player with even more untapped potential, Kittle has all the tools and the right head coach to help him eventually overtake Rob Gronkowski as the greatest tight end in NFL history.
George Kittle's rise to NFL stardom
Let's just say nobody expected George Kittle to become a star. The 6-foot-4, 250-pounder played his college ball at the University of Iowa, a school renowned for producing NFL tight ends. However, Kittle totaled just 48 catches and didn't get drafted until the fifth round in 2017.
Incredibly, eight tight ends went off the board before the 49ers made Kittle the 146th overall pick. While O.J. Howard, Evan Engram and David Njoku all went in the first round, none of those three have come close to making the same impact as San Francisco's late-round gem.
As a rookie, Kittle started seven of 15 games and totaled 43 catches for 515 yards and a pair of touchdowns. However, everything changed in his second season in Kyle Shanahan's offense.
Taking over as the team's No. 1 tight end, the ultra-athletic pass-catcher and violent blocker went off for 88/1,377/5. Kittle earned his first of back-to-back Pro Bowl selections. Last season, he posted nearly-identical numbers and played a pivotal role in the 49ers advancing to Super Bowl LIV. Of course, his emergence coincided with what looked like Rob Gronkowski's final days as an NFL player.
Rob Gronkowski established a Hall of Fame resume with the Patriots
Like George Kittle, Rob Gronkowski didn't enter the NFL as a first-round draft pick. The New England Patriots took a risk on the former University of Arizona star who missed his junior season with a back injury. While durability issues plagued Gronkowski throughout his time in New England, when he stayed healthy, he dominated unlike anyone else in NFL history.
In his prime, the 6-foot-6, 265-pounder could run past linebackers and stiff-arm defensive backs to the floor. Early in his career, it appeared as though no one could stop the Gronk train. In his first three seasons, the former second-round pick totaled 38 TD receptions, including a league-high 17 in 2011.
Unfortunately, the dynamic two-way tight end couldn't stay healthy. In nine seasons with the Patriots, Gronkowski started 16 games just once. He missed significant time due to back, knee and forearm injuries. And while he did earn All-Pro honors in 2017, his final year in New England didn't measure up to his Hall of Fame standards.
Gronkowski did record a key catch in New England's Super Bowl LI victory against the Los Angeles Rams. But with his body banged up, he retired about a month before the 2019 NFL draft. Of course, once Tom Brady moved to Tampa, the future Hall of Famer decided to give it another go and New England traded the five-time Pro Bowler to the Buccaneers.
Kittle can surpass Gronkowski if he stays healthy
George Kittle and Rob Gronkowski are at opposite ends of their career arcs. The former will be 26 this season and is just scratching the surface of his Hall of Fame potential. The latter will have to prove he has something left in the tank after looking like a shell of himself in 2018.
For Kittle, though, he has not only the physical skillset but the perfect offensive infrastructure to eventually topple Gronkowski off his thrown. Assuming Jimmy Garoppolo takes another step in his development, the 49ers tight end will have a Pro Bowl-caliber quarterback running one of the most player-friendly offenses in the NFL.
Moreover, Kittle has shown the ability to withstand the pounding of being the team's top target while also dominating as a run-blocker. That latter skill shouldn't be overlooked, as few tight ends possess the ability to put linebackers and defensive linemen on their backs in the running game.
Gronkowski may be able to bolster his stats in Tampa, but he faces an uphill battle considering he just sat out for an entire season. He currently has 521 receptions, 7,861 yards and 79 TD on his resume. Even if he can push for a 50/700/7 season, that still leaves Kittle in a good position to top his career numbers.
Ultimately, George Kittle has to avoid the injuries that sapped Gronkowski of some of his prime years. But if he successfully takes care of his body and spends his prime in Shanahan's player-friendly scheme, there's no reason he can't become a perennial All-Pro, a Hall of Famer and the best tight end in NFL history.
Statistics courtesy of Pro Football Reference