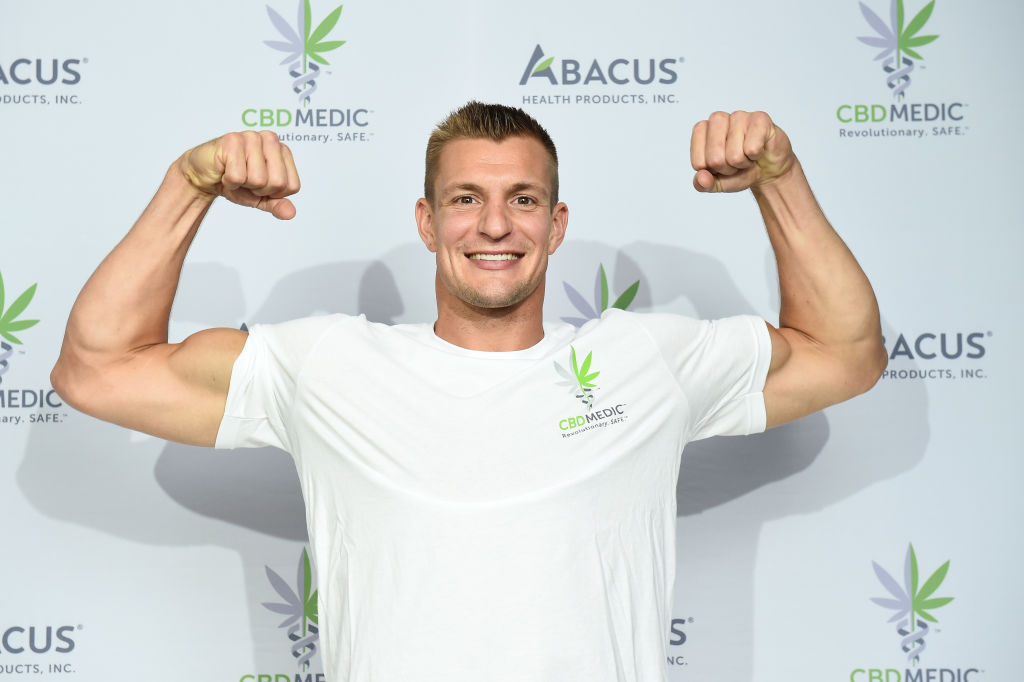 Rob Gronkowski Saved $54 Million With This Simple Strategy
Rob Gronkowski dominated the NFL for nine years with the Patriots. He also managed his money so well that he saved $54 million.
For almost a decade, Rob Gronkowski provided Patriots fans with clutch touchdowns, celebration spikes and many laughs. The dynamic tight end never lost sight of who he is despite playing for noted curmudgeon Bill Belichick.
Don't underestimate Gronk's intelligence, though. For all of his press conference jokes and social media shenanigans, the three-time Super Bowl champion has built up an impressive net worth. And even after retiring before he turned 30, the gregarious 6-foot-6, 268-pound manchild did something rarely seen by athletes of his generation. And it had nothing to do with catching a football.
Rob Gronkowski and his Patriots contract history
The New England Patriots selected Rob Gronkowski with the 42nd pick of the 2010 NFL draft. Few remember that he actually missed his entire junior season at Arizona. In fact, some NFL teams passed over the pass-catching machine due to long-term concerns about his back. And while injuries continued to be a problem throughout his nine-year NFL career, Gronkowski overcame tremendous challenges to put together a highly impressive resume.
From a financial perspective, Gronkowski actually turned out to be quite a bargain for the Patriots. The star of one of the NFL's football families originally signed a four-year, $4.4 million contract after getting drafted. However, after displaying Pro Bowl ability early in his career, Gronk smartly signed a six-year, $54 million contract extension in 2012 that included $13.17 million guaranteed. At the time, the deal represented the largest ever for a tight end.
Near the end of his Patriots career, Gronkowski angled for more money. And while the team did not fully acquiesce, New England did include contract incentives in his final two seasons. Right before the 2018 season began, the Patriots added $4.3 million in incentives that included $1.1 million bonuses for 70 catches, 1,085 receiving yards, 80 percent playing time and nine or more touchdowns. Unfortunately, Gronk did not earn any of the available incentives in his final NFL season.
Gronk's strategy to save $54 million
Putting his body on the line for almost a decade in the NFL took a major toll on Gronkowski. He underwent numerous surgeries on his forearm, back and knee. So when he decided to call it a career after winning his third Super Bowl ring, it certainly wasn't a major surprise.
What was surprising, however, was Gronkowski's bank account. Despite his public persona and social media presence, the four-time All-Pro exercised an incredibly effective and easy strategy to manage his money. So what's his secret?
Save everything.
According to Gronk himself, he saved every penny of his $54 million NFL earnings. Incredibly, he lives solely off of his endorsement money. The Patriots legend explained to Business Insider the method behind his money management strategy:
"Because you don't know how long you're going to be in the league for. It's a short career here in the league. The average is about three to four years, and when it's done, it's done. Be simple, manage it safe, so when it's done you've got a little base, a little foundation to live off."

If Gronk gets it, then it can't be too hard, right?
Former Patriots star is an outlier when it comes to money management
The unfortunate truth about professional athletes is that many of them do not follow the same money-saving strategy as Gronkowski. Sadly, a number of highly successful NFL players have gone the other route and overspent and ended up losing millions.
Vince Young serves as a cautionary tale of why money management is so important. The former collegiate star got drafted third overall in 2006 and played six years in the NFL before flaming out. Despite earning nearly $26 million in his lackluster career, Young declared bankruptcy in 2014. Shockingly, he had accrued $10 million in debt and had about $500,000 in assets. Of course, spending $5,000 a week at the Cheesecake Factory didn't help.
The issue doesn't just hit home in the NFL. Other athletes like Antoine Walker and Allen Iverson have well-documented financial struggles. Maybe Rob Gronkowski should consider becoming a financial adviser in his post-NFL career.