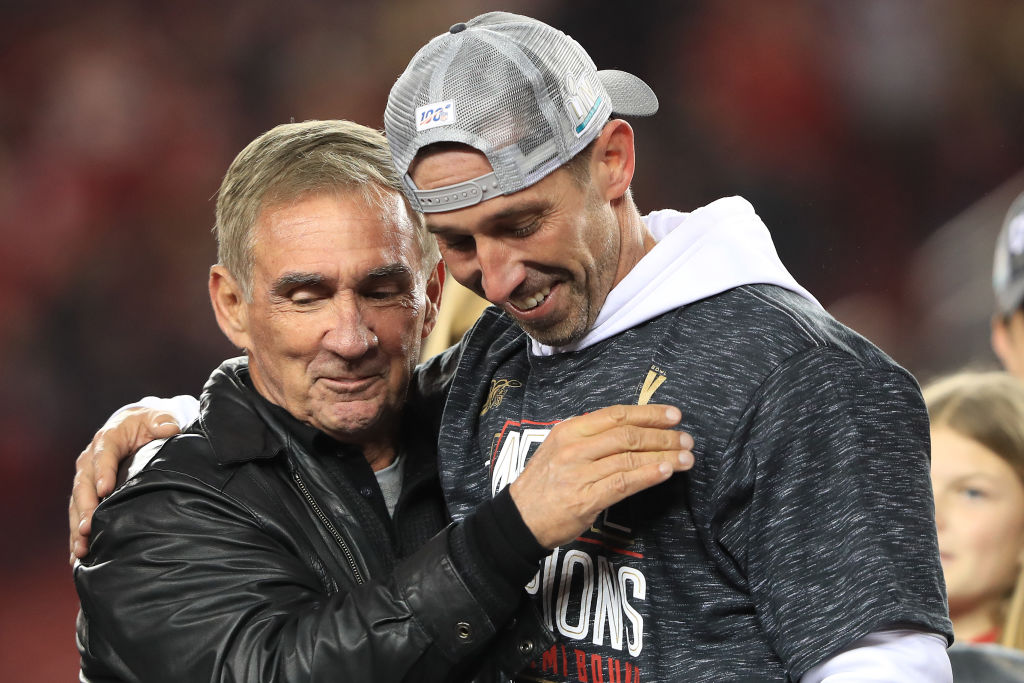 How Does Kyle Shanahan's Net Worth Compare to His Famous Father, Mike's?
While Kyle Shanahan may have gotten a nice raise from the San Francisco 49ers, his net worth still pales in comparison to his famous father's.
While professional sports is full of famous father-son duos, athletes aren't the only ones getting in on the fun. Some families prefer coaching to playing; just look at Mike Shanahan and his son, Kyle, for example. The elder Shannahan made his name with the Denver Broncos, while the younger currently calls the shots for the San Francisco 49ers.
On Monday, Kyle Shanahan apparently inked a sizable contract extension, keeping him in the Bay Area for the foreseeable future. Despite that raise, he still has a long way to go before he's worth as much as his famous father.
Kyle Shannahan's young head coaching career
In 2019, Kyle Shanahan led the San Francisco 49ers to within touching distance of a Super Bowl title. Despite that success, he's still a relative baby by NFL head coaching standards.
Shanahan played his college football at Texas, lining up as a wide receiver. While he didn't make much of an impact on the field—he caught 14 passes for 127 yards over two seasons—he had a natural mind for the game. After graduation, he headed to California to join UCLA's staff as a graduate assistant.
After one season with the Bruins, Shanahan got his first NFL gig, working under Jon Gruden as an offensive quality control coach in Tampa Bay. He held that post for a year before joining the Houston Texans organization; Shanahan started out as a wide receivers coach, moved up to quarterbacks coach, and eventually became the team's offensive coordinator.
In 2010, Shanahan left Texas to serve as his dad's offensive coordinator with the Washington Redskins. He held the same post with the Cleveland Browns and Atlanta Falcons before joining the San Francisco 49ers as a head coach in 2017.
Mike Shanahan won three Super Bowls as a head coach
In February, Kyle Shanahan made it to the Super Bowl, only to fall at the last hurdle. His dad, Mike, didn't have that same problem during his coaching career.
After suffering a near-fatal injury at Eastern Illinois University, Shanahan gave up on his playing career and took up coaching instead. He bounced between several small-time jobs, like running backs coach at Northern Arizona and offensive coordinator at Eastern Illinois, before getting a gig with the Florida Gators in 1980. After three seasons of calling plays in Gainsville, he made the jump to the NFL.
Shanahan started out in the Denver Broncos organization, but Al Davis poached him to serve as the head coach of the Los Angeles Raiders. That spell in charge went disastrously, though, and he briefly returned to Denver before joining the San Francisco 49ers, where he found success as offensive coordinator.
In 1995, Shanahan returned to Denver, this time as the head coach. He spent 14 seasons in the Mile High City, winning 138 games and two Super Bowl titles; without John Elway and Terrell Davis, however, things eventually fell apart. Shanahan then led the Washington Redskins for four seasons before getting the ax in 2013.
Kyle Shanahan has a long way to go to reach his dad's net worth
While NFL coaches may not make as much as their players, they still earn a pretty penny. Both Kyle and Mike Shanahan know that reality firsthand.
According to CelebrityNetWorth, Mike's fortune clocks in at roughly $30 million; given his two Super Bowl titles and decades of NFL service, that number doesn't seem too outlandish. Kyle's net worth, though, is pegged at approximately $4 million.
Kyle's bank account, however, will be growing pretty rapidly, as ESPN's Adam Schefter recently reported that the coach inked a six-year contract with the 49ers, making him "one of the NFL's five highest-paid head coaches." While the exact numbers haven't been revealed, that should put his salary at least in the $9 million neighborhood. That's definitely a step in the right direction, but it will still take some time to surpass his dad's net worth.
All stats courtesy of Sports-Reference and Pro-Football-Reference