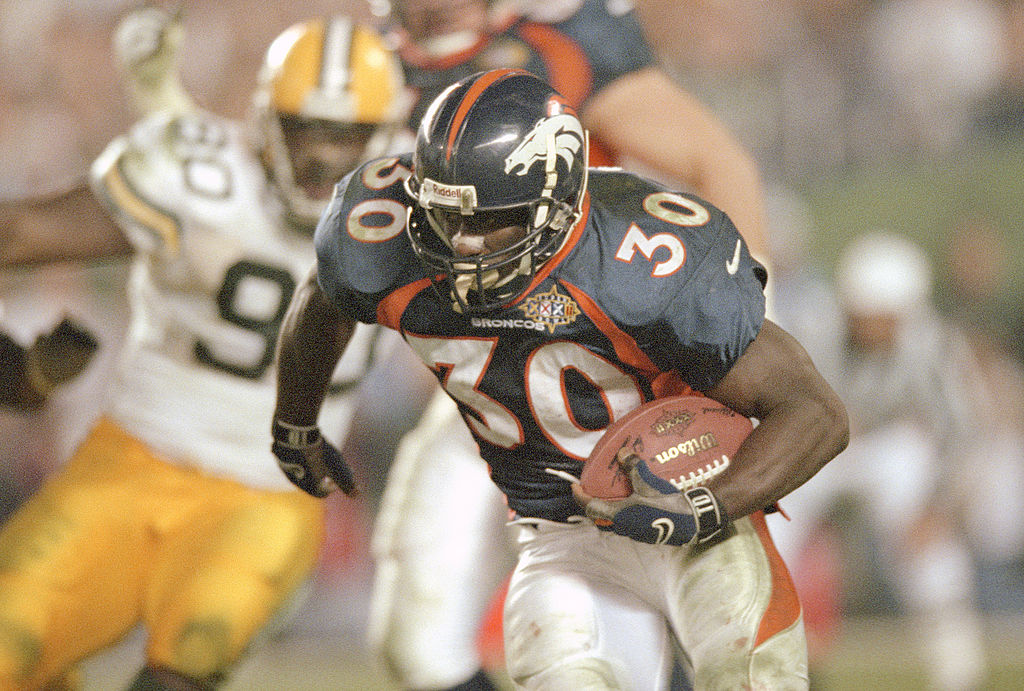 Terrell Davis' Wake-Up Call Came at Age 14 When He Had a Gun Pointed at His Head
Former Denver Broncos running back Terrell Davis' wake-up call came at age 14 when he found a gun pointed at his head.
Terrell Davis was a steal in the 1995 NFL draft. The Denver Broncos selected the running back out of Georgia in the sixth round. As he has throughout his life, Davis had to scratch and claw his way up the depth chart, eventually making it as a starting running back in his rookie season. Things have never come easy for the man they call TD and his wake-up call came when he was 13 years old with a gun staring him in the face.
Terrell Davis' college football career
Terrell Davis began his college football career at Long Beach State University. After red-shirting his freshman year, he rushed for 262 yards and a pair of touchdowns. When his first season was completed, the school shut down its football program and Davis transferred to the University of Georgia.
After backing up Garrison Hearst in his first season at Georgia, Davis earned the starting running back job and rushed for 824 yards and scored five touchdowns. He added three more scores as a receiver. His senior year was plagued by a hamstring injury and he rushed for 445 yards after missing three games.
In his final two games of his senior year, however, Davis came up big. He rushed for 113 and 121 in those two games. He was selected in the sixth round of the 1985 NFL draft by the Denver Broncos.
Davis turns into an NFL Hall-of-Famer
Terrell Davis worked his way from deep down in the depth chart to become the starting running back for the Denver Broncos in his rookie season. In his first season in the NFL, Davis rushed for 1,117 yards and seven touchdowns, giving the Broncos the strong ground game they had been lacking.
For the next three seasons, Davis was outstanding, making the Pro Bowl each season. In 1996, Davis played all 16 games, ran for 1,538 yards and 13 touchdowns, and was named the AP's Offensive Player of the Year. In 1998, he was both MVP and AP Offensive Player of the Year when he rushed for 2,008 yards and 21 touchdowns.
Davis struggled after that season, playing three more years but combining for just 1,194 rushing yards in those three seasons. He was a two-time Super Bowl champion. Davis was inducted into the Pro Football Hall of Fame in 2017.
Things weren't always easy for Davis
When Terrell Davis was 12, his father died. It was one of the toughest moments of his youth. He gave up football, was failing his classes, and found his life spiraling out of control. "I was clearly a child in crisis," he said during his Hall-of-Fame speech. "My daily ritual was hanging out with friends and getting into trouble. But this all came to a screeching halt late one night when I was 14. I found myself literally staring down the barrel of a shotgun. Thank God someone talked the guy out of pulling the trigger.
"When I got home, I laid in my bed, closed my eyes, and I vividly relived every moment over and over again. I spoke out loud to God and I promised Him that I would never find myself in that situation again. I knew that I had to change my life.''
Davis made good on his promise. He transferred to a different high school, joined the football team, and got the new start he needed.
All stats courtesy of Pro Football Reference.