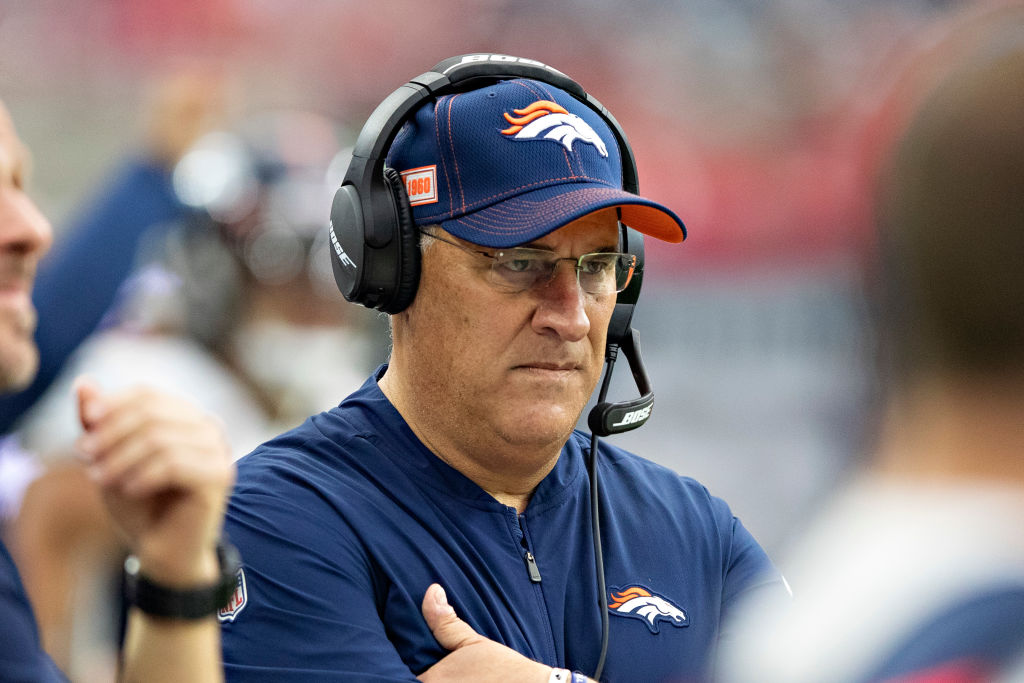 Denver Broncos Coach Vic Fangio Stuns Reporters With Comments on Racism in NFL
Second-year Denver Broncos head coach Vic Fangio shocked reporters with comments suggesting there are no racial or discrimination problems in the NFL. Colin Kaepernick might beg to differ.
As demonstrators march across the nation for a second week in protest over the killing of George Floyd, NFL teams, coaches, and players have spoken out against the prevalent racism in our society. Denver Broncos head coach Vic Fangio made some curious remarks to reporters on Tuesday, suggesting racism and discrimination issues don't exist in the NFL.
Vic Fangio heads into second season in Denver
Vic Fangio is one of the most veteran coaches in the NFL with 32 years of experience. He was the defensive coordinator with five different teams, including the Carolina Panthers in 1996 when they made it to the NFC Conference Championship.
Fangio last held an assistant coaching position for the Chicago Bears from 2015-18, where in his last season in Chicago, the Bears finished third in total defense and first in scoring defense. Fangio was named the AP and Pro Football Writers Association's Assistant Coach of the Year. 
In January 2019, Fangio was named the new head coach of the Denver Broncos. In his first season with the Broncos, the team finished with a 7-9 record and missed the playoffs for a fourth consecutive year after winning the Super Bowl in 2015. 
Vic Fangio says racism and discrimination not an issue in NFL
In a virtual meeting with reporters, Vic Fangio described Floyd's death as a "societal issue that we all have to join in to correct," but said he didn't see discrimination or racism being problematic in the NFL. 
"I think our problems in the NFL along those lines are minimal. We're a league of meritocracy, you earn what you get, you get what you earn. I don't see racism at all in the NFL, I don't see discrimination in the NFL. We all live together, joined as one, for one common goal, and we all intermingle and mix tremendously. If society reflected an NFL team, we'd all be great." 
In the past, Fangio has been a supporter of the Rooney Rule, which is designed to increase the number of minority candidates interviewed for head-coaching jobs. Despite his past support of the rule as well as encouraging his own players to protest, Fangio's comments raised more than a few eyebrows and elicited a response on social media.
Former offensive tackle and Denver's first-round pick in the 2003 NFL draft George Foster had a succinct response on Twitter. "He can't be serious."
Former NFL exec admits Colin Kaepernick treated unfairly
Joe Lockhart served as the NFL's executive vice president in charge of communications and government affairs from 2016-18. In that position, Lockhart had a behind-the-scenes view of what played out in the weeks and months following the Colin Kaepernick kneeling protest and detailed what he saw in a recent column for CNN.
"When I was an executive in the National Football League a few years ago, our organization was consumed by the case of Colin Kaepernick, the quarterback whose silent kneeling protest against police brutality arguably led him to lose his NFL career and not be re-signed by any club. No teams wanted to sign a player—even one as talented as Kaepernick—whom they saw as controversial, and, therefore, bad for business."

Joe Lockhart, former NFL's executive vice president in charge of communications and government affairs
According to Lockhart, an executive from one team that considered signing the quarterback indicated the team projected it would lose 20 percent of their season ticket holders if they signed him. 
This admission that Kaepernick's unemployment was a direct result of his protest and how it would affect a team's bottom line, provides a clear indication of where the priorities lie in the NFL. That, coupled with the simple fact that the Rooney Rule exists because minorities aren't given legitimate opportunities, clearly contradicts Fangio's claim that there isn't racism or discrimination in the NFL.
Fangio might have had a long tenure as an NFL assistant coach, but with any more comments like his latest, his days as a head coach might be considerably shorter.