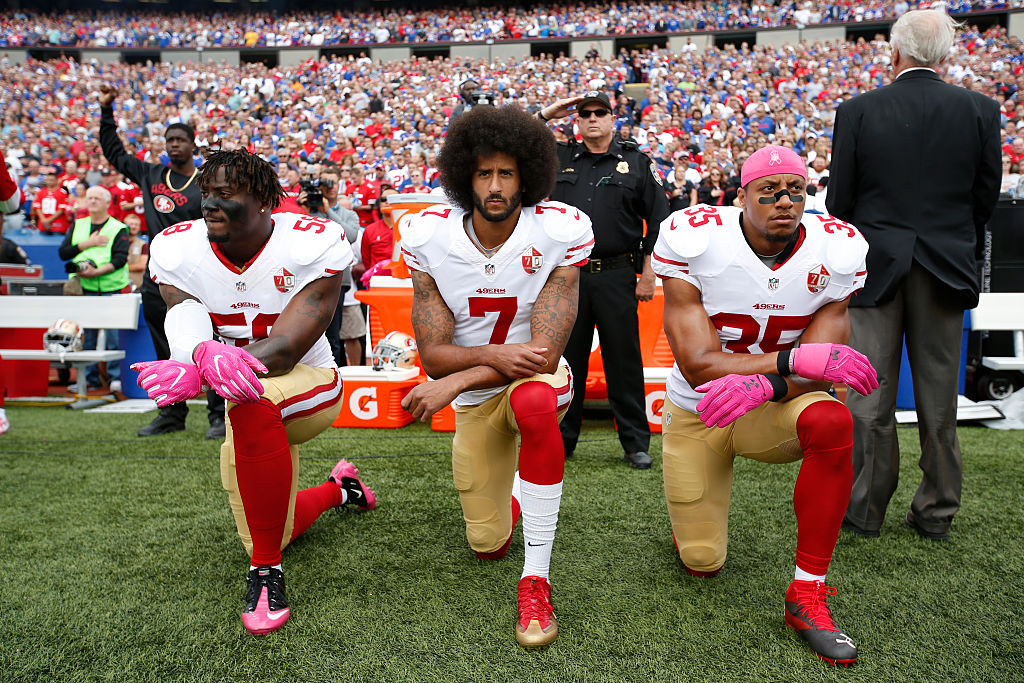 A Former NFL Executive Finally Told the Truth About Colin Kaepernick
After kneeling during the national anthem, Colin Kaepernick found himself without a job. A former NFL executive finally told the truth about what happened.
While he hasn't appeared in an NFL game since 2016, virtually everyone is familiar with Colin Kaepernick. During that campaign, the San Francisco 49ers quarterback began silently protesting during the playing of the national anthem; his actions propelled him into the national spotlight but also cost him his football career.
Ever since Kaepernick entered free agency in 2017, no NFL team was willing to offer him a contract. While that reality was supposedly based on his football abilities, a former league executive final came clean and told the truth: the owners simply viewed Colin Kaepernick as being "bad for business."
Colin Kaepernick's football career
These days, Colin Kaepernick is primarily associated with his famous protest. Before taking a knee, however, the quarterback made a name for himself with his athletic abilities.
Despite showing plenty of talent on the baseball diamond, Kaepernick decided to make a career out of football. That choice brought him to the University of Nevada; with the Wolf Pack, he developed into a promising quarterback prospect. Kaepernick accumulated 10,098 passing yards, 4,112 rushing yards, and 141 total touchdowns during his four seasons under center and, after graduation, entered into the 2011 NFL draft.
In that draft, the San Francisco 49ers traded up to select Kaepernick early in the second round. While he spent his rookie year backing up Alex Smith, the quarterback ultimately claimed the starting job during the following campaign; he looked like a promising dual-threat quarterback, capable of making things happen with his arms or legs.
The 49ers seemed to agree and, after Kaepernick went 12-4 during the 2013 campaign, inked the quarterback to a six-year deal. After that, however, things would go downhill. Kaepernick struggled under Jim Tomsula and suffered a season-ending shoulder injury; he would start 12 games during the 2016 campaign before opting out of his contract and hitting free agency. He never landed another NFL job.
The silent protest that changed everything
Colin Kaepernick's story, however, isn't entirely about football. During the 2016 season, the quarterback's peaceful protest thrust him into the national spotlight.
Kaepernick, of course, remained seated, which ultimately gave way to kneeling, during the playing of the national anthem before each game. "I am not going to stand up to show pride in a flag for a country that oppresses black people and people of color," Kaepernick said, according to NFL.com. "To me, this is bigger than football, and it would be selfish on my part to look the other way. There are bodies in the street and people getting paid leave and getting away with murder."
While other players followed suit, the San Francisco 49ers quarterback became the figurehead for the protests. That reality, however, cost him his NFL career.
Colin Kaepernick found himself without a job
At the end of the 2016 season, Colin Kaepernick opted out of his contract with the San Francisco 49ers and entered free agency. To this day, he hasn't signed another NFL deal.
Over the years, there have been various football explanations for why Kaepernick remained unsigned. Some claimed he simply wasn't good enough for an NFL job; others said he would be a distraction, rather than the leader of a team. No matter the prevailing theory, however, he remained a free agent.
In a recent CNN column, however, a former NFL executive finally admitted what we all knew: the NFL ownership collectively decided that signing quarterback wasn't worth the trouble it would cause.
Why Colin Kaepernick remained unsigned
From 2016 to 2018, Joe Lockhart served as the NFL's executive vice president in charge of communications and government affairs. That role gave him a unique insight into the Colin Kaepernick saga, which he shared in a recent column.
"When I was an executive in the National Football League a few years ago, our organization was consumed by the case of Colin Kaepernick, the quarterback whose silent kneeling protest against police brutality arguably led him to lose his NFL career and not be re-signed by any club," Lockhart wrote on CNN.com "No teams wanted to sign a player—even one as talented as Kaepernick—whom they saw as controversial, and, therefore, bad for business."
"Kaepernick was not blocked because the league wanted to punish him for setting off the protests," Lockhart continued. "In fact, just the opposite is true. … But for many owners, it always came back to the same thing. Signing Kaepernick, they thought, was bad for business. An executive from one team that considered signing Kaepernick told me the team projected losing 20% of their season ticket holders if they did. That was a business risk no team was willing to take, whether the owner was a Trump supporter or a bleeding-heart liberal (yes, those do exist). As bad of an image problem it presented for the league and the game, no owner was willing to put the business at risk over this issue."
While Lockhart merely confirmed what we all knew, it's worth keeping his admission in mind, especially in light of the league's recent statement about the protests throughout the United States. When Colin Kaepernick tried to peacefully protest on the football field, he was deemed bad for business and left without a job.
All stats courtesy of Sports-Reference and Pro-Football-Reference