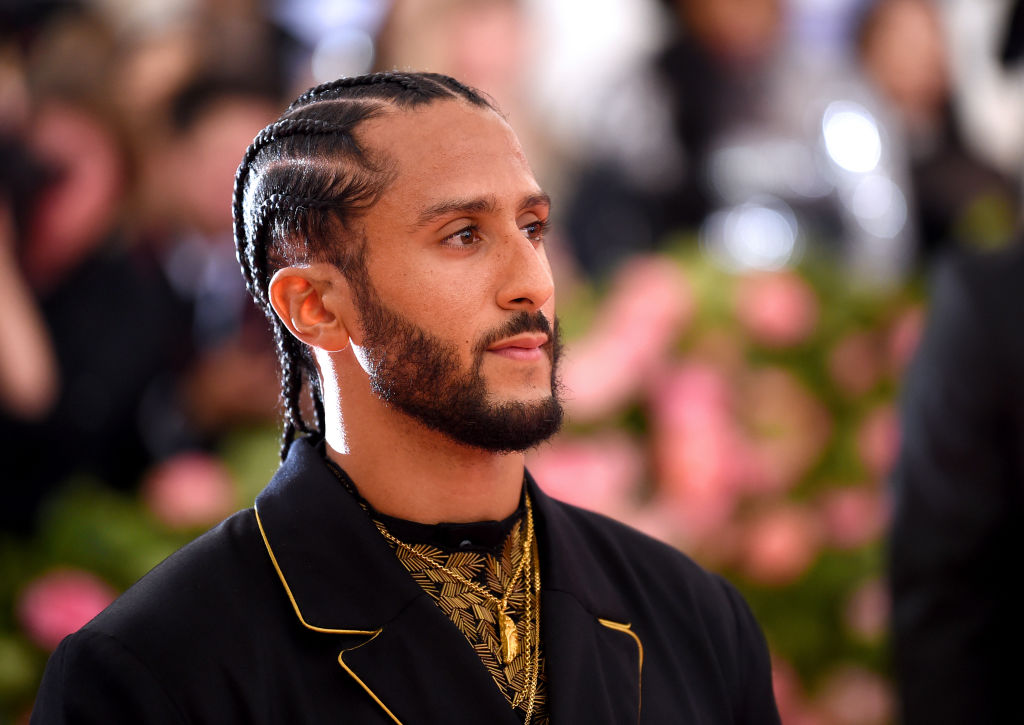 Colin Kaepernick Was So Good at Baseball He Was Drafted by the Chicago Cubs Years After He Was an All-State Pitching Prospect
Colin Kaepernick was once drafted by the Chicago Cubs.
It's not uncommon for professional athletes to have been standouts in numerous sports in high school — or even college in some instances.
Allen Iverson and LeBron James were both phenomenal football players before focusing on basketball.
Tom Brady was a multi-sport star, being taken in both the MLB and NFL drafts.
Bo Jackson and Deion Sanders were…well, Bo Jackson and Deion Sanders.
But what some might not know is that before Colin Kaepernick became a big-time quarterback, he was a highly sought-after baseball prospect and was once drafted by the Chicago Cubs.
Colin Kaepernick was an all-state pitching prospect in high school
While most might think Colin Kaepernick had a ton of scholarship offers to play college football, that's actually not the case. The University of Nevada was the only school to offer the three-sport star (he was all-state in basketball as well) a football scholarship, as most schools were interested in him for his talents on the baseball field, which they certainly had reason to be.
In his final two years at John H. Pitman High School in Turlock, California, Colin Kaepernick had a .318 batting average, a .398 on-base percentage, and one home run with 24 runs batted in. Sure, that may not sound all that impressive over 59 games, but his hitting was simply an added bonus as he was a menace on the mound.
With a fastball in the low-to-mid 90s, Kaepernick had a microscopic 1.38 ERA in 146 2/3 innings between his junior and senior seasons while posting a 15-6 record. He had 179 strikeouts against 67 walks, and opponents hit just .167 against him.
He obviously chose football over baseball
While he had more offers to play college baseball, Colin Kaepernick was adamant that he wanted to play college football. He accepted that lone scholarship offer to Nevada, where he had a phenomenal career.
In his four years with the Wolf Pack, Kaepernick threw for 10,098 yards and 82 touchdowns against just 24 interceptions. He also rushed for 4,118 yards and 59 touchdowns (he also had one receiving TD), making him the first player in Division I history to throw for 10,000 yards and rush for 4,000 yards in a career. He was twice named the WAC Offensive Player of the Year and became one of the most talked-about quarterbacks in college football.
But the Chicago Cubs were still wanting him to give baseball a shot.
The Chicago Cubs selected Colin Kaepernick in the 43rd round of the 2009 MLB Draft
As Colin Kaepernick was becoming a star football player at Nevada, the Chicago Cubs were still keeping an eye on him as a baseball player. They saw the big arm and the long release and still felt he was more of a pitcher than a quarterback.
The Cubs' former director of scouting, Tim Wilken, once told NBC Sports that he truly thought the North Siders had a chance of converting him back to the diamond based on what he'd heard about Kaepernick's chances in the NFL.
When we went to our NFL sources, they thought he was just going to be a CFL guy, so I said: Hey, let's take a run at (him). Our football guys said that he had a sling in his arm action and they didn't think that was going to work in the NFL. They thought his release was long. This was like three different organizations telling us this.

They thought he was going to be more of a CFL guy because he wasn't really big then, either. He's still really thin and they were a little bit worried. You know, they ran that pistol offense at Reno. Even as well as he played the next two years, we thought: Hey, maybe we got a shot here.

Former Cubs scouting director Tim Wilken on Colin Kaepernick
So even knowing that Colin Kaepernick might not sign, the Cubs took a chance and drafted him in the 43rd round of the 2009 MLB draft. This was just before his junior year at Nevada, and the Cubs went out and made their pitch (pardon the pun) to Kaepernick and his father.
They were prepared to offer him between $30,000 and $50,000 to play in the Arizona rookie league as kind of a summer job. But Kaepernick wasn't having it, citing his desire to remain with his Wolf Pack teammates as he'd become the leader of the team, which the Cubs certainly respected.
Obviously, we know that Colin Kaepernick never signed with the Cubs and was later drafted into the NFL, leading the San Francisco 49ers to the Super Bowl.
But hey, Kaepernick is still in shape and obviously isn't wanted by the NFL anymore. We once saw him throw an 87 mph fastball when tossing out a ceremonial first pitch at a San Francisco Giants game, so perhaps we'll still see him put that strong right arm to use someday.