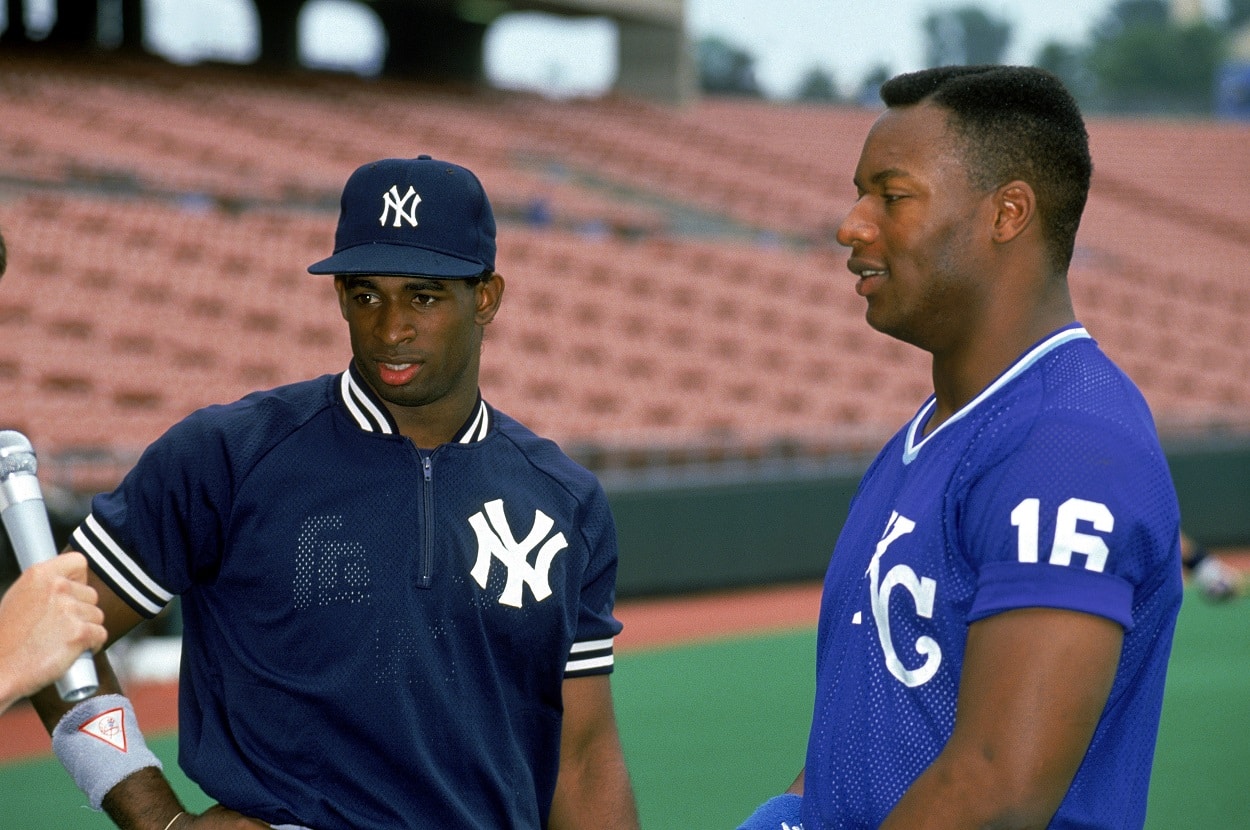 Deion Sanders Accomplished Something as a 2-Sport Star That Bo Jackson Never Did and Vice Versa — Both Are Things No Other Athlete in History Has Ever Accomplished
Deion Sanders and Bo Jackson each accomplished a feat never done by any other athlete.
Bo Jackson and Deion Sanders are easily two of the greatest athletes of all time. Getting to the professional level in one sport is difficult enough. And reaching that level in two is just absurd. But that's obviously what Bo and Deion did, as each had successful careers in both Major League Baseball and the National Football League.
Now, I'm not here today to argue who was better. Truthfully, one could make a strong case for either. But as they were different types of hitters in baseball and played different positions in football, it could also be said that you really can't compare the two. Plus, Jackson's football career was cut short due to injury, so you have to take that into account as well.
So this is essentially just an appreciation piece. I mean, seriously, don't we have enough comparison talk and pointless GOAT conversations these days?
Besides, both Jackson and Sanders can say they accomplished something as two-sport stars that the other didn't. And both can also say their individual accomplishment has never been done by anyone else in the history of sports.
And just so we're clear, the only reason Bo Jackson gets the first nod here is that I'm keeping things neutral by going in alphabetical order.
Bo Jackson is the only man to be named an MLB All-Star and an NFL Pro Bowler
The biggest thing Bo Jackson has on Deion Sanders is that he's the only man in history to be named an MLB All-Star and a Pro Bowler in the NFL.
Jackson played four NFL seasons, all with the then-Los Angeles Raiders. While his best season was the 1989 campaign, when he rushed for 950 yards in 11 games, that's not the season in which he was named to the Pro Bowl. That occurred in 1990 when Bo rushed for just 698 yards in 10 games.
Nevertheless, he was named to the game as a reserve but couldn't play due to the hip injury he suffered in what turned out to be his final NFL game in January 1991.
As for his baseball career, Bo played parts of eight MLB seasons with the Kansas City Royals, Chicago White Sox, and the then-California Angels. His stints with the White Sox and Angels came after his football career ended.
Jackson made his lone appearance in the MLB All-Star Game in 1989, and he certainly made the most of it. Hitting leadoff for the American League, Bo crushed a 450-foot home run to lead off the bottom half of the first inning.
He then stole a base in the second, making him the only player in All-Star Game history to have a home run and a stolen base in the same game.
He also later made a crucial catch in left field that saved two runs from scoring, helping him win MVP honors.
Deion Sanders is the only man to play in a World Series and a Super Bowl
While Deion Sanders was an eight-time Pro Bowler in the NFL, he never made the MLB All-Star Game. However, "Prime Time" is the only man to ever play in both the World Series and the Super Bowl.
After missing out on the 1991 MLB postseason with the Atlanta Braves, including the World Series, due to his football schedule, Sanders was in uniform for the Fall Classic in 1992, his best year in the majors. In 97 regular-season games for the Braves in '92, Deion hit .304 with six doubles, a league-leading 16 triples, eight home runs, 28 runs batted in, and 26 stolen bases.
After going hitless in the 1992 NLCS against the Pittsburgh Pirates, Sanders turned it around in the World Series against the Toronto Blue Jays, hitting a team-best .533 in 17 plate appearances over four games. Atlanta lost the series in six.
Deion made his first Super Bowl appearance with the San Francisco 49ers following the 1994 season, the year he was named NFL Defensive Player of the Year. With three tackles and an interception, he helped the Niners to an easy 49-26 win.
The following year, Sanders appeared in and won a second Super Bowl, this time as a member of the Dallas Cowboys.
Stats courtesy of Sports Reference
Like Sportscasting on Facebook. Follow us on Twitter @sportscasting19 and subscribe to our YouTube channel.