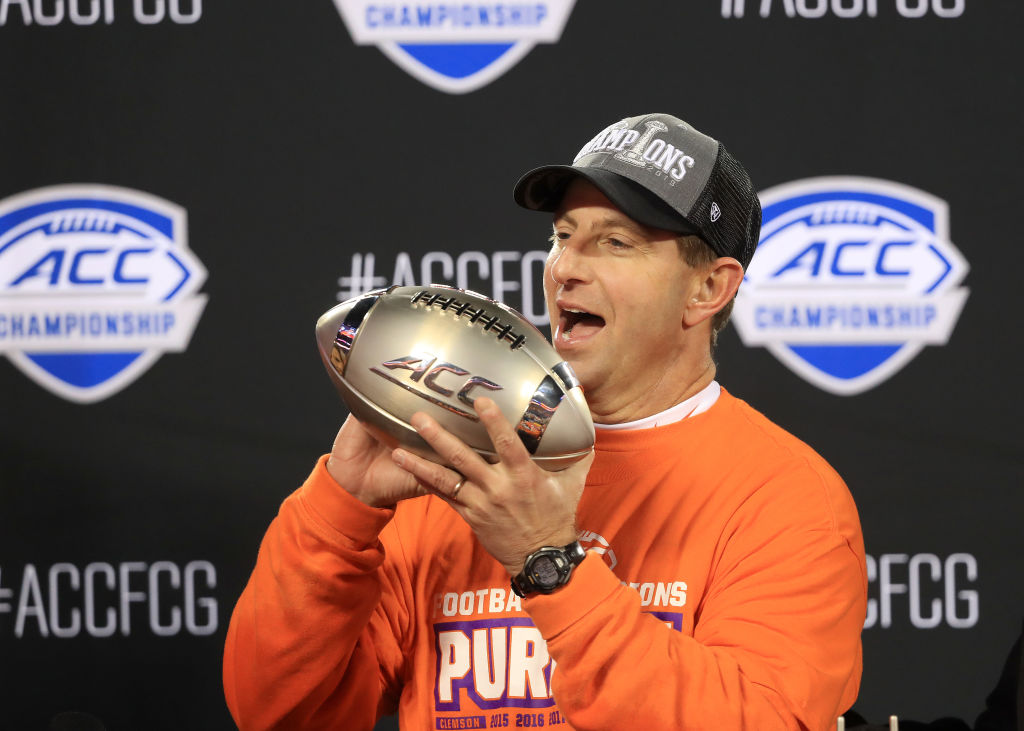 Dabo Swinney Makes More Money at Clemson Than Most Coaches Earn in the NFL
Clemson head Dabo Swinney might ply his trade in the NCAA ranks, but his salary is higher than most NFL had coaches.
In certain parts of the country, football is more than a sport: it's a way of life. Clemson Tigers football coach Dabo Swinney knows that reality firsthand. Not only has he spent his entire adult life immersed in college football, but he's made plenty of money doing so.
While college football is theoretically an amateur sport that prepares players for the professional ranks, that hasn't stopped Dabo Swinney from earning quite a bit of cash in the NCAA ranks. In fact, his salary dwarfs plenty of NFL head coach's paychecks.
Dabo Swinney's career at Clemson
These days, it's impossible to imagine Dabo Swinney anywhere other than Clemson. His collegiate career, however, started elsewhere in the SEC.
Swinney played his college ball at Alabama and, after graduation, joined the Crimson Tide as a graduate assistant. He became a full-fledged assistant coach in 1995; he worked with receivers and tight ends until the entire staff was fired in 2001.
Swinney couldn't initially find a coaching job, though. As documented in the Washington Post, he landed gig at AIG Baker and started leasing property in shopping centers to prospective businesses. He even stopped thinking of himself as a coach.
In 2002, however, everything changed. Tommy Bowden offered Swinney a gig with the Clemson Tigers, and he joined the staff as a wide receivers coach. He took over as interim head coach, replacing Bowden, in 2008; at the end of the season, he landed the job permanently. He's gone on to win 130 games, two NCAA championships, six ACC titles, and plenty of individual honors.
Dabo Swinney now makes more than $9 million a year
According to the Washington Post, Dabo Swinney made a base salary of $80,000 during his time at AIG Baker, not counting potential bonuses. As one of college football's top coaches, he now earns quite a bit more.
Based on USA Today's college football coaching salary database, Swinney sits as the nation's highest-paid NCAA coach. Heading into the 2019 campaign, he was on pace to earn at least $9,315,600; he could also take home $1,125,000 in bonuses. Swinney also has one of the most expensive buyouts in college football at $50 million.
For reference, USA Today lists Nick Saban's total pay of $8,857,000 as the second-highest in the nation; the Alabama coach's maximum bonus is $1,100,000. Texas A&M's Jimbo Fisher has a buyout of $60,625,000; that's the only number higher than Swinney's $50 million.
$9.3 million is more than most NFL head coaches earn
In the world of North American professional sports, the NFL is the top dog. Despite that reality, Dab Swinney's salary would still be one of the highest in the professional ranks.
Based on CBS Sports' reporting in January 2020, only four NFL head coaches make more than $9.3 million per season. Sean Payton makes $9.8 million with the New Orleans Saints, while Jon Gruden takes home $10 million annually from the Raiders. Pete Carroll and Bill Belichick round out the list at $11 million and $12 million, respectively.
In theory, NCAA Football is a step below the NFL. For Clemson head coach Dabo Swinney, however, his salary would be right at home in the professional ranks.
Stats courtesy of Sports-Reference