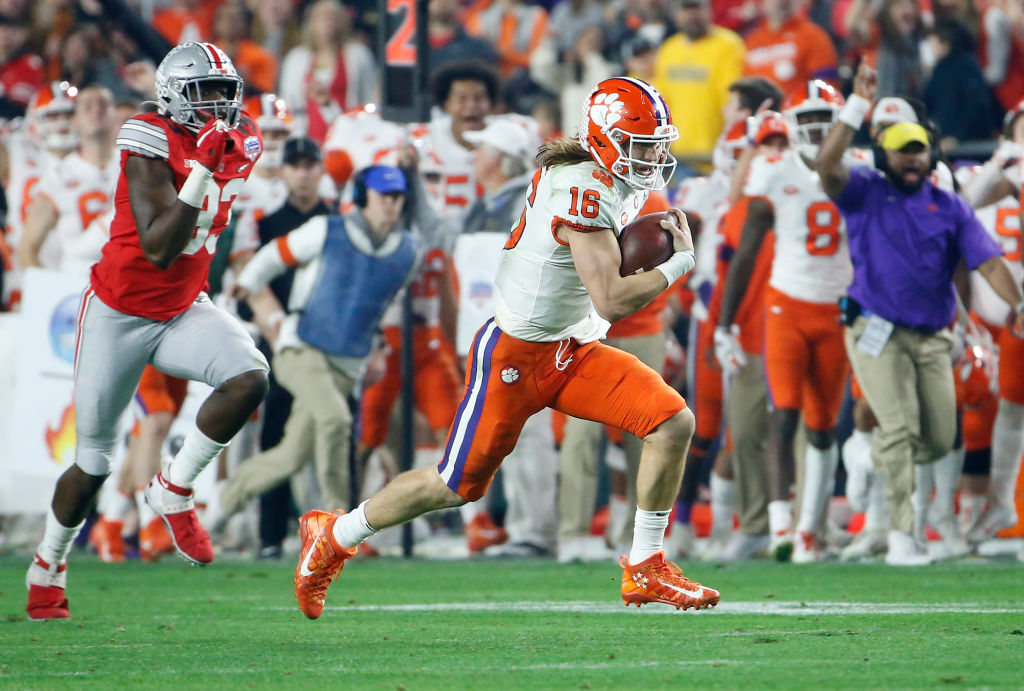 Clemson, Ohio State Open as the Favorites to Win the 2020 College Football National Championship
The 2020 college football championship odds were released Tuesday, with Clemson and Ohio State starting as the two favorites.
The odds to win the 2020 college football national championship are here. William Hill Sportsbook released its futures odds Tuesday, with Clemson leading the pack at 11/5 odds. Reigning champion LSU isn't even in the top five.
It remains to be seen whether college football will even be played in 2020. The coronavirus pandemic has caused sports around the globe to shut down indefinitely. College basketball saw its season vanish in the blink of an eye, so college football could possibly face the same fate. For now, all we can do is stay hopeful and place a few futures bets.
Clemson, Ohio State, and Alabama make up the Big 3
The top three teams heading into the 2020 season, according to Vegas odds, are Clemson (11/5), Ohio State (4/1), and Alabama (9/2). Both Clemson and Ohio State made the College Football Playoff last season, but both fell short in the end to LSU.
Starting quarterbacks Trevor Lawrence for Clemson and Justin Fields for Ohio State are the two co-favorites to win the 2020 Heisman Trophy at 4-1 odds. They were two of the best players in the country last season, and they will only improve moving forward. Both will put their respective teams in a position to win a championship next year.
As for Alabama, well — it's Alabama. Nick Saban will always be considered a heavy favorite as long as he's still on the sidelines in Tuscaloosa. Starting quarterback Tua Tagovailoa left for the NFL draft as well as three starting wide receivers, but Alabama retools better than any program in college football. New starter Mack Jones got some valuable playing time last year, and Saban is bringing in the second-ranked recruiting class in the country.
It wouldn't be surprising to see all three programs in the 2020 CFP.
Georgia, Florida, and LSU lead the second tier of favorites
Georgia is the next lowest favorite behind the Big 3 at 7-1 odds. Florida comes in next at 15-1, while LSU and Oklahoma stand at higher than 20-1.
Like Alabama, Georgia lost its starting quarterback, as well as its starting running back, to the draft. Vegas doesn't seem to care, though. Kirby Smart has put together a couple of great recruiting seasons in a row. The wealth of young talent will help his team compete for a playoff berth in 2020.
LSU had a magical year in 2019, but head coach Ed Orgeron lost so much key talent to the draft, including Joe Burrow. There are more questions than answers with this new LSU squad. There are too many holes to fill next season to consider them a national championship contender.
Other teams in this group include Auburn, Oregon, and Notre Dame all under 30-1.
Longshots that provide great value in 2020
Penn State (30/1) might be closer to the second tier than the longshot tier, but the Nittany Lions stand out immediately as a value bet in 2020. James Franklin returns starting quarterback Sean Clifford, as well as three productive running backs and one of the best tight ends in the country in Pat Freiermuth. If PSU can shock Ohio State and Michigan next season they will be in the driver's seat for a Big Ten bid to the playoff.
Texas A&M, also at 30/1, is another team to consider as a breakout candidate in 2020. Jimbo Fisher is returning 77 percent of his overall production from last season. The Aggies also had one of the most grueling schedules in the country last season, but their road is much easier this year. Fisher already has a national championship under his belt, and he'll have a chance to get a second in 2020.
If you're into small risks with huge payouts, take a look at North Carolina at 150-1. The Tar Heels have one of the best young quarterbacks in the nation in Sam Howell, and they return 87 percent of their offensive production from 2019. North Carolina's toughest game of the season is against Auburn in week 2. They avoid Clemson on the ACC schedule, so it's plausible they can run the table in conference play. UNC is extremely young and might be a year away from national contention, but you can't beat those odds with a legendary head coach in Mack Brown and a top Heisman candidate at quarterback.
Full 2020 college football championship odds can be found here.